Cameron Tahmasebi Eliminated In 24th Place ($7,784)

Level 19 : 6,000-12,000, 1,500 ante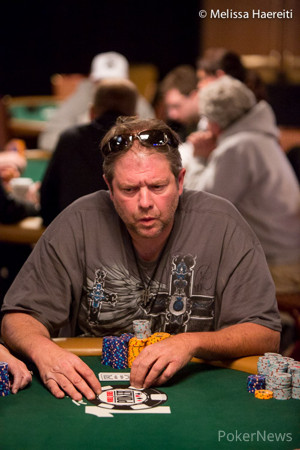 Stud Hi-Low
Cameron Tahmasebi raised to 12,000 and Jeet Sketty clicked it to 18,000. Mike Matusow called and so did Fu Wong. Tahmasebi was now all in for 13,500 on third and the three players proceeded to fourth. Matusow bet 6,000, Wong called, Sketty made it 12,000 and Matusow three bet to 18,000. Wong was skeptical and folded.
Matusow said, "If I win this pot, everybody will be playing for second."
Until sixth, Matusow was betting and had another 4,500 behind, Sketty put him to the test and all turned over their cards.
Wong:
/
muck
Tahmasebi:
/
/

Sketty:
/
/

Matusow:
/
/
"Come on, I deserve this," yelled Matusow, almost losing his voice. The dealer delivered seventh and Matusow started cheering loudly, running away from the tournament area and everybody in the rather silent Amazon room could hear him. Matusow pounded the table in celebration as he continued to laud the hand. He raked in the massive pot with the straight and low and was then given a one round penalty for his "outrageous behavior."
"Is this for real? I didn't do anything. You get a penalty for getting excited? I didn't even swear." The tournament staff claimed they were only doing their job.
Matusow was visibly upset by the ruling almost to the point of tears. Some players, such as Joe Tehan and Owais Ahmed came to his defense, while others like Robert Mizrachi and Matt Lefkowitz tried their best to calm Matusow down and get him refocused.
In the meanwhile, Tahmasebi went to the payout desk to collect $7,784 for his 24th place finish.