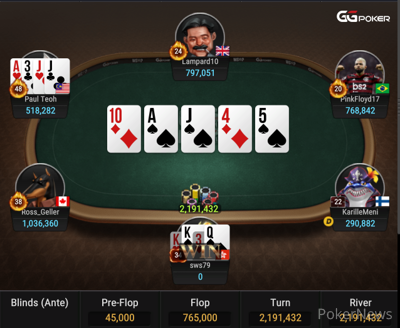 Paul Teoh raised to 75,000 from under the gun and was called by "karilleMeni" on the button. "sws79" three-bet to 330,000 and Teoh was the only caller.
On the
flop, "sws79" bet-called all-in for fewer than 765,000.
"sws79":

Paul Teoh:
Teoh missed out on the full house as the
turn and the
river instead improved "sws79" further to the nutflush.
Player
Chips
Progress

Sai Wah "sws79" Shek

2,191,432

1,479,415

Paul Teoh

518,282

-1,382,666