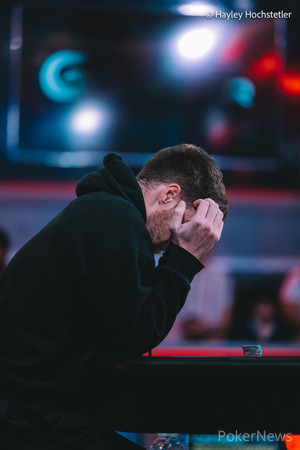 Hand #215: In yet another limped pot to the
flop, Adrian Attenborough check-raised from 4,000,000 to 14,000,000 and Espen Jorstad then clicked it back to 32,000,000 following one minute of consideration. Attenborough called rather quickly and the
followed on the turn.
The check by Attenborough triggered Jorstad's bet worth 62,000,000 once he gave it a minute and a half to consider his options. One minute passed for Attenborough to make the call and he then checked quickly on the
river with 200 million chips in the middle for yet another huge pot.
Jorstad emptied the clip with an effective shove for 131,000,000 as that's what Attenborough had behind. Yet another long tank by the Aussie followed with the same hand combination albeit off suit.
"Can I just jam for value one time and you tank? That would be nice," Attenborough joked with a smirk on the face towards his opponent after he was in the tank for a few minutes already.
"This one could be bad guys," the Aussie then remarked as he turned around to his rail. Once he focused back on the table and riffled the chips in agony. "You gonna be like why am I tanking with this hand but I really wanna call this time," the next table chatter followed.
All the while, Jorstad kept his laser-focused expression staring at the board and not giving away any emotion at all.
"What a game," Attenborough added and at some point even asked Jorstad "Do you have your eyes closed?" without receiving any reply at all.
"So many fuckin combos," the next burst of chatter followed before Attenborough started counting his chips again and talked through a few possible hand combinations, keeping a dry smile on the face.
"I really wanna call, really badly, but I have such a bad hand," the conclusion followed before he added "I just never know what to do ... sorry guys," he even apologized.
Ultimately, more than eight minutes passed when Attenborough said "fuck it" and finally talked himself into calling with the
. Jorstad revealed the
for deuces full of queens and has been crowned the 2022 WSOP Main Event champion. Another "fuck" by the Aussie followed, who immediately told his rail it had been a "really bad call".
His run in the 2022 WSOP Main Event comes just short of the victory and Attenborough has to settle for a consolation prize of $6 million. Jorstad has won the second gold bracelet of the series and arguably the most prestigious one, which comes with a top prize of $10 million.
A recap of today's action along with the winner reaction are to follow.