Spades Bad for Chen, Spades Good for Chen
Level 12 : Blinds 30,000/60,000, 60,000 ante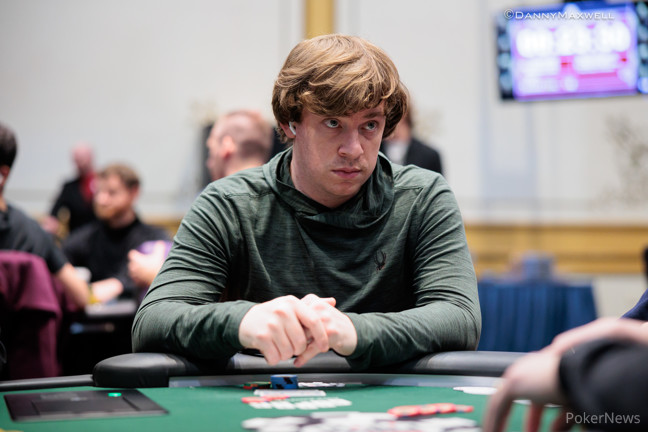 Chris Brewer raised from middle position to 140,000 and was three-bet to 500,000 by James Chen on the button. Brewer called and fireworks ensued.
The dealer put out an all-spade board, consisting of the A♠5♠2♠ and Brewer checked over to Chen, who put out a bet of 300,000. Brewer responded with a check-raise to 700,000 and Chen then three-bet to 1,600,000, which Brewer called.
"Check," said Brewer.
"Did you just check in the dark?" asked Chen.
"Yes," said Brewer.
The turn brought the Q♠ and Chen moved all in, with Brewer snap calling.
Chris Brewer: A♦J♠
James Chen: 10♥9♥
The river 8♣ would be inconsequential as Chen was drawing dead to Brewer's flush.
"You gave me two opportunities to quit bluffing, but I just couldn't do it," laughed Chen.
In the very next hand, Brandon Steven raised to 140,000 from middle position and Chen called from late position.
Both players checked the 6♠Q♥J♠ flop and Steven lead out for 140,000 on the Q♠ turn, getting a call from Chen. Steven checked the 4♠ river and Chen put out a bet of 300,000, resulting in a frustrated fold from Steven.