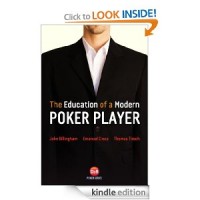 The Education of a Modern Poker Player
Author: John Billingham, Emanuel Cinca, Thomas Tiroch
Year: Sept 2013
Print house: D&B Publishing
Buy
The Education of a Modern Poker Player documents the efforts of a serious amateur as he pursues his ambition of rising through the stakes from NL10 ($10 game) to NL100 ($100 game) and beyond.
John Billingham is an English maths professor, and a keen player of games. In the summer of 2009 he discovered online poker and was hooked. A year later he decided to trick a couple of impressionable young poker pros, Austrian Thomas "TwiceT" Tiroch and Romanian Emanuel "EmanuelC16" Cinca, into teaching him how to play poker on the promise of writing a book with them. Little did he know what he was letting himself in for. The Education of a Modern Poker Player is the product of Billingham's cunning plan, and documents his progress from being unable to beat NL10 to establishing himself on NL100.
Over the course of this entertaining book, the authors explain how to beat these small stakes games and illustrate all the important concepts with real example hands. There is a particular focus on Fast Fold Games, such as Rush and Zoom, and practical explanations of how to take advantage of weak players in this format.
The Education of a Modern Poker Player includes:
* An extensive set of real example hands
* Practical advice on strategies to beat 6max No Limit Hold'em
* A basic strategy for Fixed Limit Five Card Draw
* Clear explanations of the Mathematics of No Limit Hold'em
* Specialist advice on Fast Fold Games (e.g. Rush and Zoom)