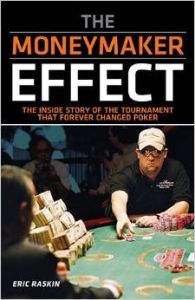 The Moneymaker Effect: The Inside Story of the Tournament That Forever Changed Poker
Author: Eric Raskin
Year: May 2014
Print house: Huntington Press
Buy
One minute, poker was an old-man's game played in smoky backrooms and televised now and again in the middle of the night. The next minute, it was a sensation sweeping every casino, dorm room, and man cave, ready for the bright lights of prime time.
What happened? A perfect storm that pushed poker into the mainstream—virtually overnight.
Chris Moneymaker, a 27-year-old amateur poker player with a name nobody could believe was real, defied the odds at every turn to win the World Series of Poker main event, at the precise moment the twin inventions of online poker and the hole-card camera combined to revolutionize the game. One of history's greatest underdog stories lit the fuse. Millions of people around the world couldn't look away. Poker exploded.