Aces and Faces Video Poker: How to Play Online and Win More
Aces and Faces Video Poker is available to play online for free or for real money. Both versions of the game are equally fun to play and easy to come to grips with.
Aces and Faces' payback percentage is high, and you will understand the rules quickly. The odds of this video poker game are better than almost any other Slot at any casino.
Aces and Faces free video poker and the paying version offer an exciting play due to its simple graphics and user-friendliness. The gameplay is fast and very manageable for any level of player.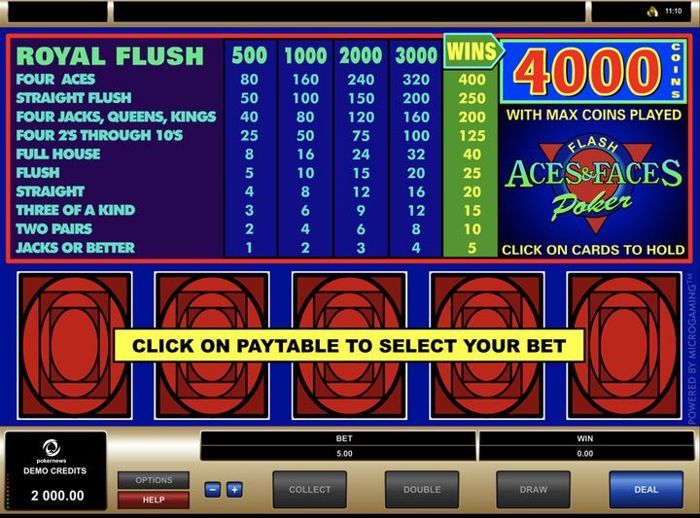 How to Play Aces and Faces Video Poker
You play Aces & Faces similarly to most other poker video games.
After you add your money to the game, you decide how much you want to bet, between 1 and 5 credits.
We recommend betting high (if you can afford it) as you will get better payouts. The cards are then dealt out.
You receive five cards from the 52-card deck and decide which ones you want to keep. You can keep or get rid of any of the cards.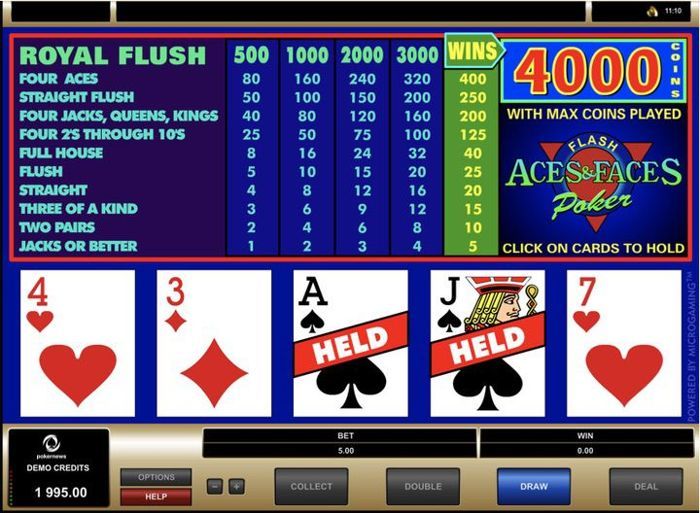 Replacements are be dealt for any cards you discard. Make sure you take the time to check out the Double Double Aces and Faces video poker strategy to improve your win ratio.
Aces and Faces Pay Tables
Like any of the other video poker games, Aces and Faces offers different versions with different payouts.
The best version of the game is 8/5 Aces and Faces.
To give you a helping hand at understanding the potential payouts, here's a list of the different paybacks you can expect.
Royal Flush - Usually the best hand in all versions of video poker, and this is no different. If you bet five coins, you get a payout of 800 to 1. For any lower bet, you can expect 500 to 1.
Straight Flush - For this hand, you can expect a 50 to 1 payout.
Four of a Kind (Aces) - 4 aces will pay you 80 to 1.
Four of a Kind (Face Cards) - This means a 4 of a kind of any jack, queen, or king. This pays out 40 to 1.
Four of a Kind - For any other four cards of the same suit you will get 25 to 1.
Full House - When playing on the best tables, you will get 8 to 1 for a full house.
Flush - On the 8/5 version of the video poker Aces and Faces, you can expect a 5 to 1 payout.
Straight - A straight will pay you 4 to 1.
3 of a Kind - This pays out 3 to 1.
2 Pairs - 2 pairs of any kind will get you 2 to 1.
Pair of jacks or higher - If you get a pair of jacks, queens, kings, or aces, you will get an even money payout.
The Aces and Faces app video poker has an incredible RTP of 99%, one of the highest out there.
As with any slot, the higher you bet, the better your chances of a high payout are.
However, keep this in mind:
While I understand you want beat video poker and win, you need to gamble responsibly. Betting more than you can afford on a gambling game is never the best strategy.
Visual Play
Compared to other video poker games out there, Aces and Faces is simple to look at, but much easier to get to grips with.
You'll spend no time at all understanding how to play and can enjoy the game from the moment you start playing.
The graphics are nothing special, but it doesn't take anything away from the fun side of things and makes it easier to concentrate on the game at hand.
It's a much better version than other video poker slots due to its simple layout.
Bonuses
There aren't any particular bonuses included in this version of video poker, but if you get the best hand possible, you will get an excellent payback.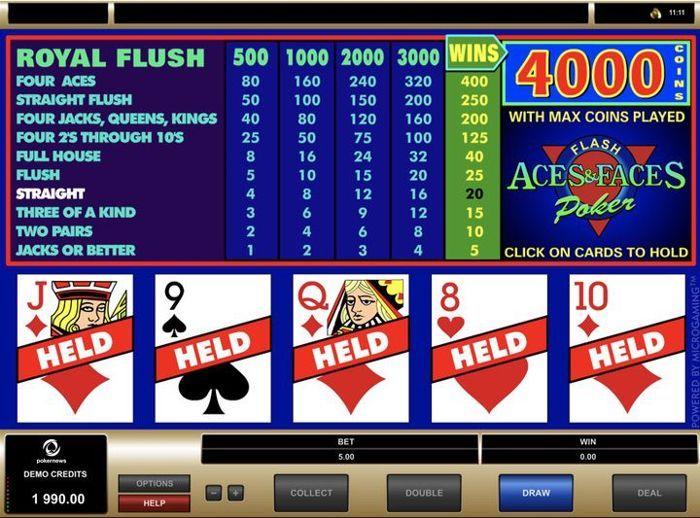 You will need to bet high, but it can be a good strategy, and you have a good chance of winning big.
The Verdict
Aces and Faces video poker is one of, if not the best, video poker slots that you will find.
It's fun and engaging, and no one will have problems understanding the gameplay. It also offers some high payouts, and the RTP is virtually unmatched on the market.
For both a fast and fun game of poker, Aces and Faces should be your go-to each time. There are no fancy graphics to confuse you, and you get straight into playing the game.
The promotion presented on this page was available at the time of writing. With some Casino promotions changing on daily basis, we suggest you to check on the site if it still available. Also, please do not forget to read the terms and conditions in full before you accept a bonus.