How to Play Blackjack Switch and Win Online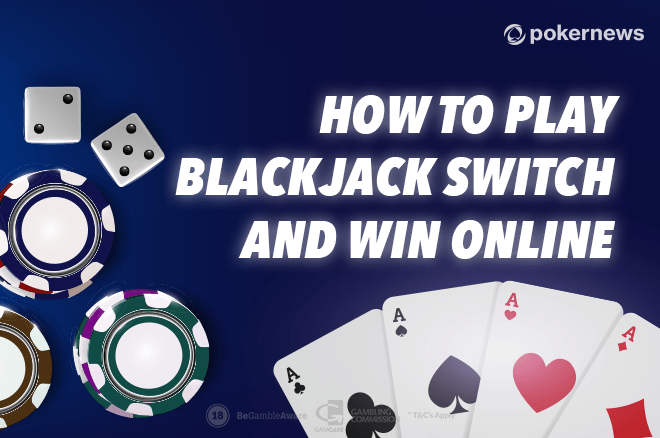 Ever heard of Blackjack Switch?
This celebrated Blackjack variant has been wowing players across the world since it was first introduced back in 2009, and 10 years later it's still as popular as ever.
We're here to help you discover the ins and outs of this outrageously entertaining game, including the basics on how to play and strategies to win at your online casino of choice.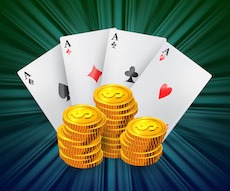 The Basics: How to Play Blackjack Switch
If you want to get in on a Blackjack Switch game, you'll have to learn the basics first. This includes understanding how the game works, following the rules, and using a switching strategy for maximum fun.
How is Blackjack Switch Different?
Chances are you've already played traditional blackjack. We don't blame you—it's fun, easy, and fast-paced enough to provide a wealth of entertainment.
Blackjack switch games are similar to regular blackjack games in that the objective is still to beat the dealer by landing a hand equaling 21 points, or as close to 21 as possible. However, the switch variation has some differences which serve to make it more complex, strategic, and exciting.
Instead of being dealt one hand with which to play, you'll get dealt two distinct player hands, totaling at four cards. True to the name of the game, you'll have the opportunity to switch the top cards in each hand. This gives you an opportunity to beef up weak hands and get closer to that coveted 21.
Basic Elements and Rules of Blackjack Switch
If you want to get down on a few rounds of Switch, you'll need to learn how the game is set up, the elements which compromise the gameplay, the rules of the game, and some basic strategy to cover all your bases.
Keep in mind that the rules of Blackjack Switch are the same as regular blackjack, except as they apply to the elements which don't exist in the original blackjack game.
Game Setup & How to Play
6 to 8 decks of cards are utilized for the game.
Players can choose to participate in the Super Match side bet before the cards are dealt.
Players are dealt two hands, both face up.
Dealer is dealt one hand in the regular style, with one card up and one hole card face down.
Dealer peeks for blackjack if his up card is an ace or a ten. If the dealer has a blackjack, he wins automatically unless the player has a blackjack. Then, the player blackjack pushes.
Players have the option to switch the second card dealt (the card on top) once the dealer's cards are dealt.
Players make 2 bets of equal size on each hand.
Player plays his hand, choosing to hit, stand, double down, or split.
Once the player's hand is played, the dealer plays his hand.
The dealer may push 22 against all player hands not equaling 21 or blackjack.
Player blackjack still beats dealer 22.
If neither player nor dealer bust or get blackjack or 21, the card value closest to 21 wins the game.
In switching games, players have the distinct advantage of being able to exchange their top two cards. This adds a titillating extra element to the game, but the house does make up for it by ensuring that the dealer may still push on a player 21.
Standard Rules and Regulations
Players must bet on and play both hands.
Players may only switch the card dealt second, i.e. the card on top.
If the player makes a switch and the result is a blackjack, this does not actually count as a blackjack. It counts as 21, and the dealer may push it with 22.
Winning player blackjack hands pay even money.
Players are allowed to double on any 2 cards.
Players are allowed to double after a split.
Players may re-split up to four hands.
Dealer peeks for Blackjack with a ten or an ace up.
If the dealer has a blackjack, it is an automatic dealer win. The only exception is a player blackjack, which pushes.
Dealer hits on a soft 17 (in Ontario casinos, the dealer must stand on soft 17).
Dealer stands on a hard 17.
Dealer must stand if dealt hands totaling 18 points or more.
The house edge under these conditions is 0.58%, assuming the game is played with 6 decks. Add 0.02% to this if the game is played using 8 decks.
Keep in mind that each casino may have some variations on these rules, so research yours thoroughly to find out what it is before you play, because different rules may have an impact on the house edge.
Super Match Side Bet
The super match side bet gives players the chance to make a bet on the possibility of all the hands which may arise from the initial four cards they are dealt. The payout looks like this:
Pair: 1:1
3 of a Kind: 5:1
2 Pair:8:1
4 of a Kind: 40:1
The side bet adds an exciting element to the game and allows players to increase their chances for a big win. Remember, this bet must be made before the cards are dealt.
Strategy Tips and Tricks to Win
You'll definitely need a Blackjack Switch strategy if you want to rock this game. Your best bet is to keep it simple, play it safe, and follow some easy tricks.
Make sure you don't switch arbitrarily. if you already have a pretty strong hand, you won't need to switch. If both hands are relatively weak, you'll want to take advantage of the switching rule.
Remember that your switch decision also depends on what the dealer has upturned. A good rule to follow is that if the dealer has a 7 or 8 on the table, you should try and balance out your hands—that is, make the switch if it will even out your hands.
If the dealer has a different card upturned, you should focus on making the best hand you possibly can out of just one set of cards.
Now that you know how to play Blackjack Switch, you're ready to get started. Remember, having fun is the most important thing. With this variation, that won't be a problem. Choose a reputable online casino like this one and let the games begin!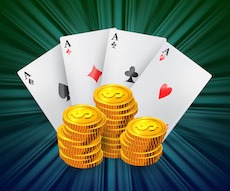 The promotion presented on this page was available at the time of writing. With some Casino promotions changing on daily basis, we suggest you to check on the site if it still available. Also, please do not forget to read the terms and conditions in full before you accept a bonus.