The Ultimate Guide to the Best High Roller Casino Games to Play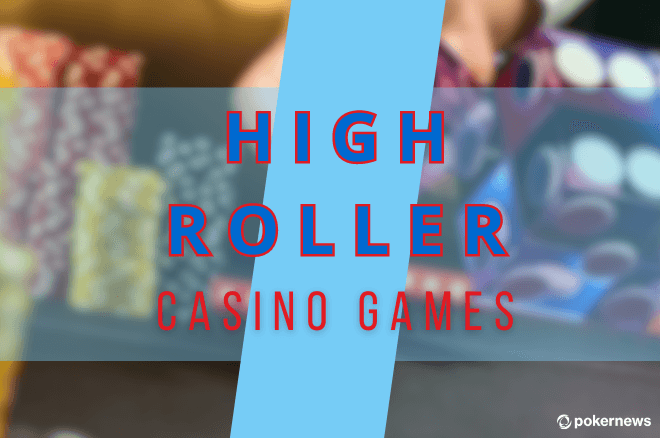 High-roller casino games are intended for players who are not afraid to wager large amounts of money. Of course, those less prone to taking risks can play them as well, but the adrenaline enthusiasts among table game lovers will enjoy them the most.
In this article, you'll learn all you need to know about high roller games and whether they're the right choice for you.
You'll also learn the most important points about one of the best high-roller casino games, including:
Read on to find out more!
---
Who Are High Roller Games For?
High roller Las Vegas games are for everyone, unlike what you might guess from their name. However, they are most suitable for 'high rollers'. These are players who bet large amounts of money and are not afraid to take risks when playing casino games.
Interestingly, high-roller casino games are something relatively new in the online casino market. There are few operators that offer them, but the perks that they have are worth the extra time you spent on search for an online casino that offers them.
High-roller games have higher maximum bet limits, so players will not feel confined by standard limitations.
It should be noted, that at PokerNews we would always recommend playing within your means, take regular breaks when playing, and never chase your losses.
3 Best High Roller Games to Play
As many of you know, three of the most popular table games in the casino industry are:
After you decide to enter the world of high-roller betting, it might be challenging to decide where to begin. Thus, below you can find the three best games, one of each type, to test out the waters which could also bring you some serious winnings.
You're guaranteed to have lots of fun and a great time, as well as enjoy a deluxe live dealer treatment.
---
Salon Privé Baccarat
Salon Privé Baccarat is a game that was recently developed by Evolution Gaming. This was their first high stakes baccarat table game intended for VIP players. Those who decide to play it will enjoy a premium live dealer experience.
If you're wondering how to play baccarat, note that this version has additional Macau style playing rules.
The Main Features of Salon Privé Baccarat
Most players will be required to have a certain amount in their accounts before they can even sit at the table.
The stakes range between €1,000 and €10,000 per hand, or more.
The tables are private and limited to only one player. No spectators are allowed. If there is someone playing at the table, it will be marked In Use.
The Deal Now button is always active. Therefore, the player sets the pace of the game.
The player can request a Free Hand, which is similar to what players can do in VIP baccarat rooms in Macau. The dealer will then deal a free hand with no bets placed.
Other special features players can enjoy when playing Salon Privé Baccarat:
Players can request a different dealer at any point of the game.
Players can request the cards to be shuffled whenever they wish.
A VIP Room Manager is on hold at all times to deal with any questions or requests VIP players might have. All issues are resolved in a jiffy.
Salon Privé Baccarat Gameplay and Interface
This table is open 24/7 and can be accessed via desktop, mobile, and tablet devices.
The interface of the game is quite pleasing and the table is covered with several HD cameras. As you can expect, the dealers are polite and patient, ready to play at whatever pace you desire.
Moreover, the gameplay follows the standard baccarat betting procedure, so you should not expect any surprises there.
---
Salon Privé Roulette
Salon Privé Roulette definitely raises the bar when it comes to premium roulette tables. As you can see from the name, this game is also created by Evolution Gaming and is part of their Salon Privé Live Dealer package.
This VIP roulette game is built on a premium platform that allows the player to customize every aspect of the game.
Sure, you can do that in standard live games as well. You can change the visuals and sounds, but Salon Privé Roulette lets you change the pace and dynamics of the game as well. The privileges go to the extent of letting you choose the host of the game as well.
How to Play Salon Privé Roulette?
Evolution Gaming's Salon Privé Roulette is a single-zero roulette variant, meaning it has a decent RTP.
How to win at roulette on the high-roller Las Vegas tables? Take note of the rules below.
The interface lets you see the dealer, the wheel, as well as the betting table. You can place your bets at the bottom of the screen, on a well-designed betting grid. All standard bets are included, as well as a number of special ones.
The good news about Salon Privé Roulette is that the tables are private. That means you will be alone at the table, and nobody will be able to see what you are doing or the sizes of the bets you are placing.
However, that also means you will not be able to get a sneak peek before starting to play, so you will have to take our word that this is a fantastic game to play.
---
Blackjack Fortune VIP
Blackjack Fortune VIP is the best blackjack game from Evolution Gaming's VIP suite. If you've played Blackjack Platinum VIP, you'll know how to play this one as well. They have the same betting rules but a different playing theme.
Apart from the spectacular playing conditions, you'll also have a chance to enjoy the premium plush crimson Chinese design and the dealer's outfit.
Blackjack Fortune VIP Gameplay
High-quality video showing the dealer and the table takes up the majority of the screen in front of you when you open the game. A discrete menu at the top will let you change video and audio quality, view your playing history, and check the game's rules.
If you're not sure how to play blackjack, the most important playing rules you need to be aware of include:
Player stands at all 17s.
You can double down on any two cards.
Splitting is allowed.
Insurance is allowed if the dealer reveals an ace.
Side bets are included.
Blackjack pays 3:1.
Insurance pays 2:1.
Additionally, you should know that this game is played with eight decks of cards, so counting cards is not only difficult — it's probably impossible.
Blackjack side bets are explained and include Perfect Pairs and 21+3 wagers.
Just like in all high-roller casino games, betting limits are pretty high, so you should place them carefully.
---
Where to Play High Roller Casino Games
Not all online casino sites offer these games, so if you are looking to try your hand with some real money casino gaming, we'd suggest taking a look at our online casino toplist. You'll be able to read our comprehensive casino reviews for all these sites, plus access an exclusive link to play at these casinos with a bonus.
The casinos available to you will depend on whether real money casino gambling is currently legal in your location, so you may instead need to play at a social casino, who offers free to play casino games.
---
High Roller Casino Games - Our Final Thoughts
To sum up, if you are a high roller, there are no better games for you than high roller Las Vegas games. If you are looking for a premium experience, you can get it any of the recommended online casinos we feature on PokerNews.
You can play variations of baccarat, roulette, and blackjack with higher stakes than anything you've seen before.
If you do not know where to start, you can begin with one of the three games reviewed on this page. They are the favorite choices of most players out there.
---