Monopoly Slots: ALL The Best Monopoly Slot Games to Play Online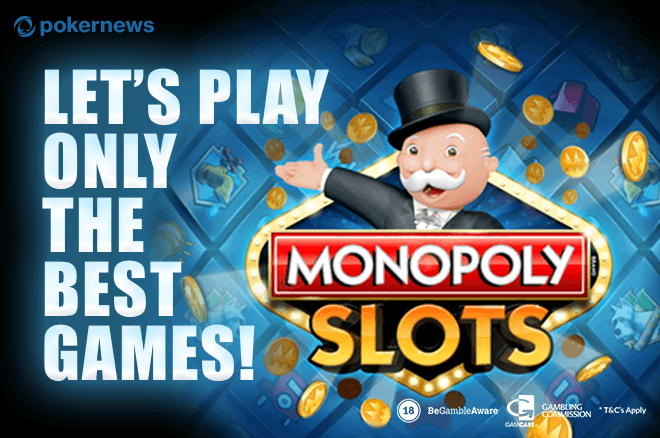 If you're a fan of classic games such as the notorious Monopoly board game and you nurture a passion for slot games you should be aware of the fact that the perfect blend exits.
The following list of the best Monopoly slots to play online contains four blood-pumping, head-spinning, adrenaline-raining slot games that are all based on the irreplaceable board game that's become a vital part of everyone's childhood.
Therefore, select your token, like you normally would, and decide whether a hat, a dog, or something third will bring you luck this time, and enter the world of free Monopoly slots online.
Best Monopoly Slots to Play in 2018
To help you find the very best Monopoly slots games to play online, I selected the four titles everyone should play. Check out the table below to get immediate access to the games, or browse through this article to find in-depth reviews of each Monopoly game.
Also, all the links in this article activate welcome bonuses that will give you wager-free spins to play even more slots games for real money.
Monopoly: Big Event
With five reels and twenty paylines, this Monopoly slot machine will keep you on the edge of your seat.
And it's not like you don't have anything to look forward to – the return to a player in normal mode is 96%, while that number climbs up to 99% if you're a high roller.
This is one Monopoly slot game anyone can play; in case you just want to enjoy a pastime game without concentrating too much on the game, you can invest as little as 20p.
On the other hand, if you're in it to win it, you can go up to $500 per spin.
For you to trigger a Big Event feature in normal play, you should focus on reel one, three, five.
There are two kinds of previews – the red and the green one. In case you manage to collect two symbols on reel number five, you'll trigger the green Big Event.
When you land three of them, there's the red Big Event award you can look forward to.
These triggers will lead to sneak a peek; both events reveal three positions – the green event shows you houses, while the green one presents hotels.
Now, let's move to the point that makes the Monopoly board game so exciting – community chest and chance cards.
During both events, you'll get to choose between these two types of cards.
If you go with a chance card, you will be awarded a bonus, while community chest options reveal one of two card categories – free spins or wins which are guaranteed.
This is where it gets interesting.
There's a certain number of guaranteed wins that will occur during free spins, which is what these cards will show you.
In case you're left with a number of guaranteed wins before you're done playing, a separate event will take course on a special reel, and this is your chance to earn some big money.
Monopoly wouldn't be anything without its "Jail" card.
If you indeed end up in this place of solitude while playing Monopoly slots, your possibility to make the least valuable investment will disappear from your options, and you won't be able to use it during free spins anymore.
You'll feel your adrenaline rising after this one for sure.
Before you actually give this blood-pumping slot game a go, you should also know about two more features available during free spins – Dancing Winds and Locking Winds.
In case you unlock the first one, one of the reels will go completely insane, while the second one is there to turn wild reels back to normal.
Monopoly: Bring the House Down
If the previous ratio of reels and paylines got your head spinning, you might have to sit down for this one.
Because of five reels and forty paylines, this is one of the free Monopoly slots online that will catch your full attention.
As a matter of fact, what makes it highly available to a wide audience is the fact you can make investments that start with 10p.
Although your background is actually an authentic Monopoly board, you should remind yourself that this is a slot game you're playing from time to time.
Considering the fact you also get to choose your token – either a cat, a ship, a dog, or a car – this might be more challenging than you thought.
This is a game that you need to be careful with and watch your back.
Other than reels, there's something else spinning.
I'm talking about Hot Zone Wild patterns that turn symbols, well – wild. Whenever that happens, the Monopoly slots app will bring in a new factor – a random multiplier that doesn't exceed five.
The real trouble begins when Hot Zone Wild patterns get in touch with the Monopoly symbol.
Whether it's a house or a hotel in question, they will get mixed together. However, in case you manage to achieve three Monopoly symbols, this sign will be removed.
You should also know that this rule is applied only to reels five, three, and one.
But that isn't all – there's an addition of three features that can also be triggered.
Chance cards will give you an input on the Hot Zones, and the Bonus Drop feature increases your chances for wild symbols. In case you trigger the Bonus Selector feature, you need to react quickly because it grants you an option to choose a pattern. You can either stick to the current
Hot Zone Wild Pattern or exchange it for a different one.
If you're a Big Bet player, then you'll find this part very exciting. For an equivalent of twenty pounds – depending on your country – you can connect five spins and you're also awarded a Community Chest card.
For ten pounds more, you gain two of those useful cards, with forty pounds you'll get three, while the big fifty will grant you four.
At stakes this high, you can hope for a multiplier that goes up to five, win additional prizes thanks to Community Chest cards, and your return to player fee climbs up to 98%.
Monopoly: Mega Movers
Being someplace in between the first two games, Monopoly: Mega Movers edition consists out of five reels and thirty paylines.
However, your stakes will differ a bit – your investments move from fifty pennies to seventy-five pounds.
Now, if you're a tactical player, and you want to take advantage of Monopoly casino slots, you should know that you can win up to one hundred free spins on this one.
What makes this one of the most popular Monopoly slot games is the fact there are five fixed jackpots, which increases your chances for making some serious money significantly.
If that's doesn't seem like enough for you to give this game a chance, then the option for achieving up to 12 wild symbols most certainly will.
An interesting thing about this game is that you can personalize it by choosing your own token, and options that Mega Movers offer are quite amusing.
So, you should start your game by choosing either a duck, a hat, a car, a battleship, a dog, and a train, or if you prefer something more exotic, you can go for a T-rex or a penguin.
To keep you company, there's Mr. Big – Mr. Monopoly himself that is, as you might have suspected, the most important symbol in the game.
So, if you see his face while playing, that means Mr. Monopoly awarded you by multiplying your prize by five.
However, that only happens if you manage to collect 5 on one of the paylines.
Wild symbols also have a tendency to multiply in the Monopoly slots app.
The fact is that wilds will appear in three middle slots, but – in case they arrive with an arrow, the symbol that arrow refers to will also become a wild one.
But, let's move on to really interesting stuff – Wheel features.
While playing this game, you'll probably get distracted by signs in the background that seem to be appearing following a random pattern.
However, these seemingly irrelevant symbols can trigger the Wheel Features.
In case you notice three or more of them flashing you from the background while appearing hand in hand, connected in the same row, it's time to spin the Wheel.
Your Wheel feature will depend on how many background symbols you've managed to collect at once.
However, before we get into your Wheel options, there are a couple of terms you need to get familiar with.
With the Wild Spin Bonus feature, more of these symbols that can bring you profit will appear and in the following rows – two, three, and four.
It will also open up a new option for you – the Extra Bet.
The Extra Bet option is there to increase the number of wilds in each of the Wheel features.
If you trigger the Extra Bet option, your potential profit will double as well.
With the Free Spin Bonus feature, you can win up to an amazing one hundred free spins – the number depends on the Wheel feature you have previously triggered.
When there are five in a row, which is the best option you can hope for, you unlock both – Wild Spin Bonus and Free Spin Bonus features.
Besides these, you're also a candidate for winning one of the jackpots that can multiply your investment by up to two thousand times.
If you unlock four in a row, your Wheel feature will offer you an option to level up and jump on the options that come with achieving five in a row.
However, if you decide to stay put, you will also open a Wild Spin Bonus and be able to unlock Free Spin Bonuses, only your winnings regarding the jackpot decrease in value.
With three in a row, you'll win a Wild Spin Bonus, be able to eventually trigger Free Spin options, and gain a chance to win one of the smaller jackpots.
Similar to four in one Wheel, three in one also offers you an option to upgrade to a more profitable option.
Monopoly: OTM
When we speak of Monopoly slot games, this one deserves a special place on the list.
If you always get seriously bored with slots before things get actually interesting, and if you always feel like something is missing, Monopoly OTM is a game for you.
Not only that its features will keep you interested for longer than you'll care to admit, but you will also be able to enjoy a fantastic eye candy look.
Like all other free Monopoly slots online on this list, this one too is based on the board game that broke the whole world, but unlike the others –
Monopoly OTM showcases amazing graphics that will significantly increase the quality of your experience.
After reading about the features and options, and now when you're closely familiar with them, you know what to expect with Monopoly slots in general.
However, this game contains one feature that others don't – a "Pass Go" feature.
In case you trigger it, you can win up to twenty Free Spins, and level-up your game if you feel lucky and increase your stakes.
Like in Mega Movers, Mr. Monopoly makes a personal appearance in this Monopoly slot as well, and once again, his arrival is followed with serious multipliers that can increase your winnings up and raise your adrenaline levels by doing so.
Naturally, this app too is enriched with Big Bet options.
So, if you're a high roller and you decide to move to the big kids' table, you should know that Monopoly OTP returns 97.75% to its players.
In the end, there's one more important fact for you – each of these apps is easily adaptable, so you can access them from your preferred device.
Therefore, get your laptop, smartphone, or tablet, sit back and relax, and let the Monopoly slot games earn you money while you're having fun.
Be sure to complete your PokerNews experience by checking out an overview of our mobile and tablet apps here. Stay on top of the poker world from your phone with our mobile iOS and Android app, or fire up our iPad app on your tablet. You can also update your own chip counts from poker tournaments around the world with MyStack on both Android and iOS.