Play Pai Gow Online: Practice Pai Gow and Win Your Games!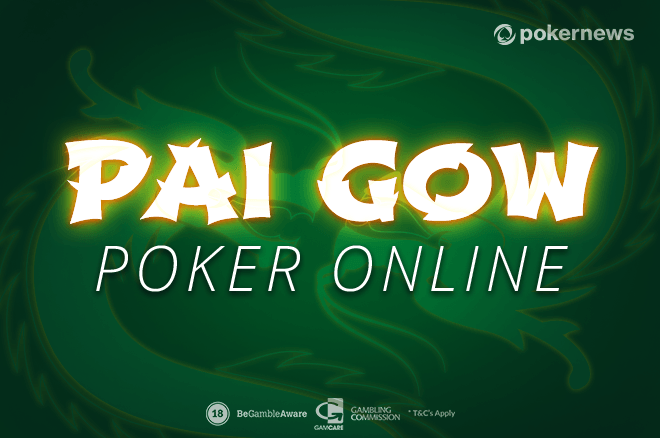 Pai Gow Poker is a variant of Poker based on Chinese Pai Gow domino game
It's one of the easiest Poker games to learn and play
Learn how to play Pai Gow Poker online and play for free here
Pai Gow Poker might sound Chinese in origin, and it is. But it's a version of Poker that was developed in the United States.
Pai Gow, the ancient Chinese game of skill and craft, is played with dominoes and is still immensely popular to this day.
Pai Gow Poker, on the other hand, takes place at a Poker table, with a deck of cards.
Developed as a twist in Poker for those who want a bit of variation to their playing style, Pai Gow Poker is a great
card game to play - and you can play it online for free.
Let's take a look at the reasons why you will love Pai Gow Poker free online Casino game. And a few basic strategy tips that will help you to hit the table and instantly do well.
Pai Gow Poker: the Basics
The game of Pai Gow Poker actually isn't that old - it was developed by Sam Torosian for the Bell Card Club in 1985.
One of the reasons it became so popular is the social factor.
Pai Gow Poker requires both of a player's two hands to beat those held by the banker in order for the player to win.
The game can last quite long, with many pushes, and you're likely to spend a lot of time with your fellow players.
This is good for anyone who plays Poker to enjoy themselves, and to have a nice time with like-minded people.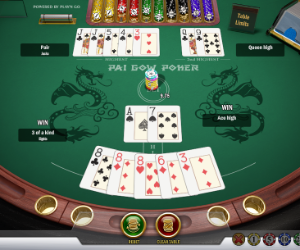 Surely, this is why we all play Casino games.
Yes, you might like to play for the money, but ultimately you need anything you play to be enjoyable, otherwise you're wasting your time playing it.
The house edge of Pai Gow Poker, on average, is rated as between 2.5 and 2.7 percent.
So, whether you are an experienced Poker player or someone looking for a game for a bit of recreational fun, your chances of winning are very reasonable.
Another reason why people like Pai Gow Poker is because, in most versions of the game, all six players are playing against the banker.
This leads to a situation where you and your fellow players are all united by a common goal, and against a common enemy.
When the banker wins, everybody else loses. As a group, you'll win and lose together on the balance of occasions.
Thanks to this, it's a lot more social than a conventional game of Poker.
Pai Gow Poker Online Rules
You can end up playing Pai Gow Poker with up to six players and a dealer. Online, it's just you and the dealer.
In a real-life version of Pai Gow Poker, any player and the dealer can be the banker, but in the online version, it is the dealer who takes this role.
It's often called a two-hand Poker because that's exactly what you have when you play.
The banker uses a 53-card deck for a Pai Gow Poker. It consists of the classic 52-card deck, plus a Joker.
The Joker acts as a wild card like in other card games.
Unlike other Poker variants, in Pai Gow Poker, you're dealt seven cards.
The aim is to use these cards to form two high hands out of it, both beating the dealer's hands.
The usual Poker hand ranking applies - you can win with a high-card hand, Royal Flush-hand, Straight-hand, etc. - you know the drill.
One of these hands should be a five-card hand and the other one a two-card hand.
The five-card hand has to be higher than the two-card hand. Yet, both still have to be the winning hands when they confront the dealer's hands.
If you get it right, you win.
There are three outcomes of the game:
you win when both of your hands beat the banker's
it's a push when only one of your hands is higher hand than banker's
you lose when neither of your hands is higher than banker's
The payout for the win is 1 to 1. If the game results in a push, you get your wager back but don't win anything extra.
Pai Gow Strategy: How to Win at Pai Gow Poker Online
Pai Gow Poker is a great game. Especially, if you follow a strategy that works.
While you can ultimately develop one yourself, there are a few principles you can follow to make your playing experience as profitable as possible.
Here are some Pai Gow Poker strategy tips.
Make a Sensible Bet
At the start of a Pai Gow Poker online game, you'll have to make a bet.
This is the only bet you need to make, so make sure it's a good one yet friendly to your bankroll.
On all Casino and Poker games, I always advise you to only bet a small proportion of what you can afford, and this is sensible advice here too.
Remember -
When you're starting out with Pai Gow Poker, even if the house edge is smaller comparing to some other games, you'll still find yourself at a competitive disadvantage because of your inexperience.
Balance risk with reward and go for a bet that you can back up in future games too.
Play for Free at First
At some online Casinos, you can practice Pai Gow Poker by playing for free.
==> Click here to play Free Pai Gow games online
This is an ideal thing to do if you haven't played the game before.
It gives you a chance to get to know how it works and what kinds of hands win. Thus, playing Pai Gow Poker online free is a really good idea.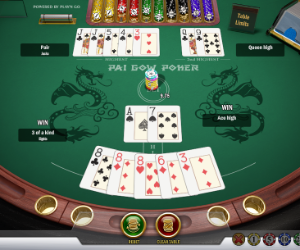 Make the Strongest Possible Hand Across Both Hands
Pai Gow Poker is different in that it gives you two hands to play with. That adds to the variables for you as a player.
Your two-card hand must never outrank your five-card hand.
If it does, that's a foul and a silly way to lose your money.
However, you can't win money if only one of your hands is better than the dealer's.
It's necessary to balance your hands so that both are reasonably strong. Yet, keeping your five-card hand slightly stronger, as I've mentioned before.
Also, make sure to read this article to develop an optimal Pai Gow Poker strategy.
Do this and it won't be long before you start winning.
The promotion presented on this page was available at the time of writing. With some Casino promotions changing on daily basis, we suggest you to check on the site if it still available. Also, please do not forget to read the terms and conditions in full before you accept a bonus.