The Best Animal-Themed Free Slots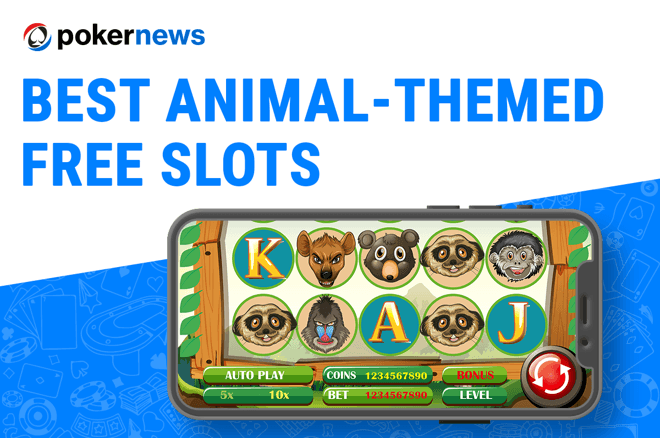 If, like the experts at PokerNews, you love all creatures great and small, then you're going to enjoy this article where we look at the best free animal-themed slot games.
From cute little balls of fur to scaley serpents, we take a look at the latest and greatest slot games featuring the fascinating animals we share this planet with and where you can find them (the slot games, not the animals, we're no Sir David Attenborough).
Animals in gaming
From the inclusion of small and fluffy creatures to the creepy crawlies that make the hairs on the back of your neck stand up, animals have appeared in gaming for decades.
We've seen them appear in popular video games as side-kicks to accompany you on adventures such as Dogmeat in Fallout 2, as main characters such as the cat in the PS5 exclusive Stray, and as enemies like Queen Gohma in the Legend Of Zelda: Ocarina Of Time.
But in addition to spiders, cats and dogs appearing in popular video games, they also appear in many slot games too. In fact, more often than not animals are the main focus of a slot game's theme and core features whenever they make an appearance. But what are the best animal-themed slot games to play and where can you find them?
Animal-themed slots
There are many animal-themed slots, too many to list them all, so our experts have whittled down all the free online games they have played to create a list of the best animal-themed slot games and where you can find them.
Bush Telegraph
Available to play for free at VideoSlots with a demo mode, Bush Telegraph is a popular and colourful slot game with a design that looks a little dated compared to more modern slots. But despite the fact it looks like a slot game that belongs in the 90s, it still plays incredibly well to this day and features a number of animals making appearances from the bush as high-paying symbols.
Some of the animals you may find include a toucan and a warthog, both of whom seem to be playing the drums.
Developed By: Microgaming
Release Date: 2005
Key Features: Bongo Bonus, Wilds
Holy Mackerel: Extreme Fishing
Does something smell fishy to you? That'll likely just be all the winnings you're reeling in with 888Casino's exclusive slot game that it has recently launched in partnership with Section8, Holy Mackerel: Extreme Fishing.
One of the main reasons for this game appearing on our list of the best animal-themed slot games is not just its fun and vibrant graphics, but also the fact this game has a jackpot attached. Do you have what it takes to land the catch of the day?
Developed By: Section8
Release Date: 2022
Key Features: Jackpot
Buffalo Blitz
The popular Buffalo Blitz game started off as a simple slot with a huge number of win lines available but has grown into an iconic game that has seen numerous spin-offs launched from its success.
Available to play for free at PokerStars Casino, the game is based in the wild grasslands of North America where buffalo roam the wild free to live their lives without fear of being hunted. However, you'll need to channel the power of the herd if you're going to win big in this slot game.
Developed By: Playtech
Release Date: 2016
Key Features: 4,096 Pay Lines, Multipliers, Stacked Wilds
Greedy Wolf
We have another new game on our best animal-themed slot games list but this time it's not a site exclusive and can be found at a number of online casinos such as bet365 Casino. Greedy Wolf follows the age-old tale of the three little pigs and the big bad wolf, and what makes this game so great is the reels play out the story with the pigs trying to build their houses and the wolf blowing them down.
Don't feel too bad though, this is how you get a chance of winning potentially big wins of up to 3,000x your stake, although you can also find a demo of this game to play for free as well.
Developed By: Pragmatic Play
Release Date: 2022
Key Features: 3,000x Max Win, 3 Little Pig Wilds and Respins, Free Spins, Greedy Wolf Wild
Bonus Bears
We learned that bears like honey from Winnie the Pooh, but sadly the bear in this game isn't as cute or cuddly. The graphics whilst cartoony are a little disturbing, it kind of looks like Baloo from the Jungle Book if it was adapted by Tim Burton. You'll have to play for free over on Casino.com to see what we mean.
Despite the strange graphics though, it is a great fun game to play with two main features. Free spins are activated when three or more bear wild symbols appear on the reels in the same spin, and three or more honey pots will bring up the honey feature. In the latter, it involves a bear climbing trees looking for money honey, with every sample of the golden nectar he finds rewarding you with a cash prize.
Developed By: Playtech
Release Date: 2012
Key Features: Bear Free Spins, Honey Feature