Pacific Poker Review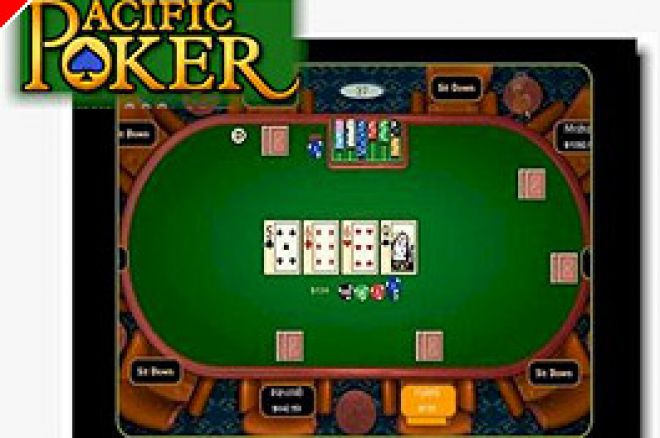 888 Poker
is one of our favorite online poker rooms for a variety of reasons. It's a poker room with a wide range of betting limits to accommodate low and high-stakes players, a great reputation for reliability, a top-notch playing experience, and some great technical features, including a no-download playing option. Here's a summary of some of
888 Poker's
key benefits:
Range of betting limits: 888 Poker
offers something for everyone in terms of betting limits. Some online poker rooms have minimums starting at $1 tables, which is a bit steep in our minds for newcomers, or for people who simply don't want to risk a lot when playing. But
offers tables starting at 5¢, which is a great for people just learning poker, or for people who are interested in playing for real money but not interested in breaking their bank. Even though 5¢ is a fairly low betting limit, you'll find that the action at the 5¢ tables is far different than the action at the play money tables. There's a big psychological difference in the way players behave when playing for real money, so a 5¢ table can be a great way to get a taste for real money action in a relatively safe way. No online poker room should scare off smaller betters, and 888 Poker doesn't. If, however, you are a higher-stakes player, you'll be perfectly at home at
as well - tables range up to $20/$40.
Reputation:
is the online poker offering of Casino-on-Net, one of the web's oldest and largest casinos. We think that 888 Poker's position in the Casino-on-Net portfolio affords it an important measure of additional reliability and security. In addition, in our experience playing with
, we've found them to be very timely in paying out and very responsive to any service requests.
Playing experience:
The overall playing experience at
is another notch in its positive column. All of the information you want as a player is available on the screen, but the display isn't overwhelming or cluttered. The graphics are sharp and clear, and
takes a crisp approach to the gaming environment. There aren't too many bells and whistles, but the playing environment is very easy to learn and to understand. You'll also find a nice little chat funtion that allows you to strike up a conversation with other players at the table. In our experience, the player community at
has been welcoming and congenial.
Technical features:
has some very neat technical features on offer. Our favorite is the no-download option, which allows you to play all of
games without downloading the software if you choose to do so. Another of the best is the hand history log, which allows you to take a look at the previous hands you've played at
. It's a great feature for studying your performance and getting a deep understanding of your competition. You can also get a "video replay" of any hand you've ever played. Just click on any past hand and you can watch it unfold again before your eyes. Excellent feature, whether you're seriously studying your style and your opponents, or if you're just reliving that royal straight flush hand again and again.
Overall, we don't think you can go wrong at
. It's a great poker room with all of its bases covered. If you choose to sign up, best of luck at the tables.