Drinks Are Not on the House at Ebro, Fla., Greyhound Park Poker Room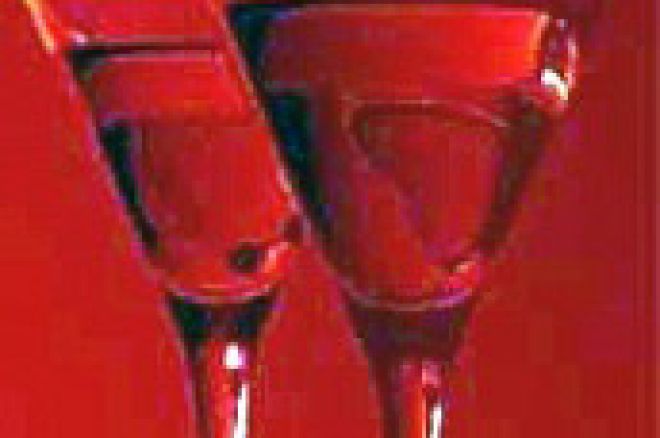 Two things quickly are noticeable, to even the casual observer, about Shuffles poker room. There is no smoking, and neither are complementary alcoholic beverages offered to the players.
Make that three things: no half-dressed cocktail waitresses strolling the floor.
The Ebro Greyhound Park poker room is governed by the smoking ban voters statewide mandated in 2002, and Washington County allows only the sale of beer and wine on premises.
Players at Shuffles must purchase their beverages, unlike the practice of free drinks at most casinos nationwide.
As to the third, the card room actually is in the main dining area of the Greyhound Room at the track.
Poker room manager Bonnie Strause is well aware of the restrictions.
"Drinking, gambling and smoking are three vices that go together, that's a cold hard fact," she said. But the Las Vegas gaming veteran isn't bothered that hard alcohol isn't part of the mix.
"As far as the card room goes, I'd rather keep down the amount of disruptions," she said.
Poker players who smoke must take a break from the table to indulge their habit, to the chagrin of Ebro President Stocky Hess, who would prefer to keep them seated.
"You don't want them to leave," he said. "But the other side is the nonsmokers are happy as hell." That much was reinforced by some of the players on a Friday afternoon in early December. Most of Shuffles' patrons were male, and many were retired. But there were women at nearly every table as well as other younger to middle-aged players.
When the tourist season winds down, Ebro does the bulk of its business with residents of Bay, Washington and Holmes counties. But Shuffles has a larger base in the Panhandle, poker players coming from as far away at Fort Walton Beach, Dothan, Ala., and Tallahassee.
Dan Rose, 64, from Freeport, said he plays about two or three times a week. He didn't bother to come, he said, when all Shuffles could offer was $10 pot limits. When that was increased to $2 limits on bets on Aug. 6, Rose's interest increased.
"It's the money, you can make money now," he said. "It's still not enough, but now you can run people out. It would be a lot better if they raise it again." Rose said the biggest pot he's won at Shuffles was $120. Despite being a smoker, he said he preferred that higher limits be the No. 1 priority.
"I like to play with the bigger bettors," he said. "I'd rather play with the looser players, but once games are going you take what seat is available." He said he didn't mind competing with newcomers to Shuffles — and poker — and usually sees those players on weekends.
"They learn quick," he said. "Those kids are smart." James Beck, 52, travels to Ebro about once a week from Panama City. He said he wouldn't mind a $5 limit table, but stressed that the competition is more enjoyable since August.
"It's like night and day," Beck said. "It's a whole lot more interesting. The people are more interesting. Before, all it was, was Showdown with the $10 pots.
"The dealers are nice to you here, and it makes me feel good to get out of the house. I bring $50, and if I lose it I go home." Beck is accompanied by his wife at Shuffles, although she doesn't play.
Mike Sowa, 66, said he travels to Biloxi, Miss., about six times a year to play cards. The retired businessman from Bayou George is a Shuffles regular, playing three times a week.
"The difference now, is you can actually play poker," he said. "With the $10 limits the pot was full in two or three bets. There was no bluffing. No excitement." Sowa also would like even higher limits, which he said is one draw for Biloxi.
"There you can actually buy a pot," he said. "Here it's possible, but highly improbable. One thing I do like is no smoking in the room, and the atmosphere is real good." Aside from a wider variety of poker games, Sowa also had one more request.
"I'd like at least for them to offer free coffee for gamblers," he said. "Being in business for 40-something years, I just think that's bad business.
"A free cup of coffee goes a long ways."
Strause said that the smoking ban can be a distraction when many players at one table smoke.
Tables for Texas Hold 'Em have as many as nine players, while stud tables can accommodate seven.
"I've seen four get up and go outside," she said, "and everybody else just sits there until they get back. Smoking has definitely had an impact." Strause emphasized the relaxed atmosphere of Shuffles, however, and pointed out that Ebro's rake, or cut of each pot, is lower than in Mississippi casinos.
She said Shuffles can accommodate about 120 players at one time. That total probably is about twice the amount of gamblers the card room attracted before the betting limit change in August.
One nongambler thankful for the increased limit is Curt Frolik. A dealer at Ebro for five years, he moved to Daytona Beach to try and make a better living. The Wisconsin native now is back at Shuffles.
"It's been good," he said. "We can pay our bills now. Oh yeah, that's the difference it's made" for full-time dealers.