Five Star Performance By Tony G. At The Bellagio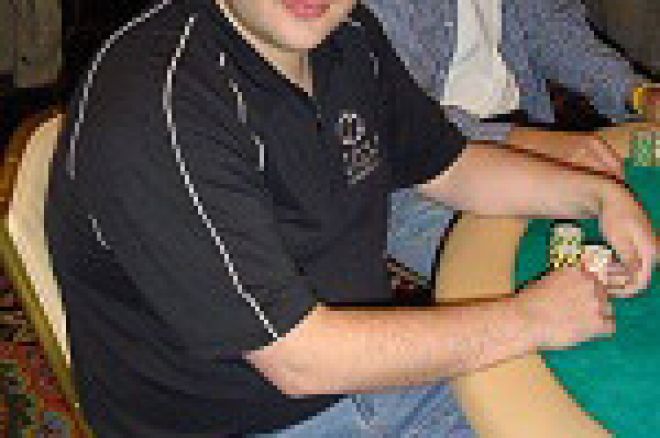 Poker News owner and writer Tony G leads the field at the $15,000 main event at The Bellagio on day one, a first place prize of $1,800,000 awaits the winner.
Day one of the main event at The Bellagio Five Diamond Poker Classic sees Tony G. as chip leader on 224,500 chips. Close on his heels is Daniel Negreanu with 217,000 chips whilst Dave "Devilfish" Ulliot and Phil Hellmuth are well in contention with 169,000 and 157,000 chips respectively.
World poker stars have turned out for this event in the hope of scooping the $1,800,000 first place prize money and entry into the 2005 WPT at The Bellagio, here are some of the big names playing and their chips counts at the end of day one.
Tony G 224,500
Daniel Negreanu 217,175
Howard Lederer 60,175
Phil Helmuth 157,500
Chris Ferguson 21,000
Kiril Gerasimov 58,000
John Juanda 71,825
Eric Sagstrom 54,475
Phil Ivy 118,000
Dave Ulliot 169,000
Erick Lindgren 21,500
Bruno Fitoussi 45,000
Thor Hansen 58,025
Cameron Angus 22,000
Greg Raymer 64,000
Tony G. used a timely bluff and Danny Negreanu used a quick read on his table to stand as the chip leaders after the first day of the World Poker Tour No Limit Hold'em Championship at the Bellagio in Las Vegas Friday. Tony G ended the day with $224,500 in chips; Negreanu with $217, 175.
Negreanu said his chips came from doing a quick read on his table. The players played just just as he predicted.
"It was a pretty typical table," said Negreanu, who described himself as "ecstatic" with his standing. "I felt I could move the players in the direction I wanted right from the start. I planted a few seeds early and they seemed to avoid me from there."
Tony G also had a good read on his table, getting most of his chips from a smart bluff with a lowly 9-4. He crowed loudly about the bluff, and then dominated the table from that point on.
Gus Hansen's A-K ran into Ted Forrest's J-J and didn't get any help. Hansen was short stacked and raised the blind against an unkknown player. But Forrest was sitting behind both of them with his pair and raised another $2,000. Hansen went all-in for $10,000. Forrest called and ended Hansen's tournament.
"I was unhappy with the way I played," he said afterward. "It was a very tough table. I wasn't aggressive enough and then had to play short stacked for most of the session. Weak, very weak."
Annie Duke was bumped when her straight was beaten by a full house. Sammy Farha was short stacked throughout the afternoon session and was knocked out when his K-Q didn't improve against another player's 10-10. Chris Ferguson avoided the same fate when he went all-in with a pair of jacks against an opponenent's pair of kings. A jack miraculously came on the river.
The event attracted 370 plyers, including most of the top players in the world. Phil Ivey ($118,775) and Doyle Brunson ($61,275) played at the same table during the entire nine-hour session. Their aggressive play seemed to cancel each other out and neither made any major movies. Phil Helmuth ($137,800), Chip Reese ($83,675), Johnny Chan ($147,775) and David Ulliot ($165,1550) were among the chip leaders and the 233 remaining players.
The event is the final stop on the tour this year. The winner received $1.2 million and a $25,000 entry nito the WPT Championship in 2005.
Editorial note: The main Pokernews author Tony G. writes his daily experiences and thoughts in his weblog TonyGPoker.com.