Interview with Phil Hellmuth, Part II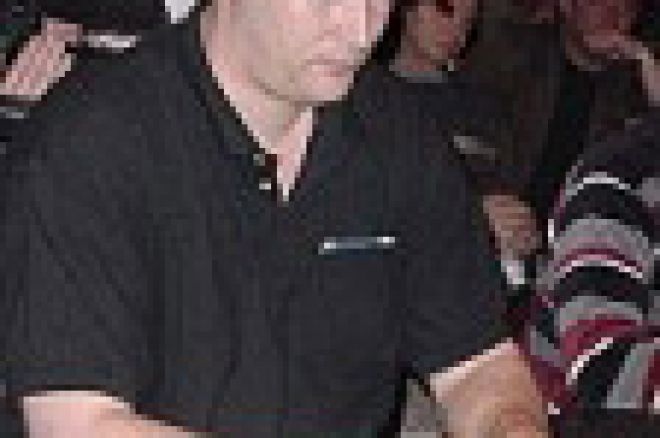 In the first part of my talk with Phil, I learned more about the man personally. I found him to be warm, gracious, funny and more personable than what you see when he is at the tables. It isn't an act; in fact, as our discussion went on, I found out that, as he has gotten older, the "poker brat" image is something he has definitely overcome!
PN: So are you having more success getting away from the image you had when you were younger?
PH: I think so. I have learned that, in life, there are more important things, like my family. I have those moments, though, at the table. Something you have to remember is that its one thing to do that at the table and a whole other thing to do that outside of poker. That is something that I have come to realize, with the help of my family and other things.
PN: So how did it feel to get back in the winner's circle?
PH: It was absolutely wonderful! It was difficult because we had sixty four of the top players in the game. Everyone was capable of winning it. The matches, at least I know my matches, lasted between an hour to 90 minutes. There were some of them that ran quicker, but all of them were a battle, that's for sure.
PN: Do you find heads up play more interesting than tournaments?
PH: It takes a tremendous amount of skill to compete heads up. In limit, you can sit back and wait to hit your cards. With it being No-Limit, it was a very intense competition and you had to constantly think at the table.
PN: In a way, the Heads Up Championship ties into what you are doing on UltimateBet this month with the Pro Poker Showdown...
PH: It does, and it's a pretty cool thing. It was kind of my idea, that me and Antonio would take on another player in heads up matches for $1000, $500, whatever UB wanted to put up for the event. With the heads up tournament also appearing on NBC and Antonio and I finishing in the Final Four, it was a good way of promoting that as well.
PN: That's right, I had forgotten that you both were battling for the championship!
PH: Yeah, we were both there for it!
PN: What about the other members of Team UB? What do the other members bring that you don't?
PH: Antonio (Esfandiari) brings his youth and excitement. His "magician" angle is a good one as well. He is a great player who brings quite a bit on his own.
Annie (Duke) and I go back and forth over who is bigger! (Laughs) She needles me over ESPN naming her the most recognizable player and I fire back with how the World Series says I am more recognizable! But she's a great player, she got her first bracelet last year and, of course, she won the $2 million tournament as well.
We're fortunate to be some of the biggest names in the game. And we all enjoy playing on UltimateBet.
PN: Speaking of the World Series, how do you feel heading into this year's event.
PH: It's funny, I believe I am going to do well because I always kick ass in odd numbered years!
In 2001, I made the top 15 in, like, seven tournaments. 2003 was even more memorable. I came in that year with seven bracelets, behind Doyle (Brunson) and Johnny (Chan). Well, Doyle picked up one that year, so now I am two down to him. I moved a little myself when I got that one back, but then Johnny won one to keep himself even with Doyle. I'm saying, "Man, I have to win another to get up with them!," and, sure enough, I did! So, especially after winning in March, I am expecting 2005 to be big for me.
PN: You have so many things going on, it's difficult to keep up with. You are going to be having your own poker camp. How will Camp Hellmuth be set apart from other poker camps out there?
PH: Yes, it will go on in Las Vegas from August 18th-21st and I wanted it to be the best camp available. I wanted the best instructors and I want to make it an experience. We are expecting around 500 players for it.
PN: You did an excellent job in picking the instructors for the camp. What helped you to make the choices in picking those people?
PH: I called up my people and said I definitely wanted John Bonetti and T. J. Cloutier. John is simply a fantastic player who really didn't get started in tournament poker until he was in his 50's, which is amazing. T. J. is one of the greatest tournament players in the history of poker, so he was a must. Evelyn (Ng) and Antonio were great choices, as well.
PN: Your books have been a fantastic training manual for new poker players. Are there other books on the horizon?
PH: Well, I do have a smaller book out called "Phil Hellmuth's Texas Hold 'Em", which takes some of what I did with "Play Poker." There is, however, a special chapter on tournament No-Limit that I did for that alone that I think makes it invaluable for players to have. It can be found for around $6.95.
Thanks for the compliments on my books. I really put my heart and soul into them, because I knew I would be judged on them. Doyle wrote "Super/System" in the 70's and he has been judged on that ever since. If I was going to write something, I knew it would be kind of like that as well.
You wouldn't believe the hundreds of hours of editing I put into it! (Chuckles) When it came back from the editor, it seemed like the pages had turned red! And I did it all myself, from the writing and editing, because I wanted to make sure that my meanings and everything stayed the same, even with the edits. I'm not the greatest writer (laughs again), but I wanted to make the best book possible. The only way to do that was to do it myself.
I was most proud of the fact when the book made the New York Times Bestseller List. It was a lifetime goal of mine to do that, which is a fact that probably amazed some of my teachers from school! (Laughs) It spent seven weeks there, so I was very proud of that.
PN: What about Hellmuth Hold 'Em for cellphones? How is that coming along?
PH: Scary good! We have about 70,000 subscribers at this time and it is growing by 10-20% per month. We wanted to give prizes and things like that for winners, but we were unable to get around the legalities of it in differing locations.
It's going to be the future of poker. The Internet and the online rooms are the present, but not everyone has the ability to play online. With cellphones, you can play from anywhere and for any length of time...if you have five minutes before a big meeting or you are at the airport waiting for a flight, you can get in and play. It will be the future, definitely.
PN: What other things are on your agenda?
PH: Wow, well, I have been working on the screenplay of the movie of my life called "The Madison Kid", which will trace my life up to 24 when I won the Series. I'll probably write an autobiography to go along with that as well.
I have a poker reality show that is going to be a part of "Poker Royale" with the Game Show Network. I had a couple of ideas from people and I said let's put those two ideas together and do it. GSN was excited as well, so that looks like a go as well.
PN: Couple more questions, Phil. Are the sheer number of tournaments good for poker overall? And how do the top players maintain their game with that many events?
PH: As far as for poker overall, it is. As far as for the top players, probably not. As I said earlier, you are more winning dependent in poker. Luck is also one of those things that will take you down.
PN: Like last year at the World Series, huh?
PH: Definitely. I made some great plays and simply got unlucky, like when I had the Aces against the Jacks to the river and he hit one of his two outs there. It's a part of the game that you have no control over.
PN: Phil, if you stopped playing poker today you would be considered one of the greatest champions in history. What are your future goals, both in poker and outside of it?
PH: I want to be remembered as the greatest champion of all time. The World Series of Poker is where that history is made, and it is very important for me to achieve that.
Besides that, I really want to do things for society as well. I want to help people learn how to achieve great things in life. I have an idea for a book that takes a philosophical look at living. It would have some religious aspects to it, things that I have learned, some things like that.
PN: Well, Phil, thanks for the time. I know you have another meeting to get away to...
PH: Is it 1:00 already? Wow...
PN: Yeah, it is. Thanks a lot for your time!
PH: You too, Earl. Take care!
I want to thank Phil for taking time from his extremely busy schedule and talking with us. There is more to the man than meets the eye, and I for one learned quite a bit about the man behind his personna at the tables!
If you want to learn more about what is going on in Phil's life, his schedule and his poker playing, you can learn everything by visiting PhilHellmuth.com. There you will find everything about him, from his books to information on Hellmuth Hold 'Em to his poker schedule and activities on UltimateBet.
Please visit our online poker room directory to see the best bonuses on the web!