Noble Poker/Pokernews.com Freeroll continues to build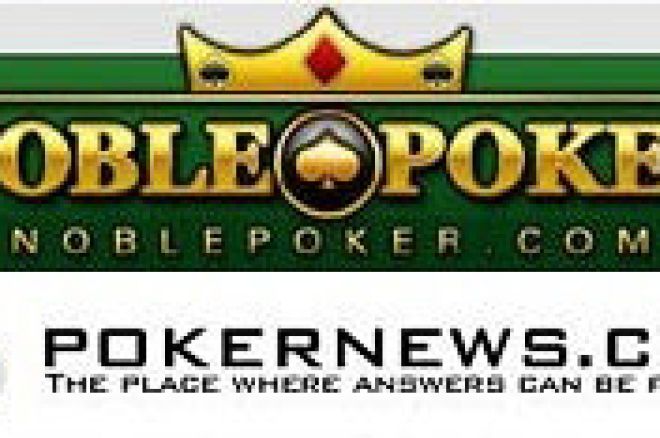 When I played in the last Noble Poker freeroll, it gave me a chance to see how much these tournaments can mean to players, and what an excellent value these free tournaments provide. Indeed, the first Noble Poker/Pokernews.com freeroll was the event that started us here at Pokernews.com realizing what a win/win these tournaments are. As a result of this, we started planning more of these, and you the readers are the ones who will really benefit here.
Am I shilling here for my own site? Of course I am, to an extent. But, I really feel there is excellent value in these freerolls, and I encourage players to play in them. Look at it this way, you deposit $20 (have three less beers next time you go out), and you have a chance at hundreds of dollars in free prize money, plus, maybe you knock Tony G out, and get an extra $1,000. The player who won our last freeroll, Matty82, took home $1,250.
The number of people eligible for this has really been growing at a pace that has really surprised us, and right now we have just under double the people we had in the last freeroll. By the time May 15th rolls around, we will have even more than that.
We work really hard in trying to have the best relationships with the online poker rooms, and as a result of those good relationships, we get to present you, the reader, with great opportunities like this. Please take advantage of this. The folks at Noble Poker have been great to us, and here is a link to an interview with their CEO, so you can learn a little more about what they are about as a company.
So, come out and join us on May 15th at 6pm EST for the second Noble Poker / Pokernews.com Freeroll. You MUST sign up by May 11th to be eligible....so don't sleep! Sign up for the tournament through this special link, and come play. There isn't a whole lot to lose.