Jennifer Tilly plays a new role: Poker Champion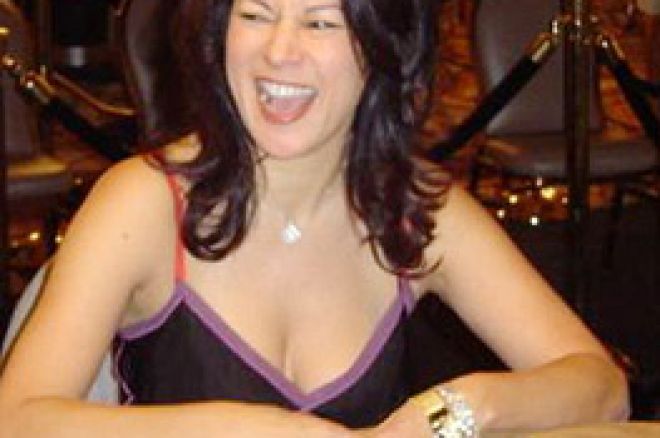 In the new world of poker, you never know who is going to strike gold. People as diverse as actor Tobey Mcguire, NHL player Travis Green (who has cashed twice this year already, including a final table bubble in event # 2), and former tennis great Yvgeny Kafelnikov have played in the biggest events, and often held their own.
As many people in the poker world know, actress Jennifer Tilly got bit by the poker bug almost two years ago and in turn starting dating top player Phil 'Unabomber' Laak.
Tilly, to this point best known for her roles on screen in the horror, um, classics 'Bride of Chucky', and later 'Seed of Chucky' will now also be known as a poker champion, and a WSOP bracelet holder.
Jennifer outlasted a staggering field of 601 entrants - essentially triple the 2004 field - to win her first WSOP bracelet, and secure a spot in poker history as a 'double threat' actress/poker player.
The Laak/Tilly household had a good night the night before. Phil has finished second to Johnny Chan, and picked up $156,400, and Jennifer had been guaranteed at least $38,000 by making it to the final four of the women's event. The final four, you say? Is this college basketball, or is this poker? The answer is...a little of both.
For the second straight night, play was halted, or altered to accommodate ESPN, at least partially. The night before, once everyone realized that Johnny Chan was going to be heads up for his tenth bracelet, play was halted for an hour, so the event being played on the TV stage could clear out, and ESPN could shoot the conclusion of the Chan/Laak match, which was sure to make good television.
Another thing that (can) make good TV is celebrities playing poker. At 4:05 am the night before, everyone decided to halt play in the women's championship, with a little urging from ESPN. Certainly, the players were tired, and it was a welcome rest for four ladies that had played poker for about 15 of the previous 16 hours. But also, the folks at ESPN realized that Jennifer Tilly playing for a legitimate world championship was good television, so they decided to adjourn for the night four handed, and play the final four out on the television stage the next day at 3pm. The folks in charge could also see the writing on the wall...Tilly had a monster chip lead, and barring disaster, the odds were very good that the WSOP would have its first champion who was also a legitimate Hollywood figure at the time of his or her win.
So, entering play today, we had four people left standing. The chip counts when cards went in the air were:
Jennifer Tilly: 449,600 in chips
Ann Le: 88,900
Cecilia Mortensen: 36,300
Carolyn Ancheta: 31,500
Frankly, the play was a little fast, even for today's "No Limit Hold Em TV" poker world. Some of the raises were a little unrealistic given the pot size (one particular all in move with over 80,000 chips, and the blinds an antes not even totaling 5,000 comes to mind), and this final table was over quickly. The total number of hands played from the beginning of play to the last hand was 21. Play was fast, and furious, and it was clearly only going to be a matter of a few minutes before we had a champion. There was an all in move nearly every other hand, and the chips were flying at a furious pace.
The first elimination occurred when Cecelia Mortensen came back over the top of Ann Le's opening raise. Ann showed A 3, and Cecelia had pocket nines. A brutal flop of 2 4 5 made a wheel for Ann, and sent Cece wheeling back to hubby Carlos, and out the door.
Cecelia Mortensen - 4th place - $38,220.
Next to go was Carolyn Ancheta, who was playing in her first live tournament ever. Carolyn moved in with 77,000 chips with K J, and Tilly called with A 7, which would soon become her trademark hand. An Ace on the flop pretty much set things in motion, and Carolyn had a very nice story to tell from her first ever live event. Carolyn Ancheta, 3rd place - $43,680
Now down to heads up, the chip counts were:
Jennifer Tilly - 478,000 in chips
Ann Le - 131,000
What seemed like 5 minutes later, it was all over. Stop me if you have heard this before, but Ann Le moved in for 131,000 with K J, and Jennifer called with A 7. The board blanked off, and we had a movie star winner. The most photogs we had seen yet were busy snapping photos of Tilly, and she was in all her glory, enjoying every minute of it. When the photo session turned into an impromptu press conference, her one memorable quote was. "This was an amazing experience" Tilly said "This is better than winning an Oscar".
Oscar wasn't in the house Monday night, but Phil Laak was. Phil took a break from his seat in the $5,000 Limit event to come and congratulate his girlfriend, and they walked off arm in arm as Tilly reveled in the glow of being a WSOP Champion.
Ann Le - 2nd place - $83,675
Jennifer Tilly - Champion - $158,625
Ed Note: The LIPS tour is where the Ladies play, and the tour is supported by Gaming Club Poker