Doyle Brunson makes a perfect ten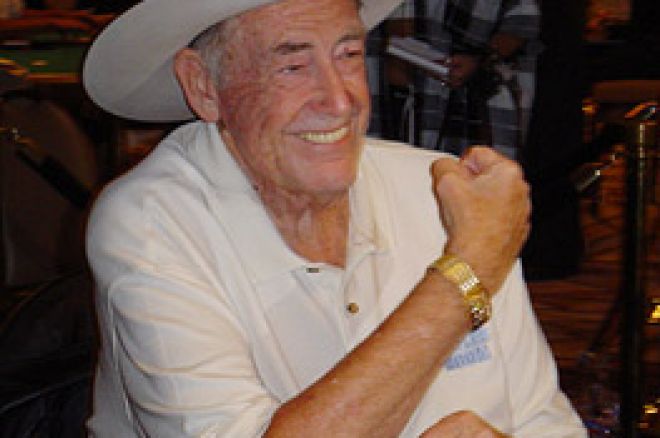 Event # 31 of the 2005 WSOP was the $5,000 shorthanded No Limit Hold Em. This is one of my favorite events for several reasons. Number one, the fairly large buy in thins the field, and insures there will be some top players at the final table. Secondly, the six handed format insures there will be more gambling, and as such a more entertaining final table.
When ESPN made the late night decision to switch the televised event from event # 29 ($2,000 No Limit Hold Em) to event #31, they were betting that the final six from this event would be much more TV friendly than the nine handed final table of event #29, which was particularly light on "star" players. ESPN's late night gamble paid off, and this final table would be star studded. A total of 18 bracelets were represented among the six players here, making the average BWPP* (*Bracelets Won Per Player) 3.0, which has to be an all time record. The players making up this all time BWPP record were.
Layne Flack - 350,000 in chips
Doyle Brunson - 309,000
Minh Ly - 305,000
Scotty Nguyen - 254,000
Ayaz Mahmood - 169,000
Jason Lester - 119,000
With the blinds only at 3,000/6,000, no one was super short, and you would have figured there would be some play, and no one would go out super quickly. So much for that idea, as we lost two players within the first 30 minutes, and lost both of them on consecutive hands.
First to go was Jason Lester. Lester is probably best remembered for finishing 4th in the main event of the WSOP in 2003, which was run over, and over on ESPN. His second ESPN appearance would not be nearly as long, as he moved over the top of Scotty's raise all in. Scotty thought for a minute, and called with two sevens. Jason showed A K, and although the flop brought a lot of outs with the J, Q, & 8 of spades all appearing, none of the outs came, and Jason Lester can look forward to seeing his brief ESPN appearance in the fall. Jason Lester - 6th place - $67,905.
On the very next hand, Layne Flack opened with a raise, and Ayaz Mahmood moved over the top for all his chips. When it came back around to Layne, he called right away with pocket Aces. Mahmood flipped over two queens, and when Layne made quad Aces, Mahmood left in a bad mood. Ayaz Mahmood - 5th place - $82,055.
Now down to four, the chip counts had been moving up and down faster than the stock market in 1999. One particular moment in time had the four players with the following stacks.
Minh Ly - 496,000 in chips
Doyle Brunson - 478,000
Scotty Nguyen - 326,000
Layne Flack - 208,000
For some reason, the action slowed pretty significantly, and we played about three hours four handed. Layne Flack had come back from the brink of disaster several times, doubling up on several occasions. When Layne had the bet of it against Doyle, he chose to put all his money in. On a board of 10 9 3, Layne moved in, and Doyle called. Layne showed K 10 for top pair, and Doyle showed K 9 for second pair. The turn card turned Layne's stomach, as Doyle hit a two outer 9 and ended Layne's night. Layne Flack - 4th place - $99,070.
At this point, Doyle began to lean on the shorter stacks, and use and ever increasing chip stack to wear his opponents down, and it was getting to them. One hand after spiking his cards down in frustration aftr Doyle came over the top of him, Scotty Nguyen moved in with QJ, and Minh Ly called with pocket fives. The board was brick after brick, and Scotty had come close to his fifth bracelet, but not close enough. Scotty Nguyen - 3rd place - $106,105.
Now down to heads up, Doyle was very close to winning his historic tenth bracelet, and catch Johnny Chan, who had pulled ahead just days earlier. Even thought it was approaching 4 am, the excitement in the air was palpable, and you got the sense that there weren't too many people rooting for Minh Ly. The chip counts when heads up play began were.
Doyle Brunson - 1,138,000 in chips
Minh Ly - 372,000
Once again, Doyle kept the pressure up, and ground Minh down very effectively. On the final hand of the night, Doyle must have misread his hand, because he moved in with 10 3...not 10 2. Minh Ly called with KQ, and you just got the feeling the poker gods were watching. The Poker Gods were watching, and Doyle paired his 3, and made history....again.
It was a pleasure to be in the room to watch Doyle make history, and I am proud to say....
Champion - Doyle Brunson - $367,800
2nd place - Minh Ly - $203,715