Fifth Alarm Poker Burns Brightly For Firefighters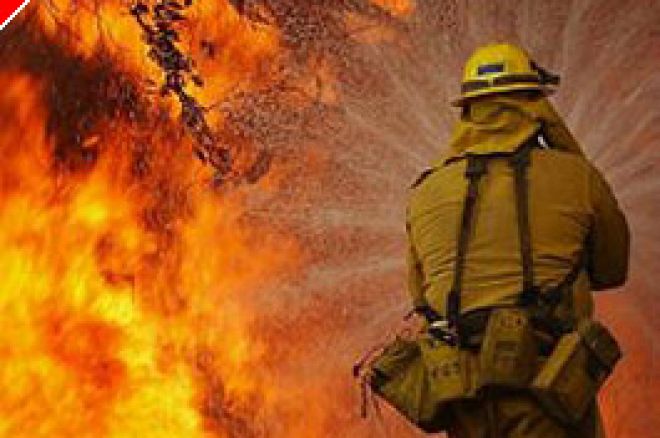 In life there are several types of job that require the willingness to make the ultimate sacrifice for the sake of others. Being a professional poker player is not one of them. Rarely do you hear of a life-threatening situation in poker (unless someone borrowed money from the wrong person).
This doesn't mean that poker doesn't have its share of "Robin Hoods" like Barry Greenstein, Phil Gordon, and Phil Hellmuth. These players and others use their poker success to make a difference in the lives of others.
Until recently, it was difficult for average players to find a way to contribute to worthy causes, but with the debut of Fifthalarmpoker.com, players now have the opportunity to one of the most important causes in the U.S.; helping to support firefighters and emergency services (EMS).
The firefighter's poker league is teaming up with Paradise Poker to offer the first and only weekly poker league dedicated to the brave men and women firefighters and EMS. A portion of the money raised goes directly to charities relating to firefighters and EMS like its September cause, the Uniformed Firefighters Widows and Children's Fund. All proceeds of this noble charity provide financial support for widows and children of New York City firefighters who died in the September 11th terrorist attacks.
Each week players will compete against other league members in hopes of topping the site's leader-board at the end of each month. Winning players will also be eligible for cash and other prizes at the end of each tournament by placing high on the monthly leader-board. Two tournaments are left in August: a free-roll and a $5 buy-in that has a prize pool of $500. Although these stakes might not seem high, this does not mean that they can't help in the lives of others.
Although the site is new, it provides all of the poker games a player desires, ranging from today's most popular game, No Limit Texas Hold'em to old-school five-card draw. Whatever your flavor, Fifthalarmpoker.com has it, thanks to its operating partner, Paradise Poker.
Just because the league is dedicated to firefighters and EMS does not mean they are the only ones who will be playing in it. If you're looking to have a good time and do something positive with your winnings, this is the place.
Ed Note: Paradise Poker are also gearing up for the Masters III tournament, which will have a prize pool of over $1,000,000