Poker Bounty on the Brunsons and Caro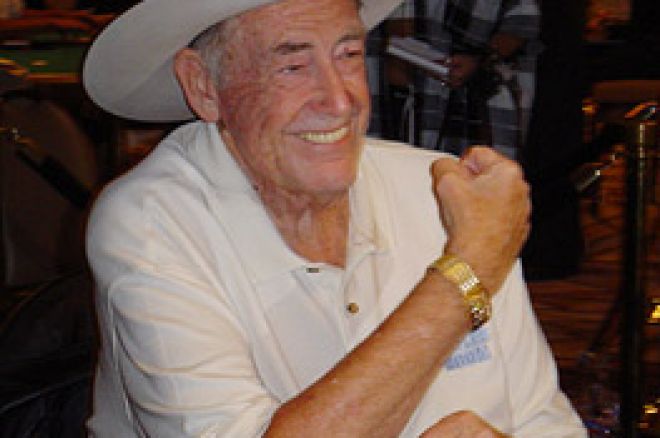 Online poker sites are doing whatever they can to attract new players and keep current users satisfied. Some sites are offering huge prizes while others are offering stock in the poker site itself, but this does not guarantee that players will show up.
One site is banking on its star power and the pride of its founders, not to mention the possibility of giving $25,000 to its players. All poker fans have to do to earn the cool cash from DoylesRoom.com is knock out three of the best players in the world during one tournament.
Finding large success with its weekly Bounty Tournament, DoylesRoom.com has raised the stakes by offering $25,000 for any player than can knock out all three DoylesRoom's star poker players, Doyle Brunson, Todd Brunson, and Mike Caro.
In addition to offering this large bounty, DoylesRoom will give players a handsome plaque commemorating their knocking out of one of these three poker champions. The custom made Poker Bounty Award shows the hands that busted the pros and is signed by the star players.
If knocking out three pros seems like a bit much, the site is offering $10,000 if a player can knock out two pros or $250 for terminating one of the site's reps. Although the money is the obvious reason to play, for many players who simply love the game, getting an award signed by Doyle and the boys is the icing on the cake.
According to DoylesRoom.com public relations manager, Alejandro Collins, the site offers more than just the bounties. "Our community of poker players continues to grow at an unparalleled rate — due in part to our array of unique promotions (such as the weekly Bounty tournaments)."
Another of the site's unique offerings is that if either of the Brunsons, or Caro happen to win the Bounty tournament, the players entry-fees are returned.
The tournament takes place tonight at 9:00PM Eastern (1:00AM GMT Friday morning)
Ed Note: Get in on the action. Sign up at Doyle's Room today.