Brunson Webmaster Served in World Poker Tour Buyout Case
Michsel Friedman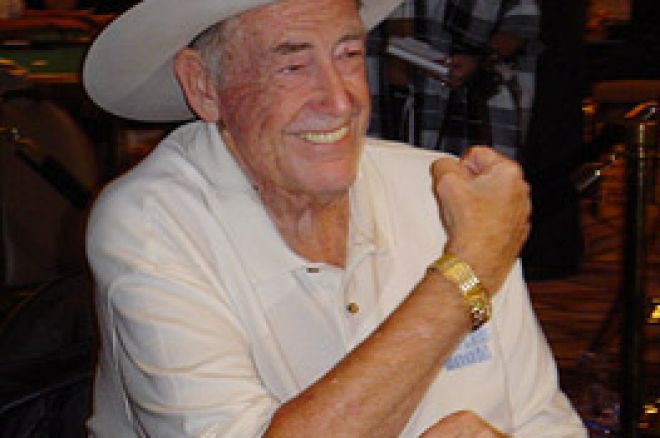 More news has surfaced regarding the Doyle Brunson SEC investigation. According to a recent AP article, the government regulatory agency has changed its tactics slightly, as it tries to work around the maneuvering by the Brunson legal team. The SEC is currently looking at whether Brunson and company broke federal securities laws with the offer itself and then the publication of the bid via Brunson's website.
This is the latest fallout for Brunson from the $700 million bid for World Poker Tour operator WPT Enterprises Inc. The bid surprised many and sent the company's stock value through the roof. The dramatic jump in value immediately drew the attention of the SEC with investigations starting soon after.
Brunson, who has already asserted his fifth amendment right to protection to investigators, is one poker's biggest names and also one of poker's most popular players. When rumors spread of the possible buy-out, WPTE's stock jumped nearly 50 percent.
Unfortunately for both parties, just as quickly as rumors began to fly about the acquisition, the deal began to fall apart. Some of these rumors quickly appeared to become fact as the Brunson's law firm for the deal, Goodman & Chesnoff, withdrew from the bid negotiations, sending prices spiraling downward.
The SEC's latest move has been the subpoena of Brunson's website operator, Wallace Nakano. According to the government, Nakano was in charge of Brunson's website at the time of the announcement of the WPTE acquisition and could be a key witness against Brunson if charges are levied against him.
This is the third volley against Brunson from the SEC. Prior to this, the SEC have gone after Brunson and his legal team. U.S. Judge Terry Means has given Chesnoff and others involved in the case, until February 21, 2006, to respond to the SEC's attempts to enforce the subpoenas.
Ed Note: There is a major grand opening taking place at Poker4Ever There is about to be whole lot of value for players there. Sign up, and deposit today.