Election Bets: Who are Poker Players Putting Their Money On?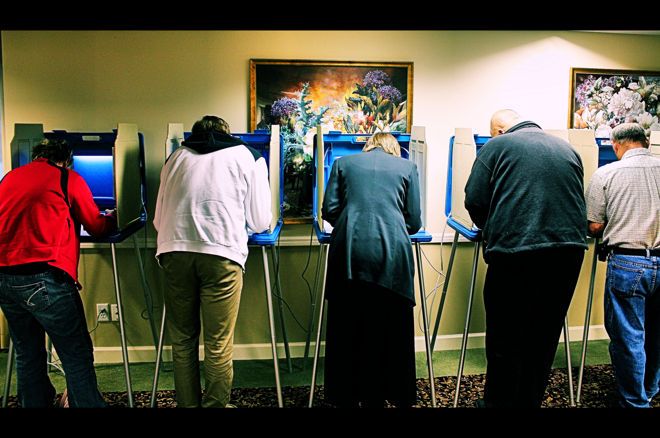 Table Of Contents
Nov. 3 has finally arrived, and Election Day means the end of a long journey for many.
For the candidates themselves and their campaign staffs, it's the end of months and months of exhaustive work. For Americans, the end of months of being inundated by ads and solicitors.
For many avid gamblers, it's the culmination of months of bets placed into markets open years in advance. They'll be looking at Tuesday as an exciting conclusion to their sweats, as everyone else breathes sighs of relief that it's all over.
Learn how a political junkie is betting the election!
Where the Markets Stand
As the final week of campaigning wound down, Joe Biden hovered around the -200 (2-to-1 favorite) mark, and not much changed on Monday, the final full day of pre-Election markets. Biden bounced around between -190 and -200 for the most part, so that seems to be the agreed-upon price heading into Election Day.
Of course, that doesn't mean there hasn't been plenty of action. PokerNews' sister site Oddschecker has been on top of some big stories in the space. For instance, one bettor has reportedly risked a record seven-figure sum on Biden.
Overall, most bettors have been more inclined to place their wagers on Donald Trump, with Oddschecker reporting 66% of the tickets coming in on the incumbent. However, the big-money wagers sided with Biden, as 61% of the dough was behind the former vice president.
Tuesday would see a sizable Biden surge in the early afternoon, and he moved closer to around 70% implied probability.
A Monday tweet from DraftKings painted a stark picture of where the general betting public is at:
# DK Election Pool Alert: With over 350K entries, a majority of people in every state besides Colorado predict that… https://t.co/WdsNMftEcZ

— DraftKings (@DraftKings)
Which Side are the Poker Players Betting?
One can certainly lump many poker players into the category of "avid gamblers," so it's no surprise many of them have been firing off on the election over the past several months.
Poker legend Tony G is among those with big action:
I'm sweating the US elections big time as I have a million on Biden to win! Predict Biden's EXACT number of elector… https://t.co/iHIbThheBn

— Antanas Guoga (@TonyGuoga)
Jason Mo said he's also heavily invested, though he didn't divulge which side he's on:
Poker pro turned high-stakes DFS player Blake "EmpireMaker2" Stevenson said he had almost $1 million on Biden and seemed happy to book more action.
He got into a Twitter war of words with Fedor Holz and the two made noise about booking a $100,000 bet with Holz risking that on Trump +185. Ultimately, they didn't come to an agreement.
Poker pro Bart Hanson likes the chalk, and he's going all in on modeling from 538 that says Biden should roll:
Jason Mercier said he wanted Biden -180 but then seemed to change his tune on Election Day, hinting that Trump is the value side:
Betting on Biden -200 is very similar to slamming the -4.5 point road favorite in NFL...

— Jason Mercier (@JasonMercier)
As usual, though, it's Mike "Timex" McDonald who got the best of it:
Win or lose now just seems like a good time to flex that I got Biden at +2200 when he was considered the 4th most l… https://t.co/vCwgcAybFq

— Mike McDonald (@MikeMcDonald89)
Whatever happens, the time for political debates and booking bets is just about over. Poker players and America at large will be glued to the TV on Tuesday night as the votes roll in. Whether tickets will be cashed and a winner will emerge on Election Day remains to be seen as a close result could keep things on ice, but the end of the road has finally come.
Photo courtesy of Phil Roeder/Wikimedia Commons