A Good Poker Room in the Midwest For Stud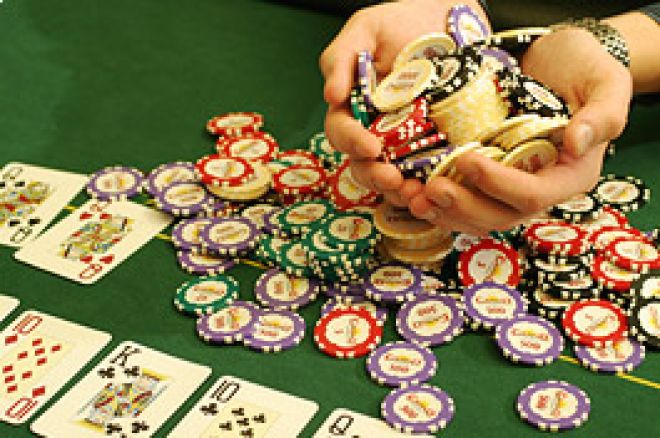 I never used to get excited about finding a good stud game in a casino. It just came with the territory of a typical poker room. Stud was king until the late 90s. And if a room had poker they invariably had at least one good stud game. But that's surely changed with the hold 'em revolution. I generally can't find any decent poker action west of New Jersey (the exception being at the Bellagio in Las Vegas and the Commerce in Los Angeles).
So it was with great pleasure that I stumbled into a fantastic stud game at Caesar's Indiana riverboat casino in Elizabeth (next to New Albany), Indiana (across the river from Louisville, Kentucky). I was in town to visit the new Muhammad Ali Museum in Louisville. I had a few nights free to prowl around and went back to this room that I had first become acquainted with six years ago when visiting my family in southern Indiana.
Caesar's bills itself as the largest poker room "between Las Vegas and Atlantic City" and the "Best in the Midwest". I don't know if that's true. Canterbury, south of Minneapolis, Minnesota may be larger and better for hold 'em. But I can tell you this. Without question, Caesar's has the stud game with the best action I've ever seen outside of Connecticut and Atlantic City.
They have a twenty-four hour room, located on the first floor. It has expanded since I first visited it a few years ago. Where before it was a small little section of six tables off of a hall way; now it takes up the better part of the entire first floor - with thirty-three tables (decorated with a distracting "World Series of Poker" felt).
The room is efficiently organized, conveniently located, and well run. There's an elevated brush who looks out over the room, maintains the large illuminated seating screen - visible from all of the tables - and generally keeps things running efficiently. The PA system works well. It's loud enough to be heard everywhere in the room without being too loud or distracting..
The cashier is conveniently located in the poker room. I bought in there initially - and cashed out there. But players frequently bought chips at the table from other players or from the dealer. I'm not sure if that's the general practice, but it was done often enough for me to be certain that it's fairly common. There's also a money machine immediately adjacent to the poker room. It dispenses inconvenient $20s - up to $500 and with a $2.50 charge.
The room is non-smoking. The house had to announce this a couple of times because a gent or two had lit up a cigarette. I guess it hasn't been that long since they first implemented the policy (when I was there a few years ago the smoke was thick and I had to wear my gas mask).
There are small television screens sprinkled throughout the room, mounted on the eight or so pillars in the room. You can watch a sporting event while you're playing but it's not something you'd come to this room to do. They had the NFL playoffs on when I was there and few seemed to be paying attention.
There are regular tournaments in the room - at least one a day. They are nearly always small no limit affairs - though I heard that they ran an occasional Omaha tourney. They change frequently so check with the room in advance if you'd like to play. They also have a poker "league" that competes on Sunday. The details were a bit confusing to me - but leave it to say that if you're in the area and want regular competition, with an incentive to do well in small tournaments over a few months, the room caters to you.
Cards are not the standard plastic ones from Kem or Copaq. Rather, they are the flimsier cardboard like the ones found on the blackjack table. Many of them have slight folds and bends in them. I made note of this during my second hand. Everyone laughed it off, saying that there are bends in so many cards that no one can gain an advantage. I'm not sure about anyone else, but I can tell you that my attempts to take advantage of these "marked" cards were not successful.
There's a snack bar located in the very back of the room - with a small assortment of sandwiches, desserts, salads and the like. There's a self serve soda dispenser available to all players for free. The food is moderately priced. You must pay for alcoholic beverages.
A large buffet is located within a five minute walk of the poker room on the third level of this gigantic riverboat. So too are a couple of other restaurants and snack bars. The consensus seems to be that the food is good, though not great, at all of the places. I didn't sample it so cannot report first hand.
The house provides a $1 an hour comp for all seated players. You need a plastic "Caesar's Card" to earn it. The poker room gives out comps, however, in advance of earning them. The rules require that a player play for nine hours to get a $9.00 food comp. But the poker room host gladly gave me the comp after three hours of play - with a wink and a nod about making up the other six hours later in the evening. The players like the comps but are concerned that "corporate" may crack down soon and make them less liberal. Who knows? With poker action as good as it is in this room who cares!
The room spreads limit hold 'em from $2/4 up to $20/40, no limit hold 'em of either $1/2 or $2/5 (rumor had it that they sometimes got a $5/10 game - but others said that was only during the big tournament held there). And yes, they had stud - a $30/60 game and a $2-10 game.
Unfortunately, neither of the stud games runs continuously. The $2-10 is sporadic - some nights and some weekends. The $30/60 game is more regularly spread - nearly continuously from Friday late afternoon until sometime on Sunday - or even until Monday on some three-day weekends.
I came to the room on a Saturday night. The large stud game was in full force. I had to go on a waiting list for about 30 minutes before I got a seat. Boy, was I glad about finally sitting down in the $30/60 game - though not nearly as happy as I was to become during the play of the game.
The game is conventionally structured. There's a $5 ante. The bring-in is $10. There is a limit to three raises, not counting the initial completion raise from $10 to $30. There is no limit on raises when the hand becomes heads up.
The house rakes 10% with a maximum of $4.00. The do not take the rake if the hand is conceded on Third Street. But during the four hours I played this only happened twice - once when I raised. There is a bad beat jackpot, but only for the lower limit games. The stud jackpot was at $26,000 when I was there. But you had to be in the $2-10 game to qualify for it.
Dealers pool their tips - but the word was that this was soon to change to a policy of allowing dealers to keep their tips individually. Everyone seemed happy about that change (except perhaps for the bad dealers who kept their opinions to themselves on the subject).
I played from 11:30 PM until 3:00 AM. In my next article I'll tell you how I did and provide some examples of why I think I did so well.
Ed Note: Why travel to the Midwest? Great stud action always at Pacific Poker