Ladies Poker Lounge, Vol 1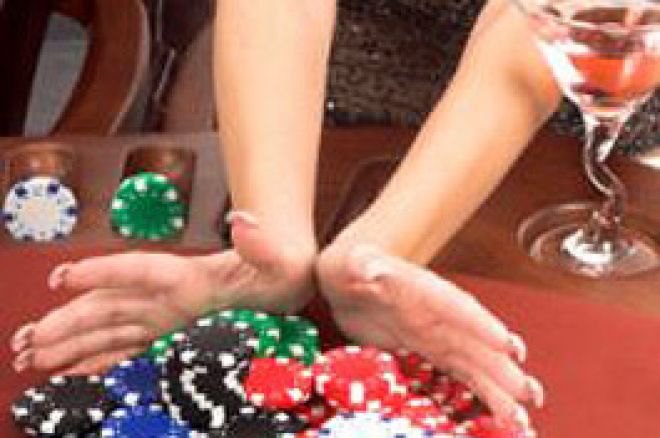 Welcome to the Ladies Poker Lounge. I'll be your host, Jennifer. Nice to see you here.
My goal will be to present aspects of the poker world that are dedicated to the ladies, and keep you informed of tournaments and special events. I will also introduce you to some new female faces in the poker world, as well as familiar friends and other women who play an important role in the poker world.
Now, if you will, please order yourself a martini, and join me in the Lounge.
Ladies, are you feeling left out in the poker cold? Are you feeling that online sites just don't value your business? Are you having dreams of the WSOP but aren't sure how you're going to get there? Trust me - you're not alone.
Poker.com wants to help. They are announcing satellites dedicated to the 2006 World Series of Poker Ladies Event, and they would like to send you to represent them at the tournament. There are daily satellite tournaments to gain entry to the Poker.com Ladies Grand Finals, which is where they plan to give away prize packages. The prize winners will receive a $1000 buy-in to the WSOP Ladies Event in Las Vegas this summer, along with $1000 for travel expenses and spending money.
Last year, 601 women entered the ladies event at the WSOP, and Jennifer Tilly took home $158,625 along with the coveted bracelet. If you'd like to be the one of the hundreds of ladies that will challenge her for the title in 2006, this is your opportunity to win your way into the event.
Poker.com would also like to be known as the home of ladies poker. With much success as an online poker site, they have decided to form a ladies club to cater to the gems of the poker world. They have launched a special forum, a number of ladies-only tournaments, custom tables, and now ladies-only WSOP satellites.
"We have a very friendly, but competitive group of female poker players at Poker.com," says Liam Nicholson, Player Host and Staff Member at Poker.com. "I think that anyone that makes it through the satellites will not only have a fun time qualifying but will also have a great chance of doing well at the WSOP."
Poker.com would also like to remind everyone that they have daily satellites starting at just $1 that are open to everyone and can qualify you to play in some of the WSOP events. Gents and ladies are welcome to play in the general satellites.
So, c'mon ladies! Let's make this WSOP Ladies Event the biggest one ever. Sign up for an account at Poker.com, and visit the Ladies Only section of the site for more information.
I'll be back next time with some thoughts from a woman player who is a well-known professional and has seen it all, as well as tournament news you need to know about. Thanks for stopping by the Lounge.