Online Poker Weekend Wrap Up: Big Money on the Table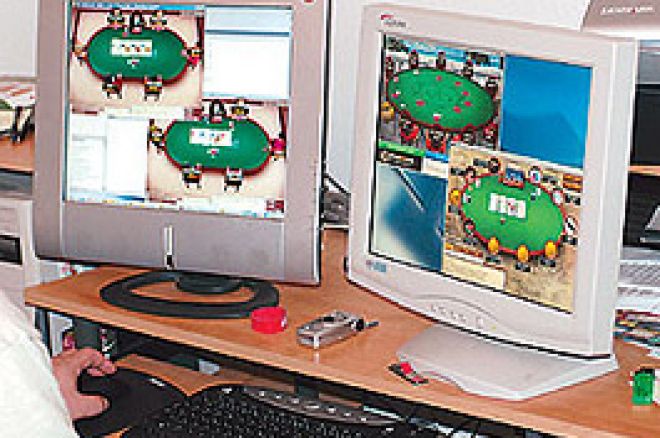 This weekly column summarizes the big online poker tournaments that took place over the weekend. Each week, players square off with more than $2,000,000 on the line. This is a summary of three of the larger tournaments from the past weekend. The names you see are the screen names of the participants in the tournaments.
Paradise Poker $500,000 Guaranteed R&A
The weekend online poker tournaments kicked off on Saturday with the Paradise Poker $500,000 guaranteed with re-buys and add-ons. There were 1459 entries at $200 each, and the prize pool with re-buys and add-ons came to just short of 450K so there was about a 10% overlay for participants.
The final table was a story of the short stacks. tluvtonya started in last position with 215,477 in chips (chip leader Foshio had 1.27 million), and looked in trouble with the blinds starting at 10,000/20,000 (1,000 ante). However after doubling up twice, tluvtonya then sat back as bigger chip stacks busted out. lastcardluis and phita42 had maintained 1-million-plus chip stacks for most of the final table, but departed in fourth and fifth place, respectively.
Tluvtonya held on for third place, while foshio and jagger88 battled for first. Jagger88 had also come into the final table with under 300,000 but took a lot of chips off of luis late in the game to proceed to heads up as chip leader. Jagger completed the comeback when on a board of Ac-4h-3h-3s-8c he pushed all in on the river with As3c and foshio called all-in with Ah6d, jagger88 taking home the first prize of $115,000.
Paradise Poker $500,000 Guaranteed with Re-buys and Add-ons
Final Results
jagger88 (Colorado Spring) $115,073.00
foshio (Atlanta) $64,440.88
tluvtonya (Wildomar) $39,124.82
phita42 (Somerset, MA) $29,918.98
lastcardluis (Turramurra) $24,165.33
gamedayguru (n/a) $19,562.41
acehighkickr (Aurora) $14,959.49
kilmurph (Hampden) $10,356.57
garrett1122 (shrewsbury) $6,904.38
thr72 (Esjberg) $4,602.92
PartyPoker 500K Guaranteed
The Mother's Day edition of the Party Poker $500,000 guaranteed attracted a field of 2351 entrants, making the total prize pool fall just short of 500K.
The final table was a short lived affair, chrilleswede came in short stacked and was out first when heldiggris called the all-in push, pocket tens holding up against KdJc. Next, Hutchyrib was unlucky, pushing with pocket sevens, only to be called by kiismerh with pocket aces.
With eight players left, a deal was attempted but called off by unhappy short stacks. Heldiggris departed in eight place, and another deal was struck. This time, there was only one objector – short stack kruttsterk. Although he was being offered $31,000 - $17,000 more than what 7th place paid, kruttsterk refused and play went on. He must have regretted it when moments later, he was out in 7th, pushing from the button with pocket threes only to be called by kiismerh in the big blind with aces. The remaining six players promptly did a deal mostly based on chip counts, kiismerh was a huge chip leader and collected over $70,000 for first place.
PartyPoker 500,000 Guaranteed
Final Results
kiismerh (Budapest) $70,657
mightymax07 (Waltham) $44,295
chubagabra (Oulu) $38,005
obeyonetime (Redwood City) $36,966
germaniac24 (San Anselmo) $35,200
steelcollar2 (Austin) $34,377
kruttsterk (Oslo) $14,000
heldiggris (Troms) $9,500
hutchyrib (Oshawa) $7,000
chrilleswede (n/a) $5,000
PokerStars 1 million Guaranteed
Even Mother's Day couldn't stop 4492 entrants from participating in the biggest weekly tournament on the net, Poker Stars $1,000,000 guaranteed. Still, the holiday held many players back, as an over $100,000 overlay was out there for the taking. Many pros came and went, and by the time we reached our final nine it was fairly even, with six players holding over 1 million in chips.
Whitfield74 came to the final table second in chips, and was quickly in first after knocking out janek 12 (8th), the camel (7th), crowd favorite barny rubul (6th) and zeromercy (5th). Luck was certainly on his side – in those four eliminations, whitfield74 had kings twice and overcame dominated hands in the other two to carry almost six million chips heading into four-handed play.
After fuxfux knocked out exodus7 in fourth, he coaxed whitfield74 and keymaster7 to discuss a deal. Shortstack keymaster7 rejected the offer, and prompty proceeded to race up to 4.5 million in chips.
However the comeback was short lived – after calling whitfield74's preflop raise, keymaster bet out on a king-high flop and whitfield74 pushed all in. keymaster made the call with K7, but whitfield74 had KJ and now held 9.7 million chips to fuxfux's 1.5M.
Perhaps the best move of the final table was made by fuxfux, who pushed for a deal and successfully negotiated for $105,000 - $13,500 more than second place would have paid. whitfield74 took $129,000 and the $20,000 that was left to play for was his when he found AK against fuxfux's K9 to collect first place.
PokerStars $1 million Guaranteed
Final Results
whitfield74 (Arsta, Sweden) $149,000
fuxfux (Ramat Gan, Israel) $105,000
keymaster7 (Johannesburg, South Africa) $53,000
exodus7 (Vienna, Austria) $42,000
zeromercy (Nashua, NH) $34,000
barny rubul (Austin, TX) $26,500
the camel (County Durham, United Kingdom)$20,500
janek12 (Ridgewood, NY) $15,500
strakov (Gothenburg, Sweden) $10,000
Tune in next week as we cover the biggest tournaments in online poker.