Online Poker Weekend Wrap Up: Deal, or No Deal?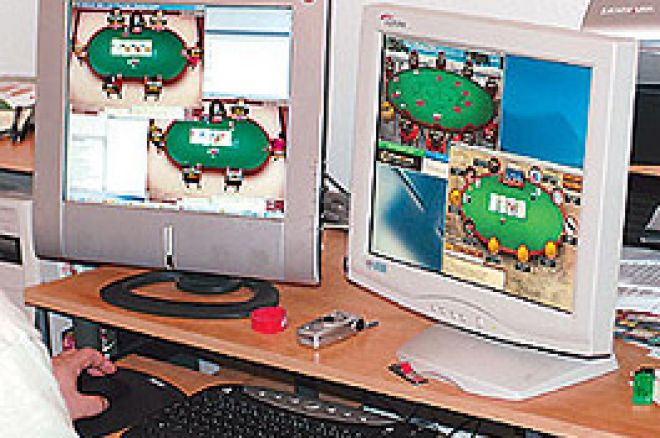 This week, the biggest online poker tournaments on the web were slightly less big than normal. The result was a nice overlay for players, and good value all the way around. Even with a decent amount of money added, two players still cracked the $150,000 mark in earnings this week.
The gold star of the week has to go to player StrongKungFu, who made the final tables in both the Paradise $150k, and Full Tilt $200k events held yesterday. Yesterday was also significant in that only one deal was made in the big tournaments. The players decided to let the cards, and the game play decide the outcome. See you next week.
PokerStars $1,000,000 Guaranteed
Fields were down this week for the ever-popular PokerStars Sunday tournament, with 4829 entrants bringing the total entries just short of the guarantee. Shortstack pokergrl55 was first out, and Numie followed in eighth, making a dubious all-in call with KT vs Vick is God with AK. The very next hand, the chatty casinocasino was ousted when he pushed with JQ and ran into Stronghold with AK, and after alcswab pushed with JJ on a 8-T-T flop and Stronghold again called well ahead with KT, it was down to five players. HoldumGod had sat back quietly with his shortstack but was eventually forced all in with A9, Stronghold proving the danger man at the table – somehow knocking him out with A2. Stronghold was in the thick of it, calling MoonKenny's all-in again with A2, but this time MoonKenny's A9 held up and he took the chip lead. Vick is God picked a bad time to pick on scottjf8's big blind, pushing with K5 only to watch Scott make the call with 88. Vick couldn't improve and was out in fourth, and Scott followed soon behind – another victim of Stronghold. It was down to the two Scandinavians – MoonKenny from Sweden with 3.5M in chips and Stronghold from Denmark with 8.3M. The players discussed a deal briefly but Stonghold wanted more from the chip count, MoonKenny declined and play went on. It proved to be the right decision for Stronghold when he took it down just two hands after play resumed, and claimed the $158,000 first prize.
PokerStars $1,000,000 Guaranteed
Final Results
Stronghold (Vejle, Denmark) $158,000.00
MoonKenny (Karistad, Sweden) $88,000.00
scottjf8 (Waterford, MI) $52,000.00
Vick is God (New Haven, CT) $40,000.00
HoldumGod (Oakdale, MN) $32,500.00
alcswab (Lyndhurst, OH) $25,000.00
casinocasino (Richmond Hill, ON, Canada) $19,500.00
Numie (Old Bethpage, NY) $15,000.00
pokergrl55 (Somerville, MA) $9000.00
Paradise Poker $150,000 Guaranteed
Paradise Poker's $200+15 $150,000 guaranteed tournament attracted 731 runners, falling just short of the guarantee. After six hours the field had been whittled down to the last ten players. Shortstack brainwash01 was the first knocked out from the final table, running into AK with A4. Delta4774 was out in ninth in similar circumstances, pushing with AJ only to watch scarface_70 make the call with AK. TheKoos kept the trend going, out in seventh due to a battle of the blinds with K8 vs KQ, and Masterminds made it another one – crippled with AQ vs AK, and ousted in sixth with Q9 vs A9. After scarface_79 couldn't improve with Q9 vs pocket threes, slugmatrix was involved in a 300k pot with jimmythefox. Left with just 90,000 in chips and blinds at 10,000/20,000 (1,000 ante) he looked like he was next to depart but after finding an ace on the river to triple up with A7, and a king on the river to double up again through chip leader elpobre, things were suddenly looking brighter. Elpobre regained the chip lead by knocking out Strongkungfu in fourth, and had as many chips as the remaining two combined. As elpobre climbed past the million mark, slugmatrix had dwindled back to 250,000 and with blinds at 15,000/30,000 and rising, pushed from the small blind with A2. Elpobre called from the big blind with KQ, a king on the river taking him to heads up with a massive lead over jimmythefox. Jimmy fought back but was eventually trapped when he pushed with Q9 on a board of A-9-A-A, elpobre called with pocket kings and took home a well-deserved first place.
Paradise Poker $150,000 Guaranteed
elpobre (APO) $34,210.50
jimmythefox (Nashua) $19,842
slugmatrix (Whitby) $12,657.88
StrongKungFu (Delray Beach) $9,236.84
scarface_79 (n/a) $7,868.42
Masterminds (Charlottetown) $6500.00
TheKoos (Watertown) $5131.57
bret999 (Mesa) $3,763.16
delta4774 (Charlottesville) $2394.74
brainwash101 (San Clemente) $1710.53
PartyPoker Sunday Million
While Party Poker's Sunday Million Guaranteed tournament made a great start last week, this time the field was much smaller with only 4547 entrants giving some nice overlay to players. By the time it got down to the final ten players, there was a decisive chip leader in RedBulli – who was trailed by porcelet in second with 3.6M. GrumpyAces lived up to his name when his aces were cracked by pocket sevens, and he tilted himself out on the next hand in tenth. RedBulli and porcelet terrorized the table, knocking out the next four players between them, and with play five-handed, RedBulli had 10M and porcelet 5M in chips. Porcelet went to 6M by knocking out glibglub in 5th, and RedBulli jumped to 11M by hitting a 2-outer to eliminate Ph1lledingue, catching an ace on the river to make a higher full house. Wwwppcompscm didn't stand much of a chance and was knocked out by porcelet, who went to heads up almost level with RedBulli, both around the 11M mark. Porcelet had refused to deal all the way through the final table and with blinds already at the maximum of 75,000/150,000 (4,000 ante), there was a marathon ahead. Porcelet wore RedBulli down, the turning point coming when RedBulli called all the way to the river and lost the showdown and the 16M pot. With just 1M in chips left, it was all over the next hand – RedBulli pushing with J2 and porcelet calling with KT to take home the $155,000 first prize for sticking to his guns.
PartyPoker Sunday Million
Final Results
porcelet (Sherbrooke) $155,000
RedBulli (Espoo) $84,600
wwwppcompscm (Portland) $52,500
Ph1lledingue (Duluth) $42,500
glibglub (Orem) $35,000
cracklinrozi (Washington) $27,500
instinct (Grand Terrace) $20,000
monkey101 (Los Angeles) $15,000
Idaho_Sniper (Pocatello) $10,000
GrumpyAces (Spokane) $5,000
Ed note: When it comes to online poker rooms, you have many choices. Let our online poker room review section help you make that choice.