Online Poker Weekend: 'oCrowe' Dominates Stars Million, Deals Elsewhere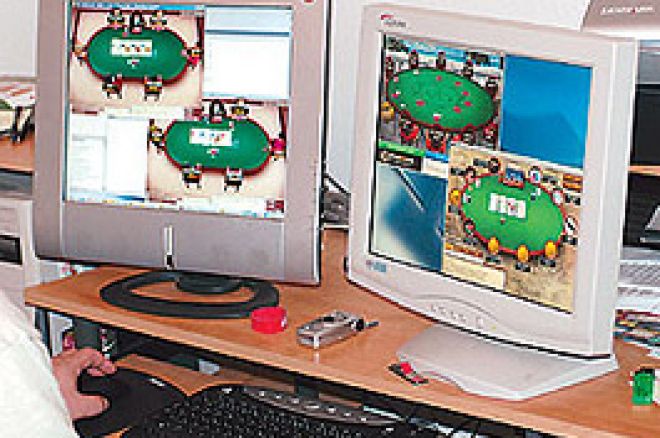 Yesterday's largest online tournaments brought a surprising mix of results, including an internationally themed final table in the Poker Stars Sunday Million, plus two of the most unusual final-table deals in recent weeks, on Party Poker and... Full Tilt. More than one of the day's headline tourneys saw players making an improbable run to the title... or an improbable crash to a shorter-than-expected payday.
Poker Stars Sunday Million
The guarantee of a million was no problem for Poker Stars, as a nice turnout of 2,425 players swelled the week's total prize pool to $1,212,500. 330 places paid, the top nine claiming at least $13,000. That said, this event was unusual in two ways: first, the striking preponderance of non-US players at the last nine seats, with at least five of the nine players coming from outside the States; and second, in a relative rarity, no final-table deal was struck.
Player 'ocrowe' of Halifax, Nova Scotia took home the $218,000 first-place money, combining good cards and aggressive play to dominate the last hour of the event. Crowe's been a multiple visitor to the final table of this event in recent times, and finally won it all. In the final showdown, Crowe knocked off Stockholm's 'FoxyLisa', with the players getting all the money in after a K-J-3 flop. FoxyLisa held K-9, but ocrowe had K-Q, and no 9 came on the turn or river. These two players had swapped the lead over the early part of the final table's play, knocking off one short stack after another until heads-up play began.
The final table results, with screen names and prize payouts:
1st ($218,250): ocrowe
2nd ($131,556.25): FoxyLisa
3rd ($76,630.00): uwhat
4th ($63,656.25): kuparinen
5th ($52,137.50): Pokerturk
6th ($40,618.75): dbo336
7th ($30,312.50): tony1967
8th ($23,037.50): Mr. Ruger
9th ($13,943.75): Dethlefsen
Party Poker Sunday Million Guaranteed
5,523 players made it to this week's Party Poker Million, their collective $200+15 entries generating a total prize pool of $1,104, 600. 750 players cashed and the top nine earned five figures (or more) in winnings. Once the 10th- and 9th-place finishers had been eliminated, the remaining players gave in to fatigue and settled for an 8-way chop, based on Party's strict chip-count-equity algorithm. 'fishosaurus' was the nominal winner of the event, taking home over $120,000 once the deal had been completed.
The final table's results (*top eight spots' payouts based on chip-count deal):
*1st ($122,201.16): fishosaurus
*2nd ($82,494.06): Sir_Gurre
*3rd ($79,619.18): TCarrico
*4th ($60,406.35): Jojje_G
*5th ($43,692.27): billy_wu
*6th ($41,981.62): yowo1
*7th ($27,329.19): MrBergdorf
*8th ($19,573.86): Jabbaawa
9th ($11,046): THEWachovia
10th ($5,523): kellyk333
Full Tilt $200,000 Guarantee
Full Tilt's Sunday 200K went way over its guarantee, as 1,387 payers meant a prize pool of $277,400. This one featured the most bizarre final table of the weekend's major online events. First, player 'LUVEMnLEAVUM' amassed a huge final-table lead, having well over 60% of all the chips in play when play narrowed to the final four players, but LUVEMnLEAVUM then gave that lead away, finally losing most of his stack to 'DumbHick'.
Hickman and 'mazelucky13' survived to go head-to-head, and although Hickman held a 3:1 advantage, he ran into mazelucky13's Q-Q when he tried to push with A-6. The hand left the two almost dead even, and the two then tried to do a chop, as had been rumored to have been done in a previous week with Roland de Wolfe. The two players agreed to a chop in principal in the chat box as Full Tilt pro Paul Wolfe tried to round up support, to see if the agreed-upon chop could be done. To the players' unease, Full Tilt responded that the players could reimburse one another on their own, and the winner could transfer the approximately $11,000 --- half the difference between first- and second-place money --- to the runnerup. After some discussion of this, and Paul Wolfe's reassurances, the two players agreed to the deal, though they did play the rest of the tournament out, with DumbHick emerging as the nominal winner.
1st ($61,028): DumbHick
2nd ($38,836): mazelucky13
3rd ($28,433.50): Marnix
4th ($22,538.75): LUVEMnLEAVUM
5th ($17,337.50): hoovercc
6th ($12,483): AceHighZ12
7th ($8,044.60): Azimut
8th ($5,825.40): jrgarza
9th ($4,271.96): chickenrice
Ultimate Bet $200,000 Guaranteed
Ultimate Bet's biggest weekly tourney also met its guarantee, with 1,047 entries and $209,400 in prize-pool cash for the winners. This one looked like a two-horse race when the final table began, with only two players having more than 300,000 in chips --- 'moknee' began with about 800,000, and 'CLBROTH' had almost 600,000. moknee held the lead for almost the entire final table, losing it once for only a few hands before reassuming command. When heads up play began, moknee had a 4:1 chip advantage over 'naz82.'
But it wasn't to be, as naz82 won three huge hands, including an inprobable all-in, 2-out deuce on the river to fend off elimination and take the lead. The final hand added insult to injury, with naz82 holding 6-3 of clubs and filling a flush to send former frontrunner moknee off as the runner-up. naz82 collected over $46,000 for the victory, with moknee's two bad beats netting him almost $27,000 in second-place money.
1st ($46,068): naz82
2nd ($26,970.72): moknee
3rd ($18,636.60): CLBROTH
4th ($13,611): drossxyu
5th ($10,993.50): Nutstr844
6th ($8,794.80): DitkaMike
7th ($6,700.80): cp_magician
8th ($4,711.50): number1pen
9th ($3,559,80): 1 Time Lucky
10th ($2,094): pokercoffee