WCOOP #5, $500+30 Limit Omaha Hi/Lo: 'kwob20' Cruises to Victory
Haley Hintze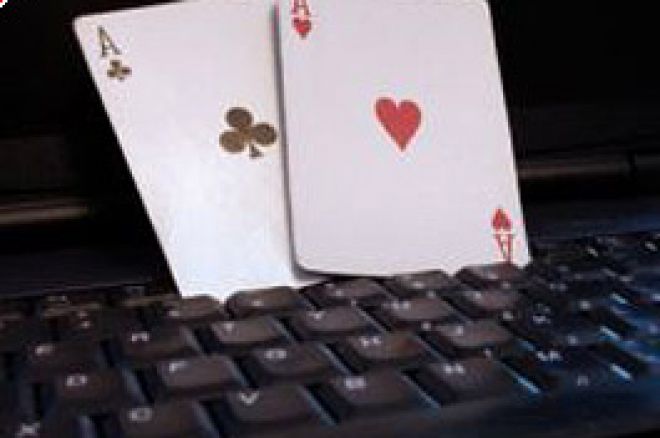 Day Five of the World Championship of Online Poker saw Omaha return as the featured game, this time in the hi/lo format. This event had a $500+30 buy-in and a $300,000 guarantee, and as with every other of this year's WCOOP events to date, the guarantee was never an issue. 953 players were on hand, meaning the total prize pool was $476,500, 120 players made the money, and the champion (if no deal were to be struck) would take down a six-figure score.
This event's final table got off to an unusual start, as Bronx's 'nutcase,' already short-stacked, suffered a lengthy disconnect and was blinded out of the tournament, one spot off the final table. However, the hand where the last of nutcase's chips disappeared on a mandatory all-in also saw the last stand of 'phyllis,' who ran into a scooped pot by leader 'kwob20' when a river king made kwob20 two pair. Since phyllis started the hand with more chips, phyllis ended up with ninth-place money, with nutcase in tenth.
As mentioned, kwob20 was the leader when the final table began, with over $830,000 in chips, with 'Flippin Aces' comfortably in second at just over $550,000. The field was strung out, all the way down to 'dgang,' who, with only a couple of big blinds' worth of chips, had nonetheless survived the other two short stacks' simultaneous demise to guarantee himself at least eight-place money. However, the field would soon split into the haves and the have-nots, with 'Just*AA*Pair' surging to challenge kwob20 for the lead. kwob20, for his part, took advantage of some of the short stacks' defensive play as they jockeyed for positional cash. With aggressive, attacking play, kwob20's stack climbed steadily throughout the action as the number of challengers dwindled.
kwob20 drew first blood, dispatching pollar to the rail in eighth. With less than $40,000 in chips and having already put up the $16,000 big blind, pollar called kwob20's raise with 3s-Jd-Tc-2h, and was committed to the hand after the Ah-Kc-Th flop. kwob20 had Ks-As-7s-Jc for a better high, and the low never arrived, with a three of hearts on the turn for the tease, but a jack of spades on the river that left kwob20's better two pair as the high.
Next out was 'NoPotForYou!,' whose 'Seinfeld'-themed 'Soup Nazi' avatar brought no luck in the cards, at least at the final table. Just*AA*Pair notched this knockout, when his 3h-9c-Ks-Kd made a better full house than NoPotForYou!'s Jc-Qd-Td-Jh holding, after a board of Kc-7d-Js-7s-Qh. Both players flopped sets, with post-flop betting capped, and the last of NoPotForYou!'s chips went in on the turn. The one-outer for quads failed to hit, the runner-runner chance died on the turn, and NoPotForYou! collected seventh-place money.
The beneficiary of all these knockouts was 'dgang,' who survived several all-ins to climb to sixth. dgang's 'nine lives'-style survival included rivering a queen to complete a gutshot straight, but the charm, at long last, failed. kwob20 again made the kill, defending from the big blind; kwob20's 4c-As-Qs-Js passed dgang's solid starting hand of Ks-Ad-2h-Kd when the flop came Jc-Th-4d, and the 5h-9d turn and river changed nothing.
The leaderboard, with five remaining, was widely split. kwob20 had climbed over $1 million, with Just*AA*Pair not far below that mark. Flipping Aces had slipped a bit, but was in a comfortable and very lonely third, around $400,000, while 'nimag' and 'n47j25s,' both now desperately short-stacked, brought up the rear. nimag seemed happy enough; like dgang, he'd moved up a spot or two via the other knockouts, even as it might have been a wash in greater terms. Or, as he claimed in the table chat: 'funny that i get this money. cuz i just busted my acct playing 200/400 LHE (limit Hold'em).'
The end for nimag, finishing in fifth, came at n47j25s's hands. n47j25s started the hand with $46,762 and posted the $8,000 small blind; nimag had $19,408, $16,000 of which went in as the big blind, essentially making him all-in committed before the cards were dealt. nimag held 3d-3s-5d-8c, but n47j25s had a more dangerous 4s-3h-Qc-As, and made two pair on the Ts-Ac-Td-Kc-Qd, no-low board. Will there be more limit Hold'em in nimag's future? We can't say. But in this one, four players remained.
As with dgang earlier, another improbable survival tale ensued, with n47j25s doubling through several times to overtake Flippin Aces to move into third. Then, after Flippin Aces' elimination, he somehow came back again from the edge to climb past the sinking Just*AA*Pair for second. At one time all-in for fifth-place money, n47j25s's late survival story added nearly $40,000 to his winnings, over what fifth would have produced.
But for each gain there is a loss, and while Flippin Aces had final-table success early, it was a struggle late. kwob20 picked up this KO as well, collecting the last $18,000 of Flippin Aces' chips on a hand where Flipping Aces started with the better high --- Ks-Qh-3d-Qs --- to kwob20's Js-Kh-Ah-3s. kwob20's needed ace arrived on the turn, and the final board read Jd-8d-2c-Ac-3h... and then there were three.
Despite the surge that saw n47j25s climb to second, the most important feature of the late-table action was kwob20's dominant, aggressive play. With a sizeable and growing lead, kwob20 repeatedly forced n47j25s and Just*AA*Pair off hands and out of pots, at one point winning --- outright --- 13 straight hands. The eighth of the 13 hands was the last one for Just*AA*Pair, who was out of position against kwob20 (to kwob20's immediate right) and never found the answer.
On Just*AA*Pair's last hand he started with Qh-Qc-Jc-2h and less than $120,000 in chips, flopped top set, was reeled in on the turn, and couldn't pull it out on the river. kwob20 came in with a coordinated low holding of 3h-4c-6s-7c, and the 8-6-Q, all-diamond flop guaranteed that all of Just*AA*Pair's remaining chips would be in the pot. The five of diamonds on the flop made both a straight and a low for kwob20, and the river ten of clubs failed to pair the board, ending Just*AA*Pair's tourney run in third.
At the start of heads-up action, kwob20 held just under $2 million in chips, while n47j25s hovered near $380,000. Omaha hi/lo sometimes makes it tough to eliminate an opponent, and while this didn't seem an equal fight, n47j25s battled hard, surviving seven separate all-in showdowns before succumbing on the eighth. The key hand came moments earlier, when kwob20 made a queens-up two pairs on a no-low board to take most of n47j25s's chips. On the final hand, kwob20 started with 2c-6h-4h-Qd, and n47j25s held 4d-3c-Qh-5d. Both players made top pair on the 9s-Qs-7h flop, where n47j25s had to commit to the hand, and the turn was the ten of spades, the river the eight of diamonds, and kwob20's unassuming kicker six was suddenly worth $103,162.25 and the Event #5 title.
Poker Stars WCOOP – Event #5 - $530 Limit Omaha Hi/Lo. Final Results.
1st: ($103,162.25): kwob20
2nd ($63,851): n47j25s
3rd ($40,502.50): Just*AA*Pair
4th ($29,781.25): Flippin Aces
5th ($24,539.75): nimag
6th ($19,774.75): dgang
7th ($15,248): NoPotForYou!
8th ($10,959.50): pollar
[9th ($7,147.50): phyllis] --- technically not at final table