The Year in Poker: July, 2006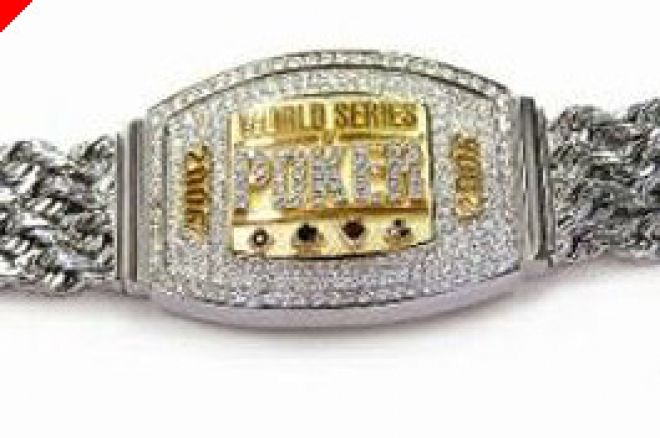 July's descent upon the Rio for the World Series of Poker meant that huge poker stories were unfolding every day. Whether it was the much-hyped $50,000 H.O.R.S.E. event or Phil Hellmuth's recurring quest to win a tenth WSOP bracelet, interesting tales abounded. An error by a tournament official, a possible dealer mutiny and persistent complaints over card quality kept the circus atmosphere intact, though the biggest stories, as you'll see, were at the felt itself. Still, it wasn't all about the WSOP in July, as elsewhere the legislative storm clouds hovering over online poker continued to brew and a high-profile lawsuit challenged a long-running televised entity. July's poker news was a flood, and here's just a sample:
Chip Reese Gets by Andy Bloch in Epic HORSE Duel --- The event drew only 143 entrants, by far the smallest field of any of the 'open' WSOP events, but outside of the Main Event itself, the new $50,000 H.O.R.S.E. tourney was the title most sought after by the biggest pros. And what a final table it offered, in this order of chips as the last nine faced off: Chip Reese, Doyle Brunson, Andy Bloch, Phil Ivey, Jim Bechtel, David Singer, Dewey Tomko, T.J. Cloutier and Patrik Antonius. Despite a rules switch that meant the multi-game H.O.R.S.E. format was abandoned and replaced with No-Limit at the final table itself, a record-setting duel between the last two players, Reese and Bloch, still unfolded. Their battle lasted over seven hours before Reese finally prevailed, securing $1,784,640 and the honor of being the first-ever $50,000 H.O.R.S.E. event champion.
WSOP Updates – Chen Strikes Again to Grab Second Bracelet of 2006 --- Double bracelet winners at any WSOP are always newsworthy, and Bill Chen turned the trick when he captured Event #21, the $2,500 No-Limit Hold'em Short-Handed event. Only days before, Chen had claimed bracelet gold in Event #7, a $3,000 Limit Hold'em affair, and in this one he can from well back at the final table to surge past Nath Pizzolato and early chip leader 'Mick' Guttman for the win. A few days later, young Jeff Madsen would join Chen as a double-bracelet winner during the 2006 WSOP. Madsen's feat was perhaps even more remarkable; it was his first WSOP, and earlier in the month he had set a mark as the youngest-ever WSOP event winner.
WSOP Updates: Sam Farha Bests Phil Ivey to Win $5K Omaha/8 Event --- Event #12 on the WSOP docket was a $5,000 Omaha/8 Hi-Lo split event, and it wound down to a three-way war between poker notables Sammy Farha, Phil Ivey and Kirill Gerasimov. The three overcame final-table chip leader Mike Wattel, a feared Omaha player whose own road to the bracelet was steamrollered by a runner-runner bad beat. As play narrowed to the final three, Gerasimov held a sizeable lead, but missed several key flops in a row on a extended run of cold cards that sent him out in third. Ivey held the lead as heads-up action began, but a monster rush by Farha turned this one around, and Farha went on to claim the victory, the bracelet, and just under $400,000 in first-place money.
US House of Representatives Passes Internet Gaming Ban Bill --- Despite the poker world's focus on the WSOP, there was other news. On July 11th, the U.S. House of Representatives passed its version of an online-gambling ban, a bill called the Internet Gambling Prohibition and Enforcement Act, sponsored by two of the four Horsemen of the threatened anti-online-poker Apocalypse, representatives Bob Goodlatte (R-VA) and Jim Leach (R-IA). Leach was famed for his ready quips on the topic, such as 'crack cocaine for gamblers,' and 'click a mouse, lose your house.' Experts doubted that the bill would be able to pass through the U.S. Senate in time for 2006 passage, although it seemed it would be an issue for 2007. In this matter, the experts were wrong.
Several Top Players File a Lawsuit Against the World Poker Tour --- In a press conference held at the WSOP, seven of poker's biggest 'name' players filed suit against the WPT in a matter concerning what many pros viewed as an overly restrictive and unfair 'rights' release used by the WPT. The seven players --- Chris Ferguson, Andy Bloch, Howard Lederer, Joe Hachem, Greg Raymer, Phil Gordon and Annie Duke --- sought injunctive relief and treble damages from the WPT in an action aimed at 'leveling the playing field for all players' wishing to participate in WPT events. The seven players claimed that an overly aggressive WPT release caused conflict with their other contractual obligations and prohibited their WPT participation, thereby impacting these players' chance to maximize their own profitability. The players also claimed that the disputed agreement violated player's rights to and control over their own name and likeness. The matter remains unresolved.
Phil Hellmuth Wins His Tenth WSOP Bracelet --- Phil Hellmuth's never ending quest for WSOP glory paid off in a big way when he took down Event #34, a $1,000 No-Limit Hold'em w/ Rebuys event, during July's last week. Hellmuth had already made deep runs in other '06 events but had come up short in his quest for bracelet #10, but finally broke through here against a tough final table that also included Finnish pro Juha Helppi, Rafael 'Ralph' Perry, David Plastik and Tony G. Hellmuth battled past the other challengers, including eventual runner-up Helppi, for his coveted tenth WSOP win, which restored him to a tie with Johnny Chan and Doyle Brunson for the most bracelets in WSOP history.
WSOP Updates: Whose Chips are They, Anyway? --- Resident 'Poker Shrink' Tim Lavalli had a front-row seat at one of the most unusual occurrences at the WSOP, when a misplaced chip bag turned into the erroneous introduction of chips in one of the early tourneys, the No-Limit Hold'em Short-Handed Event #5. With 39 players remaining in this event at the start of the day's play, the bagged chips were passed out to the seats belonging to each of the players, with one player, at a table featuring Gavin Smith, Daniel Negreanu and Kathy Liebert, not receiving any chips. Rather than checking to see if an unclaimed bag at another seat might have been his chips, the floor erroneously introduced an extra $101,000 in chips into play and continued to blind off the original $101,000 at the same time. The situation also put one star player, Gavin Smith, at a positional disadvantage, and Smith ultimately exited the event in 12th place.
WSOP Updates – Event #10 – Third Time is the Charm for David Williams --- Few non-bracelet holders were as famed in the poker world as David Williams, the runner-up to Greg 'Fossilman' Raymer in the 2004 WSOP Main Event. Williams had made his own news in a matter unconnected to poker earlier in the year, but his breakthrough at the felt came in Event #10, a $1,500 Seven-Card Stud tourney that featured a final table packed with big poker names, including Johnny Chan, 'Miami' John Cernuto, and John Hoang. Williams would eventually battle Hoang heads-up for the title, with Williams maintaining a chip lead throughout heads-up play and finally grinding down Hoang for the win and the bracelet, Williams' first.
WSOP Updates – Main Event, Day One 'A' Begins --- July 28th brought the kickoff of Event #39, the Main Event of the 2006 World Series of Poker. This day was designated as Day '1-A,' the first of four consecutive starting days made necessary by the crush of entrants into this tourney, the largest ever in poker history. With satellites and alternates still being shuffled into the mix, it would be days before anyone knew the staggering numbers the Main Event would produce: 8,773 entrants and a $12,000,000 first-place prize. On Day 1-A, however, all players shared the dream, a sea of poker hopefuls crammed into a cavernous Amazon Room that was nonetheless bursting at its seams. Big-time poker, on the poker world's biggest stage....