The Year in Poker: March, 2006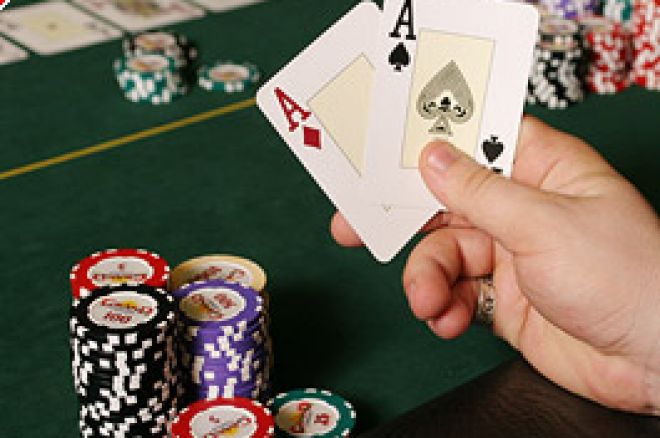 By any measure, March of 2006 was a strange month for poker news. Sure, there were the straight-up news stories, such as the kickoff of the National Heads-Up Championship and a triumph by a college student on a cruise of a lifetime, but odd things were afoot --- a major online poker site that crashed for weeks, another that struggled to find a replacement for its CEO, and then news about a couple of poker shows stretched the boundaries of poker-show entertainment. Fine reading, all of it. Here's just a sampling of what March delivered:
Minnesota Student Takes PartyPoker Million V --- Yes, college students do play online poker in their dorm rooms, and 2006 was the year that they not only played, they took down huge titles. Hot on the heels of Steve Paul-Ambrose's win in the Poker Stars Caribbean win came College Student Triumph #2: Mike Schneider, a student at the University of Minnesota, took down the Party Poker Million V aboard a Caribbean cruise ship. Schneider triumphed against a field of online qualifiers sprinkled with tough pros, one of whom, Kenna James, also made the final table. Schneider had more than memories of Jamaica and the Grand Caymans for his return to Minnesota, as he toted home $1,000,000 for the win.
Has PartyGaming Found Their New CEO? --- PartyGaming PLC's move from the UK to Gibraltar resulted in a defection at the very top, when sitting CEO Richard Segal announced that he would not join the company in its move. In late March the news broke that PartyGaming had settled on the replacement, with online-payments executive Mitch Garber slotted to step into the role. Segal's defection turned out to be a small roadbump for PartyGaming, compared to the giant "Bridge Out" UIGEA situation looming a few months later.
Interesting Matchups in National Heads-Up Poker Championship NBC returned to Caesar's Palace in Las Vegas to film its second annual 'National Heads-Up Poker Championship,' with 64 top pros matched up in six rounds of head-to-head no-limit matches. The tournament culminated with Ted Forrest triumphing over Chris 'Jesus' Ferguson to claim the $500,000 top prize. Forrest's win propelled him to the cover of several spring poker magazines and stood as the linchpin of a climb to front-line fame for the cash-game specialist. Ferguson's second-place showing gave him back-to-back runner-up finishes in this event, as he dropped the first year's final showdown to Phil Hellmuth.
Recent Issues with Ultimate Bet --- Growth pains. One of the largest online poker sites, Ultimate Bet, had a rough couple of weeks in March. While conspiracy theorists soon dotted the forums with dire predictions that UB was gone for good, no doubt with many hundreds of millions in tow, the truth was rather more sedate. The site had grown so rapidly that it had tapped out its existing network capabilities earlier than planned, and the overload caused repeated crashes. Worse, an investigation into the structural problems of the site's programming background indicated that a complete (but as rapid as possible) overall had to be done. Customers were left with little to do but stew as repairs were being made, but UB promised several new promotions intended to make the wait worthwhile. As promised, a new and improved UB soon returned to the online scene.
Phil Hellmuth Tapped as Next Co-Host for 'Celebrity Poker Showdown' --- 2006 was a good year for the 'Poker Brat,' when measured by headline inches. This story could have been titled 'Out with the Old Phil, In with the New,' as it was earlier announced that Phil Gordon would be leaving his role as 'Celebrity Poker Showdown's original co-host, and would be replaced by Hellmuth. At the least, the move saved the show a few bucks on having to get a new batch of name tags.
Finding the Next Great Poker Star in the Caribbean --- Speaking of unique concepts for televised poker shows, March also saw the announcement of "Calvin Ayre Wild Card Poker," a Bodog-produced series intended to discover the 'Next Great Poker Star.' The shows were filmed in Costa Rica, both at a San Juan studio and at Ayre's nearby palatial estate, and poker was only part of the program's intended appeal. The Bodog lifestyle, featuring a unique mix of erstwhile celebrities and 'Bodog Recording Artists,' was also on tap. The show began airing in April and kicked off at least two more sensational developments, the raiding of the Ayre estate by Costa Rican authorities and a lawsuit filed by an independent documentary producer, Babette Pepaj, over the concept for the show.
PokerStars Cracks 100,000 Player Mark --- And Stars just kept chugging along. In the first days of March, Poker Stars announced that they had just topped a long-anticipated mark, having had over 100,000 different real-cash players playing simultaneously in the cash games and tourneys on the site. These days, Stars routinely notches six-figure participation, but given that only three years early Stars had struggled to top the 10,000-player mark, it was a head achievement, indeed.