Women and Poker: A 2006 Retrospective
Amy Calistri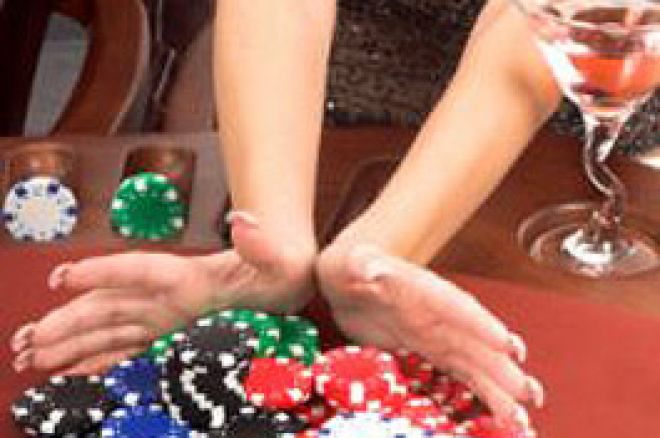 A woman didn't win the 2006 WSOP Championship Event nor was one nominated to the WSOP Hall of Fame. Perhaps the former was still long odds and the latter was just short-sighted. But all in all, 2006 was a great year for women in poker; a year when well known women pros added to their stellar track records and some new talent emerged on the scene.
Pre-WSOP Build-Up:
The 2006 New Year brought good tidings to PokerStars qualifier Anina Gundesen, who scored a final table sixth place finish at January's EPT in Copenhagen. In February, the EPT yielded another female final tablist when professional player Isabelle Mercier finished in 7th place at the French Open. Anahit Galajian also scored a 7th place finish in February during the WPT's LA Poker Classic. While technically not a final table, because of the WPT's six-handed television format, Galajian's finish was strong enough to earn her a berth in the WPT's Ladies Night IV.
Kathy Liebert extended her all time money winning lead among the gals when she finished in third place at the Rincon WSOP Circuit Event. As we'll see, Liebert was just warming up. Newcomer Vanessa Rousso scored a 7th place finish at the WPT's $25K Championship Event at the Bellagio in April; also winning her a berth in Ladies Night IV. Rousso would go on to top this $260K+ personal best in September when she won the $5K NLHE at the Borgata Poker Open.
The WSOP:
In 2004, three women won bracelets in WSOP open events, leading many to speculate that women open event winners would become a far more common occurrence. Cyndy Violette won her bracelet in the $2000 7 Card Stud hi/lo event. Kathy Liebert scored hers in the $1500 Limit Hold'em Shootout event. And Annie Duke brought home the jewelry in the $2000 Omaha hi/lo event. Prior to 2004, only seven women had won open event bracelets in the thirty three year history of the WSOP: Vera Richmond, Barbara Enright, Linda Johnson, Maria Stern, Jerri Thomas, Jennifer Harman, and Nani Dollison.
But in 2005, there was no repeat of the 2004 women's trifecta. In fact there was no double header or even a single victory for a woman in an open event in 2005. And one minor cloud of the 2006 WSOP was that it marked yet another scoreless year for women open event titlists. That being said, there were many silver linings for the gals in 2006.
The Jewelry:
Even without an open event victory, there was WSOP jewelry for the gals. Mary Jones took home the bracelet in a record field of 1128 women in the Ladies Event. Jones demonstrated she was no "one hit wonder" by winning a NLHE event at the US Poker Championship at the Taj Mahal in September.
Clare Miller became the first woman ever to win the Seniors Event when she took this year's bracelet. And Miller wasn't the only woman at the Seniorhttps://www.pokernews.com/news/2006/9/lady-champ-mary-jones-one.htm s' final table; Judy Carlson finished in fourth place.
Final Tables and Multiple Cashes:
Respected veteran Maureen Feduniak just missed a WSOP bracelet with her second place finish in the final $1500 NLHE event. Cyndy Violette also had a near miss, finishing 3rd in the $5000 Stud event. Isabelle Mercier, Vanessa Rousso, Vanessa Selbst, and Michele Lewis also all made final table appearances.
There were also many women that went home with more than one WSOP event paycheck. Cyndy Violette cashed in seven WSOP events this year. Kathy Liebert cashed in five events. Other notable women making the money in more than one WSOP event include "Aussie" Sarah Bilney, JJ Liu (who also won the WPT's Ladies Night IV), Jennifer Harman, Melissa Hayden, Mimi Tran, Vanessa Rousso, Annie Duke, Maureen Feduniak Vanessa Selbst, Laura Fink, Jennifer Tilly, and Clonie Gowen.
The Main Event:
Only three women remained when the WSOP Main Event ended its Day Four with 135 players. Suzan "Sabyl" Cohen turned in the best performance of the gals in the WSOP Championship Event, finishing 56th and winning $123,699. Annie Duke, who finished 10th in the 2000 WSOP Championship Event, finished 88th this year for $51,129. Debra Lalor finished in 117th for $51,129.
Other notable women making the money in this year's main event included Cyndy Violette, Kathy Liebert, Melissa Hayden, and Susie Isaacs. Surprisingly, this was Violette's first cash in the WSOP Championship Event. Hayden also was a main event virgin until this year. Liebert had moneyed twice in the main event with a 17th place finish in both 1998 and 2000. And Susie Isaacs finished 10th in the Championship Event in 1998.
Post WSOP Firsts:
While many equate the WSOP as the epicenter of all things poker, it was really post-WSOP play that made 2006 a really notable year for women. Clearly the highlight of 2006 came in September, when UK poker writer Victoria Coren won the EPT event in London the first woman to win an EPT event. After her victory, Coren's tongue in cheek wit was evident when she said she would now "go and play in other events and probably never achieve such an impressive result again, like Joseph Heller after he wrote Catch-22."
Another milestone for women was reached in November when not one, but two, women made a WPT final table. Mimi Tran and Kathy Liebert were both final tablists at the WPT's World Poker Finals at Foxwoods; finishing 3rd and 5th respectively.
And We Begin Again:
I'm already wondering what new terrain women will claim in poker in 2007. And as always, my New Year wish is that women's victories in poker become so common place that one year a column about women and poker will be redundant.