Online Poker Weekend: 'fouruhaters' Chops and Wins $300k in Sunday Million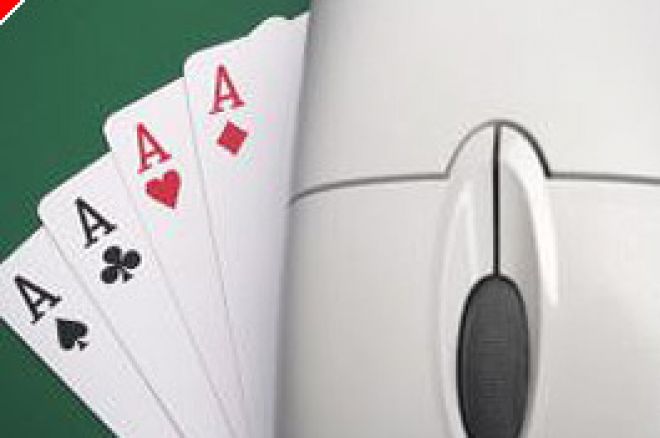 Lee Jones [PokerRoom Manager]: $1.7M Prize pool. Is this insane or what?
Econ Adager: i concur
--- early chat at the final table of the Poker Stars Sunday Million
Easy deals marked two of the four major Sunday online events, with the biggest of all a two-way split in the Stars Sunday Million, itself the second largest online event of the year to date. Stars' $1.7 million purse was the clear highlight of the night, though the theme across all sites was fast-paced action. However, a Sunday Million tradition was itself on its last cycle, as room manager Lee Jones announced at the end of play that this would be his final Sunday Million, and he would be moving on to full-time duties with the European Poker Tour, although remaining connected with several Stars efforts. Jones's departure as Stars' room manager is effective April 1st.
Poker Stars Sunday Million
Once every three months, Poker Stars runs a special $1,000+50 buy-in version of the Sunday Million. Last night was one of these quarterly events, and a huge turnout of 1,712 entrants meant a purse of $1,712,000. 225 players cashed, with first prize listed at $353,185.60. 'hankat,' with over $6 million in chips, was the leader as this event's final table drew together.
'troy1979's final-table stay lasted only three hands. Short-stacked, he pushed with
and was called by mman_status with
; mman_status found good fortune when the board delivered
. mman_status made it two for two when he picked off 'pbdrunks,' with mman_status's
winning over pbdrunks'
when the board provided
. Short stacks continued to fall by the wayside, with 'Econ Adager' departing a dozen or so hands later. On that hand defended from the small blind with
, but original raiser fouruhaters made the call with
, winning when the queen flopped amid a
board.
Two hands later the same tale unfolded. This time jordankickz hit the rail, his
beaten badly by mman_status's
as the board came
. And just three hands after that, it happened again. This time 'XTraCey' was the player on the ropes, and again mman_status made the pre-flop call that turned out well. Here, XTraCey started with
, mman_status with
, and the board showed
.
The final four played 20 hands or more before hankat took down a huge pot, sending mman_status to the rail. The chips went in after a
flop, with mman_status showing
for a set, while hankat held
for a flopped flush. mman_status couldn't complete the full house as
and
finished the board, and only three players were left. It became two when hankat eliminated Mr_BigQueso, with Mr_BigQueso pushing and missing on a flush draw after the flop. On the hand, Mr_BigQueso had
, hankat
, and the board unfolded
.
hankat held nearly a 4:1 margin over fouruhaters entering heads-up play, but it wasn't to be. The key hand saw fouruhaters win an A-T vs. A-6 race, turning a flush in the process, and after that hand the two players were nearly even. The two quickly agreed on a 50/50 chop with $50,000 left for the winner, and played on, though the end came only a couple of hands later. First, fouruhaters found
the same hand that hankat found
, and the jacks held up as the board arrived
. hankat was still alive but could post a blind, and on the next hand found
while fouruhaters held another big hand,
. The final board of the tournament showed
, and fouruhater's quick, come-from-behind win was in the books.
Final standings:
* 1st ($291,472.80): fouruhaters
* 2nd ($241,472.80): hankat
3rd ($125,318.40): Mr_BigQueso
4th ($100,665.60): mman_status
5th ($78,752): XTraCey
6th ($59,920): jordankickz
7th ($42,457.60): Econ adager
8th ($26,193.60): pbdrunks
9th ($15,408): troy1979
* --- two-way chop for remaining prize money; $50,000 to eventual winner
Full Tilt $400,000 Guarantee
Full Tilt saw 2,185 players turn out for the $400,000 Guarantee, with that guarantee easily topped by the $437,000 actual prize fund. 306 players made the money, with first place topping 80 grand; YourTimeIsUp, with some $1.78 million in chips, led the way to the final nine. Ninth place went to 'FoldNowOrDie,' who rolled the dice on a big draw hand but was eliminated by 'RenoKid2;' on the hand, FoldNowOrDie had
, RenoKid2
, and the chips went in after a
flop. A
turn gave FoldNowOrDie additional outs, but a
river dashed those hopes.
'solohomer' bowed out next, his
dominated by 'btmorita's
and beaten when the board brought
for the flush. Soon after, 'JBT449' hit the rail, his
reeled in by the
of 'Zonnywhoop' when the board showed
. Sixth place went to 'TheTbone,' whose
lost a battle of the blinds to btmorita, who started with
but connected when the board offered
. btmorita dodged TheTbone's many outs then took down a huge pot against RenoKid2 moments later, courtesy of a royal flush.
RenoKid2 ran out of bullets when his
couldn't overtake YourTimeIsUp's
, the board arriving
. Then JBT449 took down another large pot to move into the lead, when his kings held up over btmorita's sevens. btmorita's run ended just a few hands later, when a last stand with
was met by a call from Zonnywhoop, who showed
. The board brought
, missing everything, and the field was down to three, soon led by YourTimeIsUp, who continued to attack and accumulate chips.
The three battled for about 80 hands before the tide turned in YourTimeIsUp's favor. First, he won a race to eliminate JBT449, his
holding on over JBT449's
as the board offered
. Eight hands later, he flopped trips and closed out Zonnywhoop, who had caught bottom pair. On that hand, YourTimeIsUp started with
, Zonnywhoops had
, and the board would bring
. The chips went in after the flop, at which time Zonnywhoop saw he was dead to runner-runner help, which failed to arrive.
Final standings:
1st ($80,408): YourTimeIsUp
2nd ($49,381): Zonnywhoop
3rd ($32,338): JBT449
4th ($25,783): btmorita
5th ($19,665): RenoKid2
6th ($14,071.40): TheTbone
7th ($10,269.50): JBT449
8th ($8,084.50): solohomer
9th ($6,118): FoldNowOrDie
Party Poker $300,000 Guaranteed
1,485 players made their way to Party Poker for the weekly $300,000 Guaranteed, meaning a slim overlay was in place. 200 players cashed, all of them with their sights on the $60,000 waiting for first. 'provocatio' and 'westcoast645' led the assault on the big money, with each amassing over $1.6 million in chips as the final table began.
'Boenchen111' rode
to the first final knockout, besting the
of 'DKpker' when the board brought
. 'drEskilstuna' departed next, his
no good against 'philippo12's
when the board showed
. Moments later, 'yerlikaya' exited in eighth when his
went nowhere against 'Glad1ator's
, the board bringing
.
provocatio opened up a big lead by winning a huge race, his
winning out over philippo12's
; the board offered
. And then the field went to five, with short stack Smmy1 forced to make a stand with
. Glad1ator (with
) and provocatio (with
) both made the call, and Glad1ator's tens held up on a board of
. However, provocatio soon reopened the lead, winning out over Boenchen111 on a hand where provocatio held
, Boenchen111
, and the board brought
. The chips went on the river when Boenchen111 thought her kings up were good.
With four players left, the survivors quickly agreed to a chip-count deal, with provocatio taking home the largest share.
Final standings:
** 1st ($44,715.74): provocatio
** 2nd ($34,288.16): westcoast645
** 3rd ($27,070.36): Glad1ator
** 4th ($23,975.76): Splitpot_Rob
5th ($13,800): Boenchen111
6th ($10,350): Smmy1
7th ($7,950): philippo12
8th ($5,250): yerlikaya
9th ($4,050): drEskilstuna
10th ($2,850): DKpker
** --- four-way deal for remaining prize money
Ultimate Bet $200,000 Guaranteed
Attendees at Ultimate Bet's $200,000 Guarantee were in for a treat, as attendance was off for a bit, at 849. This meant that a $30,200 overlay was up for grabs, a nice bonus for the players. 90 players cashed and first prize was the expected $45,000, also guaranteed. 'rppkoz' led the way to the final table with over $500,000 in chips.
A short-stacked 'Adam004' was first to the rail when he ran
into the
of 'Laptopsmasher,' the
board offering no hope. Next, 'donnysack1' tried to double through with
, but rppkoz called with
and connected when the board displayed
. Eighth would go to 'G0 F1SH' when his desperation steal with
found a caller in IcyRaVeNHawK, who held
and hit a flush when the board brought
. A few hands later, 'siphon3511' departed in seventh, his
dominated by the
of 'BKiCe,' the board completing with
.
BKiCE also picked up the next knockout, trapping an unfortunate IcyRaVeNHawK, who flopped top two pair as BKiCe flopped a straight, the money going in after the flop. On that hand, IcyRaVeNHawK had
, BKiCe
, and the board showed
. Fifth went to another endangered stack, 'utcarson419,' who was all-in with a
holding that proved unlucky when Laptopsmasher held
and connected with the
board. Laptopsmasher picked up the next knockout, too, his
holding up over 'clcktower's
when a board of
teased but missed both players.
The three surviving players battled for an extended period, with Laptopsmasher doubling through early to take the lead. Laptopsmasher finished off BKice on a hand where BKiCe pushed with
and Laptopsmasher called with
; the board brought
. The final hand rppkoz and Laptopsmasher re-raise each other all-in before the flop, which both players hit hard. rppkoz had
, while Laptopsmasher had
. The flop came
, giving both players two pairs but keeping Laptopsmasher ahead. rppkoz needed one of the two remaining tens or runner-runner spades to survive, but the turn was the
, the river the
, and Laptopsmasher had the victory.
Final standings:
1st ($45,000): Laptopsmasher
2nd ($27,000): rppkoz
3rd ($18,500): BKiCe
4th ($13,000): clcktower
5th ($11,000): utcarson419
6th ($9,000): IcyRaVeNHawK
7th ($7,000): siphon3511
8th ($5,000): G0 F1SH
9th ($3,500): donnysack1
10th: ($2,000): Adam004