L.A. Poker Classic - Day 4 Recap - Down to 18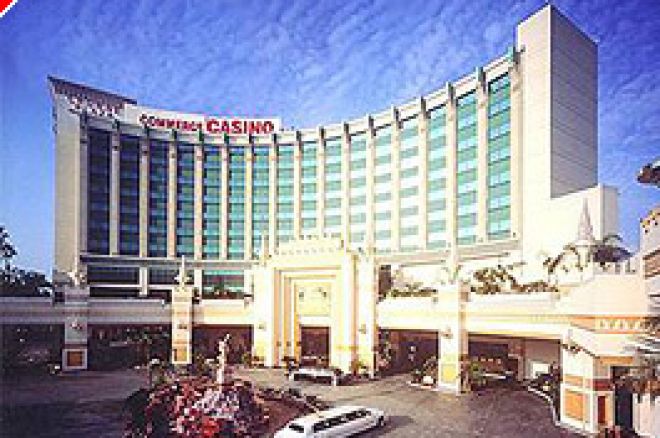 54 players returned to the Commerce Casino for the fourth day of action at the L.A. Poker Classic main event. By Midnight, only 18 players remained and JC Tran leaped out in front of the pack with a massive $3.46 million stack, which was almost as much as second, third and fourth places… combined. In less than eight hours of play, Tran started with 636K and amassed almost three million in chips.
The money bubble burst late on Day 3, and every returning player was guaranteed at least $22,780 in prize money. You figured that the entrants would be thrilled to make the money, but several players including pros complained at the top-heavy structure, where first place and second place will take home a combined 44% of the total prize pool. The final TV table's combined cut is almost two-third of the total $7.9 million prize pool.
In a top-heavy tournament such as the L.A. Poker Classic, players tweak their strategy a little knowing that there's very little difference between 54th and 24th place's prize money. As soon as the money bubble burst, there was a series of quick bustouts. Smaller stacks who had been hanging on hoping to squeak into the money finally loosen up and made moves. Since play ended last night just as the bubble broke, the first level of Day 4 featured a series of rapid fire eliminations. 21 players began Day 4 above the average stack of 293K. The remaining 33 were below average with ten players under 100K in chips. The short stacks had no choice but to aggressively pick and hand and move all-in.
Bill Edler entered the Day 4 as the chipleader with Jason Strasser not far behind in second place. Edler has a reputation of being one of the nicest guys on the tournament circuit. He's a patient player with solid fundamentals. He admits that his biggest leak is that he has issues with mathematics. Edler is meticulous about keeping his stacks in a specific order and size, and can often seen trading chips with other players to maintain a uniformity of chip stacks and colors. When asked about this behavior he answered, "I'm not very good at math. Earlier today I forget whether I had 260,000 or 360,000. The well ordered stacks are because I can't count."
Jason Strasser was the first player to pass the $1 million chip mark on Day 4 after he busted Gary Kainer in 44th place. Bill Edler soon followed suit and joined the $1 million club after he scooped one of the biggest pots of the tournament off of Isaac Haxton. Haxton had trip Queens, but Edler had flopped a set, then turned a full house with
.
JC Tran slowly built up his stack to $1 million when he rivered a runner-runner flush against Chris Bell. He busted Sung Yi in 24th place, and with 21 players left in the field, he had $1.3 million and a slight lead over Jason Strasser. Tran became the first player to rush past the $2 million as he took advantage of the short-handed tables and bullied everyone in his path. With a series of well-timed re-raises in position, Tran accumulated chips by winning several pots pre-flop. With a big stack, he was able to see plenty of flops and outplayed everyone at his table post-flop.
"Everything I've been doing has been working out," Tran explained. "I go with the flow and whatever is working, I stick with it. I've hit some flops and I'm running good."
Tran surpassed the $3 million mark when he eliminated Hans "Tuna" Lund in 20th place. Lund had Tran dominated when he flopped a King with Big Slick. With
, Tran flopped an 8 and smooth called Lund's flop bet of 150K. The turn was another 8 and Tran bet out 250K. Lund quickly pushed all in and Tran could not have called faster with trip 8s. The river did not help Lund as he headed to the rail. At that point, no one at Tran's table wanted to tangle with his monster stack.
Kristy Gazes cashed in her sixth straight event. She had been limiting her tournament play which she credited to her recent run. She picked up chips early when she busted Greg "FTB" Mueller with
against his
. She was never near the top of the leaderboard and hovered around average for most of Day 4. Her tight image allowed her to occasionally pick up chips against her opponents to stay alive.
Gazes avoided slipping into tiltdom when she became the short-stack at her six-handed table. On a board of
, Gazes faced a 100K bet from Ben Johnson and went into the tank. After only two minutes, Johnson called the clock on Gazes. She folded, but was visibly unhappy about having the clock called on her when so many players, including a few at her table, had been stalling in later stages of the evening.
"I'm a professional," she sternly said to Johnson. "Have you ever seen me stall in this tournament? We're playing for $2 million here, how about you let me make a decision?"
Gazes eventually regained her composure and survived Day 4. She ended up 16th in chips with a little over 300K.
CK Hua busted out in 19th place as play was suspended for the day. The final 18 players will return on Day 5 and play down to the final six.
Here are the end of Day 4 chipcounts:
1 JC Tran $3,461,000
2 Jacobo Fernandez $1,334,000
3 Jason Strasser $1,196,000
4 Bill Edler $1,160,000
5 Tad Jurgens $1,059,000
6 Benjamin Johnson $1,055,000
7 David Bach $985,000
8 Chau Giang $813,000
9 Paul Wasicka $806,000
10 Eric Hershler $745,000
11 Chris Bell $636,000
12 Vincent Procopio $512,000
13 Joseph Cordi $512,000
14 Richard Munro $371,000
15 Jay Chang $333,000
16 Kristy Gazes $307,000
17 Juan Alvarado $282,000
18 Shan Jing $266,000
Here's a current list of Day 4 money winners:
19 CK Hua $45,560
20 Hans "Tuna" Lund $45,560
21 Suk Sung $45,560
22 Nam Le $45,560
23 Nick Schulman $45,560
24 Sung Yi $45,560
25 Isaac Haxton $45,560
26 Jeff Cabanillas $45,560
27 Babak Razi $45,560
28 Matthew Gianetti $35,690
29 Lee Markholt $35,690
30 Markus Stranzinger $35,690
31 Ted Lawson $35,690
32 Sean McCabe $35,690
33 Joe Awada $35,690
34 John Galbraith $35,690
35 John Little $35,690
36 Michael Carson $35,690
37 Roland Weedon $28,855
38 Daniel Idema $28,855
39 Avdo Djokovic $28,855
40 Lester Naquin $28,855
41 Robert Nehorayan $28,855
42 Greg "FTB"Mueller $28,855
43 Edward "Bolivia" Moncada $28,855
44 Gary Kainer $28,855
45 Richard Tatalovich $28,855
46 Jeffrey Anderson $22,780
47 Nhut Minh Tran $22,780
48 Dan Harmetz $22,780
49 Alan 'Bodog Ari' Engel $22,780
50 Peter Getten $22,780
51 Stan Jablonski $22,780
52 Steve Yoon $22,780
53 Daniel Woodward $22,780
54 Nick Binger $22,780
The average stack is $659,166.
Action for Day 5 at the L.A. Poker Classic resumes at 3:30 P.M. local time in the ballroom at the Commerce Casino. Stop by and check out our live reporting updates, including chip counts, photos, videos, and more.
Ed Note: Live the lifestyle, and win your way on to TV when you play at Bodog. Sign up today.