L.A. Poker Classic - Day 1 Recap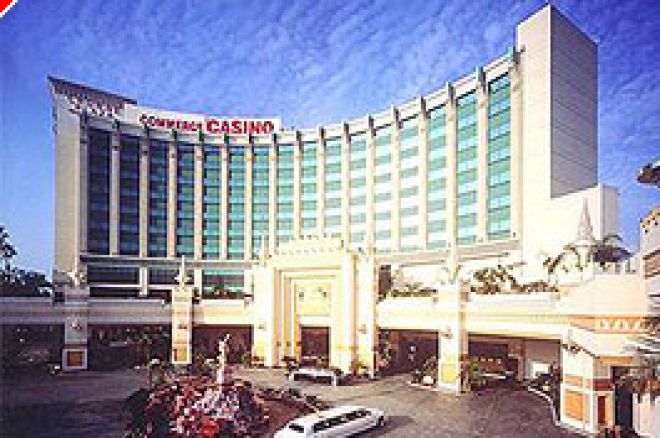 The largest and most prestigious tournament in California kicked off on Saturday at Commerce Casino outside of Los Angeles with the L.A. Poker Classic championship main event, which also happened to be the latest stop on the World Poker Tour. 791 players bought in for $10,000 each for a shot at the coveted $2.4 million first place prize. Everyone who makes the final table is guaranteed to win at least $250,000.
When Michael "The Grinder" Mizrachi won the event in 2005, he outlasted 538 players. Last year's winner Alan Goehring bested 692 players. This year's winner will have to play near perfect poker for six days while avoiding the existentialist meat-grinder of suckouts and bad beats from both seasoned pros and amateurs.
The top 54 players this year will make the money in a prize pool worth over $7.9 million. That makes the 2007 L.A. Poker Classic the largest $10,000 buy-in event in the history of the World Poker Tour. The event had so many players that the grand ballroom on the second floor was unable to host all of the players, as the staff utilized tables down on the casino floor and outside in tents on the veranda. By the end of the day, 368 players out of the original 791 would advance to Day 2.
The tournament directors decided on a late start time of 3:30 P.M. and to limit play to 12 hours a day, which meant action would go until 3:30 A.M. the first few nights. The structure favored night owls and poker pros who normally slept during the days and stayed up until dawn. Each level was 90 minutes in length with chip stacks starting at 20,000.
"Commerce rocks," said Daniel Negreanu. "The structure here is better than any place on the World Poker Tour."
One of the first players to bust out was 2006 WSOP Champion Jamie Gold in one of his first major tournament appearances since he settled a lawsuit with Crispin Leyser. Daniel Negreanu would also head to the rail early after he had pocket Aces brutally cracked twice in the last three hands he played. Both times he had his money in against two junks hands who promptly hit their draws.
Joe Sebok jumped out to a massive lead when he busted Amir Vahedi. Sebok needed the chips too because he has a prop bet with Gavin Smith. The two friends have a last longer where the loser has to get the winner's initials tattooed on their bare bottom. The two have recently engaged in bizarre prop bets such as who can ride a mechanical bull the longest and who could be subjected to Chinese water torture without cracking.
Sebok was also playing injured after he sprained his ankle during the first break. Most players call their friends or family on cell phones on breaks. Others rush off to the bathroom, while the smokers flock outside to quell their nicotine fits. However, Sebok engaged in some random horseplay during an unusual moment when he hurt himself while wrestling around with some friends.
"It's sad," he said, "I have some ice which is very, very necessary because it hurts a lot. It's a Tale of Two Ankles. If I do not win this tournament, I'm going to use the ankle as an excuse."
By Midnight, 250 players were eliminated with three and a half hours of play left in the first day of action. That's when Sebok's stack topped over 100K as he became the first player to pass that milestone as he appeared to still be in obvious pain.
Jennifer Tilly accumulated chips early on when she busted two players on the same hand. Tilly flopped trips with 9-4s and eliminated Farzad Bonyadi in the process. She would not be able to hold onto the lead and busted out late into the session after a wicked bad beat from Daniel Alaei. On a flop of A-K-x, Tilly moved all in with A-J. Alaei called with Q-Q and spiked another queen on the turn to take her out. She promptly rushed over to her boyfriend's table and recanted the bad beat to Phil Laak, who did his best to console her.
As play reached 2 A.M., the majority of the payers in the room showed obvious signs of fatigue as action slowed to a snail's pace. The incessant conversation in the ballroom dulled down and only the clatter of the chips were the prominent sounds in the room. Even Mike "The Mouth" Matusow was unusually subdued. Of course, the real action at that time is downstairs in the poker room where the cash games were in full swing for a Saturday night in the City of Angels. The cash games are always juicy at Commerce, but during the L.A. Poker Classic, the action gets a little more interesting when all the Las Vegas pros come to town along with pros from all over the world who want to feast on the local fish with deep pockets.
Last year's winner Alan Goehring did not make it to Day 2, so there will not be a repeat winner at the L.A. Poker Classic. Other notable players who busted out on Day 1 included Jamie Gold, Justin "ZeeJustin" Bonomo, Mark Seif, Chip Jett, Layne Flack, Tuan Le, Vanessa Rousso, Joe Hachem, Evelyn Ng, Gus Hansen, Clonie Gowen, Huck Seed, Antonio Esfandiari, Cyndy Violette, Dan Harrington, Allen Cunningham, Scott Fischman, John Juanda, Davidson Matthew, Lee Watkinson, Tony Cousineau, David Williams, Jim Bechtel, Padraig Parkinson, Amir Vahedi, Chris Grigorian, Farzad Bonyadi, Eric Froelich, Jerry Buss, James Van Alstyne, Kevin O'Donnell, Hasan Habib, Sammy Farha, John Gale, JJ Liu, John Phan, Alex Jacob, Mike Gracz, Bill Gazes, and Jen Tilly.
Despite the bum ankle, Joe Sebok ended Day 1 as one of the chipleaders. He even cracked Aces late in the session when he rivered quad Jacks with J-10 to put his stack to over 200K as he became one of the first player to pass that milestone.
In total, 368 players survived the cut on the first day at the L.A. Poker Classic. Some of the noteworthy names who made it to Day 2 include: Barry Greenstein, Joe Sebok, Freddy Deeb, Mike Matusow, Ed Moncada, Prahlad Friedman, Kristy Gazes, Erica Schoenberg, Phil Laak, Shane "Shaniac" Schleger, Michael "The Grinder" Mizrachi, C.K. Hua, Danny Alaei, Gavin Smith, Mark Newhouse, Joe Bartholdi, Todd Brunson, Erick Lindgren, David Plastik, Marsh Waggoner, Kathy Liebert, Miami John Cernuto, Carl Olson, David Levi, Isabelle Mercier, Robert Mizrachi, Brian Haveson, Harry Demetriou, Joe Pelton, Dan Alspach, Crispin Leyser, JC Tran, Bill Edler, Martin DeKnijff, Chau Giang, Paul Darden, Minh Ly, Patrik Antonius, Chad Brown, Richard Lee, Ted Forrest, Ted Lawson, Minh Nguyen, Rodeen Talebi, Harbalos Voulgaris, Jesse Jones, Jason Strasser, Don Zewin, Minneapolis Jim Meehan, Allen Kessler, Mark Gregorich, Jordan Morgan, Maria Ho, Eric Lynch, David Chui, Anthony Reategui, Michael Binger, Jeff Cabanillas, Max Pescatori, Paul Wasicka, Quinn Do, Shannon Shorr, Frank Kasella, Greg "FBT" Mueller, Joe Tehan, Lee Markholt, Steve Dannenmann, Chris Karagulleyan, Thomas Keller, Dan Smiech, Anahit Galajain, Anthony Mak, Eugene Todd, Jeff Shulman, Young Phan, Steve Brecher, Joe Awada, Erik Seidel, Nick Schulman, Chris Bell, Shawn Shiekhan, and Steve Diano.
Chip count information will be updated once the official totals are corrected.
Action for Day 2 at the L.A. Poker Classic resumes at 3:30 P.M. local time at the Commerce Casino. Stop by and check out our live reporting updates, including chip counts, photos, videos, and more.
Ed Note: Lots of those Full Tilt names at the top of the leaderboard. Sign up today, and improve your game by playing against the best.