L.A. Poker Classic - Day 3 Recap: Bursting the Bubble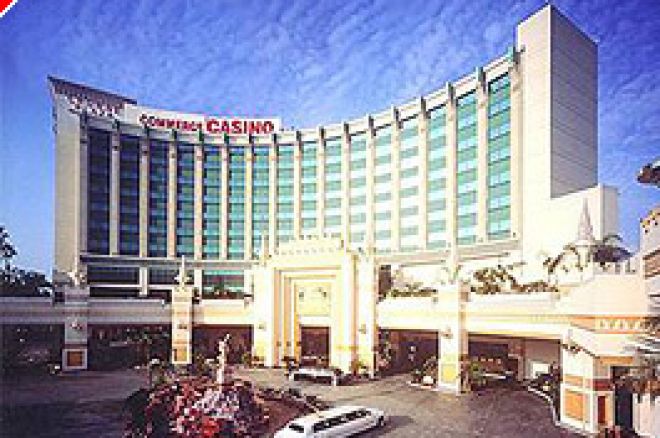 With 152 players remaining in the L.A. Poker Classic, the tense atmosphere in the ballroom at the Commerce Casino added to the looming pressure. With $2.4 million at stake, players did not want to make any crucial mistakes as they raced towards the money bubble.
The top 54 places paid prize money and many of the players expressed their unhappiness over the sparse amount of payouts. Usually for a 791 person tournament, the Top 10% are awarded prize money to the players making it to the final 8 or 9 tables. The tournament staff and World Poker Tour wanted to guarantee a first place prize of $2 million which was the reason why the prize pool was top heavy with second pace slated to win $1,177,010. Every player who advances to the final TV table is guaranteed at least $257,000.
Of course, the pressure to finish in the top 54 did not faze some grizzled pros such as Chau Giang, who was engrossed in a deep massage at his table with a pack of Marlboro Lights next to his chip stack. Only twenty minutes into Day 3, Giang appeared extremely spent after a late night at the cash game tables in the Commerce Casino poker room.
JC Tran was involved in the most decisive hand on Day 2 with Joe Sebok which gave him the chiplead. However, early on in Day 3, Tran found himself involved in another big pot where he bluffed that lead away. On a board of
, Tran checked and Jacobo Fernandez bet 10K. Tran quickly check-raised to 30K. Fernandez minimum raised to 60K. Tran called. The turn was the
and the board exposed a possible flush. Tran checked and Fernandez took about five minutes to make a decision before he also checked behind. The
fell on the river and Tran put out a bet that was more than the rest of Fernandez's stack. Fernandez went back into the tank for what seemed like ten minutes before he called. Tran turned up
for a flat out bluff with just Ace high, while Fernandez turned over
for the winner.
A stunned Tran could not believe that Fernandez called with a possible straight and a possible flush on the board. That pot was over 400K as Fernandez doubled through Tran and emerged as the new chipleader while Tran slipped to under 350K.
Fernandez, who does not speak English very well, said through an interpreter, "I knew when (Tran) bet a lot on the river, that he was bluffing. I feel good. Very good. I want to win this tournament."
Fernandez's run continued a few hands later when he busted Ari Goott after both players flopped sets; Fernandez with Q-Q and Goott with J-J. Both tried to slow play each other on the flop and turn. When Fernandez shoved all in on the river, Goott called thinking he was ahead. He wasn't and headed to the rail as Fernandez's stack tipped over 590K.
The 2006 WSOP Main Event runner-up, Paul Wasicka, continued to prosper on Day 3. Shortly before the dinner break he amassed a stack worth over 350K, then jumped over the 500K mark after he busted Joe Tehan with a King high flush.
After 25 players busted out, the first lull of the day set upon the ballroom. With several of the smaller stacks out of the way, slow and methodical poker ensued over the next level. It was not an all-in push monkey festival like the one that went on during the 2006 WSOP Main Event. The ballroom was relatively quiet with the exception of the clattering of chips and the lone cigarette girl wandering though the tables hawking her goodies.
Kristy Gazes lost a big pot early and admitted that she needed help.
"I gotta get unstuck!" she said before she was moved to the same table as Bill Edler. The two dominated their table as Edler crushed the competition and ran his stack up to 380K while Gazes managed to pick up 225K in chips before the dinner break. Not only was Gazes the last female remaining in tournament, she was also attempting to cash in her sixth straight event.
"I think it's because I'm playing less, so I'm enjoying this more," Gazes explained. "I'm trying to play slow and smart and avoid making mistakes."
In the first level after the dinner break, Tran got some of his chips back from Fernandez as the two went to battle once again. On a board of
, Fernandez bet 20K and Tran raised to 50K. Fernandez sat and thought about his next move for several minutes before he called. Tran flipped over
for a full house and Fernandez tossed his losing hand into the muck. Tran seized the chiplead from Fernandez as his stack jumped up to 540K. Fernandez slipped to 415K.
When play reached nine tables, the action slowed down considerably as it took almost two hours for ten players to bust out. Chau Giang entertained his table by recanting gambling tales involving high stakes betting on a round of golf. He flew to Mexico with Bobby Baldwin, Phil Ivey, and Doyle Brunson. They played golf with NBA legend Michael Jordan for 50K per hole.
"I'm not good. I don't play," admitted Giang. "I'm just there to gamble."
About twelve places off the money bubble, Paul Wasicka made the call of the day, perhaps of the entire tournament. From the small blind, Wasicka raised preflop to 22K and was heads up with Parimal Parmar, who called from the big blind. On a flop of
, Wasicka checked, Parmar bet 24K and Wasicka called. When the
fell on the turn, Wasicka checked, Parmar bet 51K, and Wasicka called. When the
fell on the river, Wasicka checked and Parmar bet out 150K or roughly 75% of his stack. Wasicka thought for a minute or two before he called with
. Parmar tossed his hand into the muck as Wasicka made a sick call. That hand pushed Wasicka over the 800K mark as he picked up the chiplead.
Wasicka slowly edged his way over the $1 million chip mark by busting small stacks and bullying his table. He finally took his first major hit courtesy of Jason Strasser. The Duke University student was shortstacked for most of the evening until he found K-Q and moved all in. Wasicka woke up with 9-9, but Strasser flopped one of his overcards to double through Wasicka. Strasser moved up to 425K, while Wasicka slipped to a little over 800K. Although Wasicka still held the chiplead, the margin was a slim one over Bill Edler who grinded his way to 750K. Wasicka coughed up the chiplead close to the bubble when he lost a 600K pot.
Strasser, who was seated at Wasicka's table for most of the night, made a late push for the top spot in chips after he scooped a pot worth over 300K. With about 100K in the pot on a board of
, Strasser bet 100K. His opponent went into the tank for seven minutes before he reluctantly called. Strasser flipped over
for two pair and his opponent mucked.
With 56 players remaining, the lone Aussie left in the tournament, Jimmy Sachindis was on life support. He had just 7K left when he found
in the small blind. The cutoff raised and Sachindis moved all in. Card dead for most of the evening, he angrily slammed his two black aces on the table and let an F-bomb slip. His aces held up and he won a 37K pot. Unfortunately, Sachindis was given a ten minute penalty from the tournament directors for using the F-word.
A couple of hands later, Kristy Gazes woke up to find
. She moved all in pre-flop and Andrew Scheinman called with
. Gazes' pocket rockets held up as she doubled up to over 300K. With Andrew Scheinman's 56th place elimination, play was hand-for hand on the bubble.
The mood in the room was apprehensive, yet exciting with all eyes on Jimmy Sachindis' miniscule stack. He eventually pushed all in with
against Markus Stranzinger's
as sea of media, floor staff, players, and railbirds hovered over their table. Although Sachindis held the dominant hand, Stranzinger flopped a five to seal Sachindis' fate as the Bubble Boy. The Aussie headed to the rail in 55th place as the remainder of the field advanced into the money. All 54 remaining players are guaranteed to win $22,780.
Without a doubt, the comeback player for Day 3 was Tad Jurgens. He started the day 152 out of 152 with only three big blinds remaining. He doubled up in the first orbit and never looked back. Not only did he make the money, he finished the day with over 500K.
Bill Edler, Jason Strasser, JC Tran, and Paul Wasicka all advanced to Day 4 and are among the Top 10 in chips. Also making the cut were CK Hua, Greg "FBT" Mueller, JC Tran, Chris Bell, Joe Awada, Ed Moncada, Vincent Procopio, Alan "Bodog Ari" Engel, Nam Le, Chau Giang, Isaac Haxton, Kristy Gazes, Nick Schulman, and Lee Markholt.
Noteworthy eliminations on Day 3 included: Barry Greenstein, Erik Seidel, Minh Ly, Ted Forrest, Crispin Leyser, Toto Leonidas, Daniel Alaei, Steve Brecher, Brian Haveson, Ali Eslami, Anthony Mak, Jesse Jones, Quinn Do, Dan Schmeich, Joe Tehan, Nenad Medic, Steve Dannenmann, Lori Conn, Eugene Todd, Parhlad Friedman, Tim Phan, and Matthew Szymaszek.
The official chip counts for the event are:
EDLER WILLIAM 696,000
STRASSER JASON 677,000
SUNG SUK 668,000
TRAN JC 636,000
ALVARADO JUAN 634,000
MUNRO RICHARD 631,000
WASICKA PAUL 619,000
JURGENS TAD 598,000
HUA CAN 597,000
BELL CHRISTOPHER 570,000
CABANILLAS JEFF 515,000
SCHULMAN NICHOLAS 515,000
HAXTON ISAAC 473,000
CHANG JAY 463,000
LUND HANS 463,000
MARKHOLT LEE 388,000
STRANZINGER MARKUS 388,000
GAZES KRISTY 339,000
LAWSON TED 330,000
MONCADA EDWARD 323,000
AWADA JOE 300,000
GIANG CHAU TU 283,000
IDEMA DANIEL 279,000
NAM LE 276,000
CORDI JOSEPH 275,000
FERNANDEZ JACOBO 218,000
MCCABE SEAN 214,000
NAQUIN LESTER 199,000
GIANNETTI MATTHEW 197,000
HERSHLER ERIC 192,000
LITTLE G. JOHN 185,000
JOHNSON BENJAMIN 181,000
ENGEL ALAN 177,000
KAINER GARY 158,000
WEEDON ROLAND 158,000
YI SUNG 156,000
RAZI BABAK 155,000
PROCOPIO VINCENT 150,000
HARMETZ DANIEL 142,000
BACH DAVID 137,000
DJOKOVIC AVDO 130,000
YOON STEVE 126,000
NEHORAYAN ROBERT 105,000
JING SHAN 102,000
MUELLER GREG FBT 97,000
JETTEN PETER 87,000
TATALOVICH RICHARD 87,000
GALBRAITH JOHN 86,000
TRAN NHUT MINH 86,000
BINGER NICK 84,000
CARSON MICHAEL 84,000
WOODWARD DANIEL 80,000
JABLONSKI STAN 75,000
ANDERSON JEFFREY 70,000
Action for Day 4 at the L.A. Poker Classic resumes at 3:30 P.M. local time in the ballroom at the Commerce Casino. Stop by and check out our live reporting updates, including chip counts, photos, videos, and more.
Ed Note: Absolute Poker Welcome US players, and there is a ton of action at every level, every day.