L.A. Poker Classic - Day 2 Recap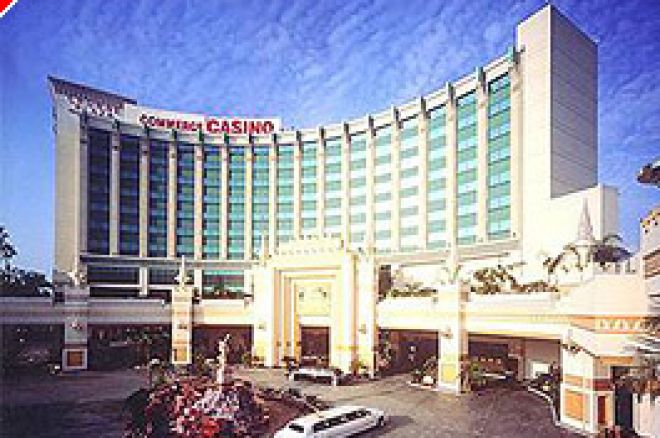 368 players returned to Commerce Casino for the L.A. Poker Classic with their thoughts on one thing: the $2.4 million first place prize. 152 players would survive the day and advance to the next day of play. Action moved along at a quick pace and tournament director Cheri Dokken decided to end Day 2 at Midnight. Originally, the day was supposed to end at 3:30am but tables were breaking faster than anticipated.
Joe Sebok started Day 2 as one of the chipleaders with a healthy stack of 200K, despite shrugging off an ankle injury which he had gotten early on Day 1. Just before the dinner break, Gavin Smith had busted out which meant that Sebok won a last longer prop bet with Smith. The loser would have to get the winner's initials tattooed on their rear end. Smith headed to the rail with a sick feeling in his stomach that when they two returned to Las Vegas, that Smith would eventually have to get "J.S." branded on him for the remainder of eternity.
Sebok took a hit early on after he doubled up one of the players at his table and then lost a pot to Miami John Cernuto. He built his stack back up and remained one of the chipleaders until he was involved in one of the most decisive hands of the tournament with JC Tran. In the biggest pot of the tournament, Sebok was eliminated by JC Tran. Sebok turned a Queen high flush with Qd-8d, while Tran had two pair with Kc-10h. When the 10c spiked on the river, Tran picked up a full house. All the money went in on the river as Tran scooped the monster pot worth over 500K as Sebok quietly headed to the rail. Tran became the first player to cross the half of a million mark and ended Day 2 as the chipleader..
After the Sebok hand, Tran put himself in a good spot to make another final table. Tran had been waiting for over a year for another shot at the LA Poker Classic title. He finished in 5th place at the 2006 event. He began the final table as the chipleader, but got his pocket Aces cracked by eventual winner Alan Goehring's 5-5. Tran led all the way and even picked up a flush draw which meant only one card in the deck could help Goehring. Unfortunately, Goehring spiked a one outer as Tran busted out in 5th winning over $246,000.
The online players emerged as some of the players to beat at this year's L.A. Poker Classic. Online cash game guru Prahlad Friedman showed off his tournament skills as he amassed a stack, while Alan "BoDogAri" Engel ended Day 2 near the top of the pack in chips. His day was running so well that he flopped quads on one hand with his opponent pushing their entire stack all in against him.
"I'm trying to play small pots," said BoDog Ari. "And I'm trying to play my game. I'm treating this like any other tournament. I play more than anyone I know so I'm treating this like one of the 20 a day that I play."
Duke University student Jason "Strassa" Strasser had a quiet day as he slowly built up his stack until he caught a lucky flop against Michael Binger. Strasser was all in preflop with Q-Q against Binger's pocket Aces. Strasser flopped a set of Queens to send Binger to the rail as that hand pushed him into the Top 10 in chips. The beat was so bad that it took Binger several beers to calm him down as he recanted the bad beat to anyone in the casino who would listen as he referred to Strasser as "that internet player who cracked my pocket Aces."
Several other players had their aces cracked at the LAPC as they headed to the rail including Mike "The Mouth" Matusow. On Day 1, Daniel Negreanu busted out after get his A-A cracked twice in the last three hands he played.
Players eliminated on Day 2 included Gavin Smith, David Chui, Kathy Liebert, Mark Newhouse, Shane "Shaniac" Schleger, Chad Brown, Mike Matusow, Eric "Rizen" Lynch, David Plastik, Allen Kessler, Erick Lindgren, Carl Olson, Tony Ma, Men the Master, Todd Brunson, Harry Demetriou, Robert Mizrachi, David Benyamine, Phil Laak, Shannon Shorr, Maria Ho, Joe Cassidy, Freddy Deeb, Patrik Antonius, Young Pham, Michael Binger, Haralabos Voulgaris, Joe Sebok, Isabelle Mercier, Erica Schoenberg, Joe Bartholdi, Capt. Tom Franklin, Sean "Sheiky" Sheikhan, and Martin De Knijff.
Several seasoned veterans survived the cut including Chau Giang, Barry Greenstien, Minneapolis Jim Meehan, Ted Forrest, C.K. Hua, Minh Ly, Jesse Jones, Joe Awada, Bill Edler, Kristy Gazes, Ed Moncada, The Grinder, Steve Brecher, Erik Seidel, and Max Pescatori.
JC Tran's stack hovered around 543K at the end of Day 2, while Michael Carson, Sean McCabe, Lee Markholt, C.K. Hua, Chau Giang, Jason Strasser, and Bill Edler were among the Top 20 in chips.
Selected chip counts are below. 152 players begin day three on a quest for $2.4 million, and a WPT title.
TRAN JC 543,700
YOON STEVE 319,800
CARSON MICHAEL 318,100
ENGEL ALAN 280,200
MCCABE SEAN 272,600
MARKHOLT LEE 240,300
HUA CAN 227,100
GIANG CHAU TU 224,200
TEHAN JOSEPH 207,500
STRASSER JASON 175,900
EDLER WILLIAM 174,700
DAVIS RAYMOND 172,000
WASICKA PAUL 165,700
FRIEDMAN PHAHLAD 164,200
NAM LE 160,300
MONCADA EDWARD 152,600
BELL CHRISTOPHER 144,500
PHAN LOI V 140,700
GREENSTEIN BARRY 125,600
MUELLER GREG FBT 119,500
FORREST TED 115,700
EATON JONATHAN 113,700
GAZES KRISTY 109,900
MCCLAIN MICHAEL 103,900
SHULMAN JEFF 103,800
SCHMIECH DANIEL 96,600
LUND HANS 92,000
LEYSER CRISPIN 87,400
LY MINH 83,700
DANNENMANN STEVEN 75,000
LAWSON TED 73,500
SCHULMAN NICHOLAS 70,300
MEDIC NENAD 69,600
WALNUM ANDREAS 69,500
JONES JESSE 69,200
ALAEI DANIEL 65,700
AWADA JOE 58,700
HAVESON BRIAN 57,300
AARONSON KEVIN 57,000
BRECHER STEVEN 56,900
DO QUINN 55,300
MIZRACHI MICHAEL 49,900
TATALOVICH RICHARD 48,300
SEIDEL ERIK 47,200
NGUYEN MINH 44,800
JEFFERSON NOAH 32,800
LEONIDAS ALFREDO 28,700
KARAGULLEYAN CHRIS 25,500
TODD EUGENE 14,100
Action for Day 3 at the L.A. Poker Classic resumes at 3:30 P.M. local time at the Commerce Casino. Stop by and check out our live reporting updates, including chip counts, photos, videos, and more.
Ed Note: Poker Stars have our highest rated tournaments, sign up today, and find out why