Online Poker Weekend: 'Homerindoors' Claims FTOPS Event #3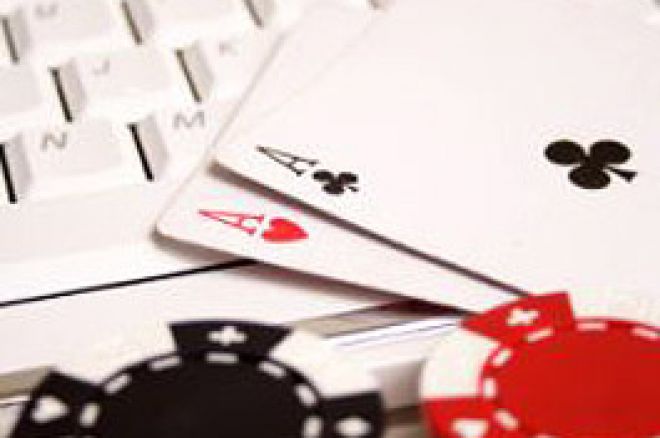 The fourth edition of the Full Tilt Online Poker Series saw Event #3 on tap on Sunday night, with 'Homerindoors' making a late rush to victory to claim the largest prize of the night. Poker Stars' weekly Sunday Million gathered more entrants and a larger total purse, but a three-way chop at the final table spread the wealth.
Poker Stars Sunday Million
Poker Stars had 5,918 entries for the latest edition of the Sunday Million, generating a total prize pool of $1,183,600. First prize was scheduled at $187,955.68 and the cash ran 810 places deep. Owen 'ocrowe' Crowe led the way to the final table with over $14 million in chips. 'chimpy07' made the final nine but didn't last long, his
easily topped by 'DuyTheMaster's
after a board of
. ' Hold em 888' claimed the next victim, a down-to-the-felt 'drahma;' on that hand, Hold em 888 held
to drahma's
and won when the board arrived
.
Cracked aces meant the end of 'mcc3991's run, in seventh spot. His
fell to 'Himclip85's
when the board came
. Six-way action lasted several dozen hands before ocrowe sent 'kattkroken' to the rail. On the hand, kattkroken held
to ocrowe's
, but the
board gave ocrowe the pot. The field narrowed again when 'Himclip85 used
to send 'bachelor_80' home in fifth, as bachelor_80's last stand with
never came close to connecting with a
board.
After rejecting deal talks, ocrowe ended up being bounced as the fourth-place finisher. The knockout hand found him with
against DuyTheMaster's
, with the chips going in after an
flop. The turn and river came
and
, however, giving DuyTheMaster a full house and the pot. With ocrowe's elimination the three surviving players (DuyTheMaster, Hold em 888, and Himclip85) quickly agreed to a chop for most of the remaining money.
Hold em 888 won two huge pots from DuyTheMaster in the hands that followed, the second of which sent DuyTheMaster to the rail. That hand saw the chips go in after a
flop, with both players moving in on flush draws. DuyTheMaster had the better draw with
to Hold em 888's
, but Hold em 888 paired the
turn and avoided the redraw with the
river.
Hold em 888 began heads-up play with 70% of the chips, but Himclip85 battled gamely before falling. Both players capture sizeable pots before the last hand, with Himclip85 narrowing the margin to no avail. The final hand found Himclip85 heavily favored to double through and take a commanding lead, as the chips went in before the flop with Himclip85 holding
to Hold em 888's
. Hold em 888 caught his needed three on the flop, and the final board of
spelled the final entry in the victory.
Final standings:
* 1st ($141,519): Holdem888
* 2nd ($95,582): Himclip85
* 3rd ($109,929): DuyTheMaster
4th ($52,078.40): ocrowe
5th ($40,242.40): bachelor_80
6th ($28,998.20): kattkroken
7th ($20,713): mcc3991
8th ($12,427.80): drama
9th ($7,811.76): chimpy07
* --- three way deal for most of remaining prize money; $30,000 to eventual winner
Full Tilt FTOPS #3: $750,000 Guaranteed NL
FTOPS #3 ran on Sunday night, replacing Full Tilt's normal Sunday-night marquee offering. FTOPS #3 was a no-limit event with a $300+22 buy-in; 2,995 players signed up to build a total purse of $898,500.
'RUSHMULLER' and 'facefirat' made the elite final table but were bounced from the proceedings in the first few hands, finishing in ninth and eighth, respectively. 'lodscarface' followed in seventh, moving all-in from the button with
and middle pair after a ragged
flop, but found 'Homerindoors' waiting with
and top two pair. 'skip640' met a tough-luck exit moments later, his
bested by a rivered ten-outer; 'funkdawg' played
and claimed the knockout when the board completed
. funkdawg's own exit, though, came next. After dropping a couple of smaller pots, he was all in with
against 'HibachiMahi's
and failed to connect as the board delivered
.
The knockout karma ran bad for HibachiMahi as well, as he was the next to exit, again run down by pocket threes. HibachiMahi started the hand with
against Homerindoors'
, but Homerindoors flopped the full house and won out as the board eventually displayed
. Homerindoors broke the knockout whammy by sending 'Antplays' off in third moments later. On that hand, AntPlays started ahead with
to Homerindoors'
, but Homerindoors won easily with a board that read
.
Homerindoors widened his margin over 'kice32,' the last remaining foe. The final hand saw kice32 move in with 10-4, holding top pair on an 8-10-8 flop, but Homerindoors held Q-8 for made trips. kice32 was dead to runner-runner help, but two small cards missed completely and Homerindoors wrapped up the victory.
Final standings:
1st ($164,425.50): Homerindoors
2nd ($100,632): kice32
3rd ($65,590.50): Antplays
4th ($52,113): HibachiMahi
5th ($39,534): funkdawg
6th ($28,482.45): skip1640
7th ($21,024.90): lodscarface
8th ($16,532.40): facefirat
9th ($12,579): RUSHMULLER
Party Poker $300,000 Guaranteed
The steady turnouts for the Party Poker $300,000 Guaranteed continued on Sunday. 1,460 players signed up, with 200 cashing and first worth $60,000. 'danner55' had amassed nearly $1.5 million in chips to hold a narrow edge over 'Dr_Gammon' as the final table began.
The early knockouts came in rapid order. 'TheSpider' made a straight with
on a board of
to send 'antena22' --- who held
--- off in tenth. Ninth went to 'Sebastian175,' whose
lost a race against 'ShowYourStyle's
when the board brought
. 'Talktome333' departed in eighth, his
outflopped against Dr_Gammon's
on a board that eventually read
. And seventh went to 'careyjane111,' who was unable to connect with
versus ShowYourStyle's
when the board offered
.
'MormorAce' went to the rail in sixth,
cracked by danner55, who flopped two pair with a
holding on a board that showed
. Fifth place went to 'RobKPoka,' whose
looked in good shape after a
flop, but was all but dead against 'TheSpider's
and flopped straight; the
turn and
river completed the knockout hand.
Four-way play lasted for several dozens of hands as the survivors jockeyed for the lead. Finally, Dr_Gammon and ShowYourStyle locked virtual horns, Dr_Gammon with
and ShowYourStyle
. When the board came
, ShowYourStyle was on the rail. It went to two moments later, when Dr_Gammon's
was good enough to top danner55's
on a
board.
Dr_Gammon and TheSpider see-sawed quickly at the start of heads-up play, both willing to push their stacks to the middle. Each doubled through in mirrored all-in showdowns. The deciding moment came when the two clashed pre-flop, TheSpider holding
to Dr_Gammon's
. The
board gave the hand and almost all the chips in play to TheSpider, as Dr_Gammon had TheSpider barely covered before the hand. Dr_Gammon pushed his remaining chips the next hand with
, and TheSpider called with
. The
board paired TheSpider's jack and completed the triumph.
Final standings:
1st ($60,000): TheSpider
2nd ($33,000): Dr_Gammon
3rd ($20,700): danner55
4th ($16,350): ShowYourStyle
5th ($13,800): RobKPoka
6th ($10,350): MormorAce
7th: ($7,950): careyjane111
8th ($5,250): Talktome333
9th ($4,050): Sebastian175
10th ($2,850): antena22
Ultimate Bet $200,000 Guaranteed
The increased overall action elsewhere on Sunday night meant a slight dip in attendance at Ultimate Bet's $200,000 Guaranteed, as 846 players were on hand. That said, though, the event guarantee was still in place, meaning the players enjoyed over $30,000 in overlay, courtesy of Ultimate Bet. 90 players cashed with first place worth $45,000. Two players crashed out on the same final-table bubble hand, with 'YoungSupremacy' capturing tenth-place money, while 'VitaminABC' held the early lead as the nine survivors played for the big money.
'ubbulls' was the first of these to leave, departing when his
was outrun by the
of 'Tony Pisser' on a board of
. Then 'Dyzalot' picked off two players at once by flopping a set with
. 'JMellross' held
and 'wagstbc'
, but both exited when the board displayed
. A shortstacked 'Moneyno20' departed next, his
no match for 'naskoxx's
on a
board. naskoxx, though, picked up few chips with the knockout and was the next player bounced himself, when his
missed against Tony Pisser's
with a board of
.
A huge showdown of nearly equal stacks saw VitaminABC bounced in fourth. The chips went in before the flop, with VitaminABC's
in trouble against Tony Pisser's
. The trouble became permanent with a board of
, the rivered set of queens good for the knockout. Third place went to 'unclwhoopass,' who made a move for the last of his chips with
but ran into Dyzalot, waiting with
. The board came
and two players were left.
It took 108 hands for the final table to be winnowed down to two players, and another 232 for the winner to be decided. Both Tony Pisser and Dyzalot began the matchup with plenty of chips in relation to the blinds --- 8,000/16,000 at the start with over two million chips in play --- and the battle swung back and forth between the two. Finally, Tony Pisser wore Dyzalot down, and the final hand came down to a race, Dyzalot's
against Tony Pisser's
. The board arrived
, giving Tony Pisser two pairs and the win.
Final standings:
1st ($45,000): Tony Pisser
2nd ($27,000): Dyzalot
3rd ($18,500): unclwhoopass
4th ($13,000): VitaminABC
5th ($11,000): naskoxx
6th ($9,000): Moneyno20
7th ($7,000): JMellross
8th ($5,000): wagstbc
9th ($3,500): ubbulls