Online Poker Weekend: 'JB_Dog' Runs Over Table in Sunday Million Win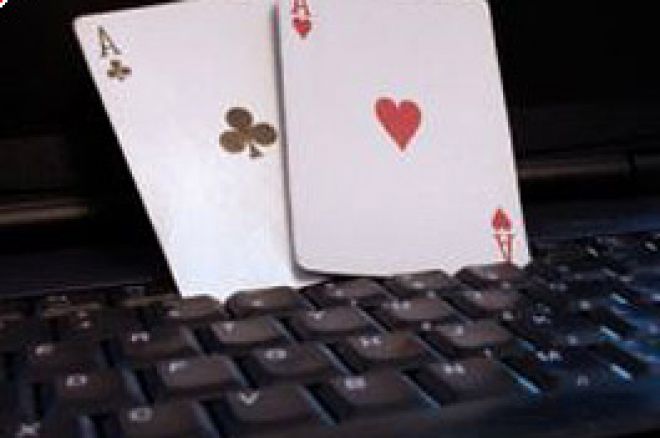 This week's Stars Sunday Million was, simply, no contest. 'JB_Dog' brought a huge chip lead to the final table and pummeled the remaining competitors with aggressive play. A couple of early showdowns gave other players hope, but a slightly closed margin was the best the others could hope for, and in the end, they jockeyed for second place. JB_Dog's wire-to-wire final-table triumph was one of the most dominating performances in recent major online-event history.
Poker Stars Sunday Million
The Sunday Million at Poker Stars saw 6,667 players sign up, generating a prize fund of $1,333,400. 900 players cashed and first prize was scheduled at almost $192,000, easily the largest prize of the night. 'JB_Dog,' with over $27 million in chips, held a huge lead of nearly $20 million as the final table came together. JB_Dog dropped a bunch of those chips before turning a spade flush to k.o. 'Assassinater' and rebuild his margin; on that hand, JB_Dog held
to Assassinater's
, and watched the board deliver
.
'copi' departed in eighth, his seemingly strong
no match for the
of 'Columbo218' when the board arrived
. A few hands later, JB_Dog used
to finish off 'EndlessJ' and his
, the board bringing
. A short-stacked Cougfan1987 soon followed EndlessJ to the rail, when Cougfan1987's
flopped a draw but couldn't complete against 'TheSeraph's
, the final board reading
.
'oceania99' was the next endangered stack to fall,
no good against 'berdyfish's modest
when the board offered
. 'Colombo218' followed moments later, his
bested by TheSeraph's
when the board came
. Through the series of small knockouts, JB_Dog kept capturing small pots and padded his lead, and still held 70% of the chips entering three-handed play. berdyfish was a desperate third of three until rivering a two-out five to double through TheSeraph --- cracking The Seraph's pocket aces --- to jump into second.
JB_Dog used
to finish off TheSeraph after TheSeraph pushed with
. The board on the hand read
, and head-up action began. After one all-in chop, JB_Dog soon finished his winner's run. The chips went in before the flop on hand where JB_Dog held
to berdyfish's
, and the dominated berdyfish found no help when the board played out
.
Final standings:
1st ($191,742.92): JB_Dog
2nd ($99,871.66): berdyfish
3rd ($71,870.26): TheSeraph
4th ($56,002.80): Colombo218
5th ($42,802.14): oceania99
6th ($30,668.20): Cougfan1987
7th ($22,001.10): EndlessJ
8th ($13,334): copi
9th ($8,267.08): Assassinater
Full Tilt $400,000 Guarantee
Another big crowd found its way to last night's Full Tilt Poker $400,000 Guarantee. 2,350 players meant a $470,000 prize pool, with 351 making the cash and $86,221.50 on the line for first. 'pbdrunks' led the march to the final table, having amassed roughly $1.8 million in chips. 'luckbox' bounced 'thugmoneymkr' in the first big matchup,
staying ahead of
on a
board.
Eighth went to dknykiller, who flopped a big draw against 'KanyeSouth's
but went home when the board completed
. After a long stretch featuring several suckouts, luckbox exited in seventh when his
couldn't overcome pbdrunks'
in a battle of the blinds. The board displayed
and the field was down to six. It went to five when 'mx4ever' couldn't connect with
against 'Marco725's
; the
board brought plenty of outs but no completion.
pbdrunks then used
to claim another victim, this time in the form of 'j4f2h0,' whose
start couldn't connect with a
board. A pocket pair then triumphed over overcards again, when 'KanyeSouth's
held up over 'JOHNNYBELL's'
on a board of
. A lengthy span of play then ensued before KanyeSouth and Marco725 mixed it up; KanyeSouth held
to Marco725's
and picked up the knockout when the
board completed the heart flush.
KanyeSouth doubled through pbdrunks on a hand where both players committed to club flush draws; neither connected, but KanyeSouth held the higher (K) kicker. KanyeSouth closed the deal one hand later, when his
flopped a fortunate six against pbdrunks'
. The complete board read
, capping KanyeSouth's triumph.
Final standings:
1st ($86,221.50): KanyeSouth
2nd ($52,922): pbdrunks
3rd ($34,639): Marco725
4th ($27,636): JOHNNYBELL
5th ($20,915): j4f2h0
6th ($15,040): mx4ever
7th ($11,045): luckbox
8th ($8,648): dknykiller
9th ($6,580): thugmoneymkr
Party Poker $300,000 Guaranteed
1,443 players joined Party Poker's $300,000 Guarantee, leaving a nominal overlay in place. First place was worth $60,000 and the top 200 players made the money. Early leaders at this event's final table were 'mortens22' and 'Kovax,' each well over the million-chip mark.
First to fall was a short-stacked 'INCHONSNK,' who pushed with
into 'mirumir's
; departing as the board arrived
. Ninth went to 'Wollie111,' whose
couldn't catch a two-outer against Kovax's
, the board bringing
. 'kasiiino' departed soon after, his
no good against 'mirumir's
when the board displayed
.
Kovax picked up the next knockout when his
topped 'jakobm8's
on a board of
. Mirumir picked up another knockout moments later winning race with
against 'rilleg's
when the board came
. Mirumir then doubled through mortens22 in a huge pot moments later, Mirumir's queens staying ahead of mortens22's tens, and the all-but-eliminated mortens22 bounced out on the very next hand, his final hole cards mucked unseen.
A few hands after losing most of his chips to 'ko_Ocken,' 'fishts' finished in fourth. His last stand with
ran afoul of mirumir's
on a hand where the board came
. After rejecting near-second place money in a potential chop, ko_Ocken was quickly bounced in third; the showdown hand found ko_Ocken's
unable to catch Kovax's
when the board offered
. Kovax and mirumir then quickly made a deal for the remaining prize money.
Final standings:
* 1st ($51,307.75): Kovax
* 2nd ($41,692.25): mirumir
3rd ($20,700): ko_Ocken
4th ($16,350): fishts
5th ($13,800): mortens22
6th ($10,350): rilleg
7th: ($7,950): jakobm8
8th ($5,250): kasiiino
9th ($4,050): Wollie111
10th ($2,850): INCHONSNK
* --- two-way deal for remaining prize money
Ultimate Bet $200,000 Guaranteed
Ultimate Bet saw a solid turnout for its weekly $200,000 Guaranteed. 1,008 players joined the fun, generating a total prize pool of $201,600. 110 players cashed, with everyone chasing the $44,352 number on the line for first. 'moseley9' went on a rush to reach the final table with over $700,000 in chips and a sizeable lead over 'Loeppenthin,' who made his second straight final table in the event.
'm0nr0e360' picked up the first knockout at the first table, his
besting 'shinytop's
in a battle of short stacks when the board came
. m0nr0e360 would be the next to fall, though, when his
was reeled in by 'TulsaJ's
on a hand where the board brought
. And in turn, TulsaJ was the next to fall, when his
fell to moseley9's
when the
board delivered moseley9's needed jack.
'dannysek' lost a huge race to moseley9 to finish in seventh. On that hand, dannysek held
to moseley9's
, and watched as the
display changed nothing. moseley9 padded his lead moments later, using
to top 'mhrep's
with the board bringing
. And fifth went to 'TheNateDogg3,' who nursed a short stack for several laps but finally was forced in with
; Loeppenthin made an inexpensive call with
and picked up the knockout when the board arrived
.
'tigercat17' made a deep run before a huge pot lost to 'RML0422' (who then reported his name in chat as Ryan LeWinter for interested media). It was Loeppenthin, though, who picked up the knockout, using
to top tigercat17's
when the board delivered
. And LeWinter sent Loeppenthin off to his second straight third-place finish, with the chips going in after a
flop. LeWinter showed
, Loeppenthin
, and the
turn and
river meant two players were left to do battle.
moseley9 still held a commanding lead and padded it with bullying plays. The end came courtesy of a minor suckout. The chips went in with LeWinter holding
to moseley9's
. LeWinter was well ahead until the river on a board that unfolded
. moseley9's rivered pair of kings sealed the victory and over $44,000 in prize money.
Final standings:
1st ($44,352): moseley9
2nd ($25,966.08): RML0422
3rd ($17,942.40): Loeppenthin
4th ($13,104): tigercat17
5th ($10,584): TheNateDogg3
6th ($8,467.20): mhrep
7th ($6,451.20): dannysek
8th ($4,536): TulsaJ
9th ($3,427.20): m0nr0e360
10th: ($1,612.80): shinytop