WSOP Updates – Event #19, $2,500 NLHE — Bonding Holds Lead, Brenes Makes Third Final Table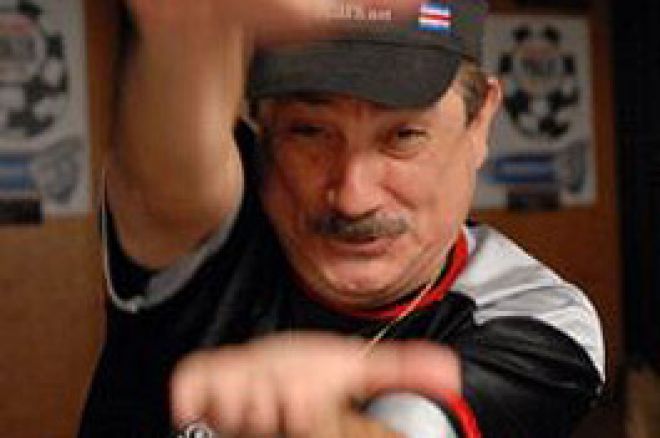 Event #19, $2,500 No Limit Hold 'Em, returned for Day Two action with the 99 surviving players all assured of a piece of the event's $2.3 million prize pool. Each was assured a $3,844 payday, but the focus was on the first-place check of $521,785. These were the players with the inside track at day's start:
1. Lars Bonding – 155,600
2. Alex Bolotin – 152,800
3. Devin 'TranquilChaos' Porter – 135,100
4. Greg 'FBT' Mueller – 122,000
5. David Redlin – 111,400
6. Richard Totii – 107,400
7. Bertrand 'ElkY' Grospellier – 106,800
8. Sam Abueid – 104,000
8. Alex Outhred – 104,000
10. Mike Matusow – 103,700
Kido Pham moved up early by busting three players in two consecutive hands to move over the 100K mark, but he couldn't sustain the rush, eventually finishing in 33rd. Mike Matusow also was in action early; after moving all in on one hand to take a pot, he displayed
and 'The Mouth' roared at his tablemates, "Where's the kiddie game?" The next time he pushed, Matusow actually held pocket jacks, and he eliminated an opponent who had challenged him with Big Slick.
Rob Hollink and Chad Brown were early eliminations, along with many others; within three hours of Day Two's first hand, only 44 players remained. Lars Bonding and John Shipley, two of the largest stacks, tangled after a level increase to 3K/6K and a 500 ante. Bonding came out on top, sending Shipley to the rail in 39th and allowing Bonding to build his giant stack to 450K.
Before the dinner break, more name-players pros fell, including Carl Olson, David Levi, Jon Turner, David Redlin, Mike Sica, and Greg Mueller. Only 15 players remained at this point. The field's last woman, Denise Molloy, exited in 14th place for $19,105, but there were other issues brewing. With the possibility of the final table being held tomorrow in the Bluff Tent, Mike Matusow voiced his opposition to the idea, even urging a boycott among his fellow players after being angered by Phil Hellmuth's 11th-bracelet victory being hidden from general view the night before. Matusow, though, fell just short of the final table, being eliminated in 11th place. Lars Bonding continued to hold the chip lead, though Devin Porter, Shawn Hattem and Marcus Obser are close behind.
When Obser eliminated Matt Gilsdorf in tenth place ($21,435), the lineup for Wednesday's final table was set:
PLAYER — CHIPS
Seat 1: Devin Porter 819,000
Seat 2: John Phan 445,000
Seat 3: Humberto Brenes 343,000
Seat 4: Alex Bolotin 382,000
Seat 5: Marcus Obser 679,000
Seat 6: Bertrand Grospellier 416,000
Seat 7: Shawn Hattem 787,000
Seat 8: Francois Safieddine 302,000
Seat 9: Lars Bonding 882,000
This marks Brenes' third final-table appearance at this year's WSOP, sure to make him among the early leaders in the newly reformatted WSOP Player of the Year standings. Be sure to check out the Event # 19 Blog, when action begins on Wednesday at 2pm PDT.