WSOP Updates – Event #22, $5,000 NHLE — James Mackey Rolls to Bracelet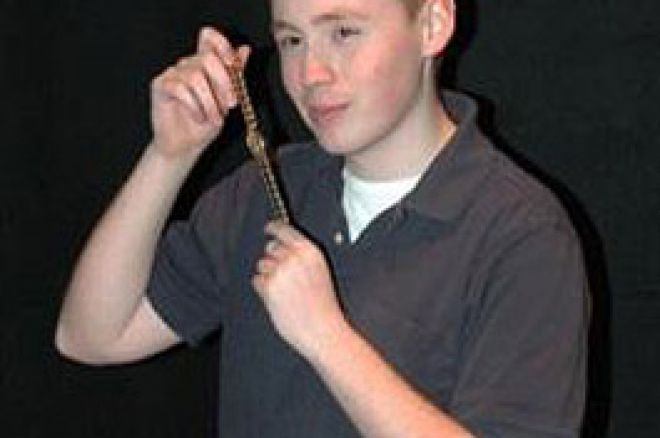 The final table for Event #22, $5,000 No Limit Hold 'Em, featured a solid lineup and a tight race, with the players bunched up behind chip leader Karga Holt. The final was held inside the Bluff Tent and broadcast over the Internet. The seat assignments and chip counts at the start of play were:
Seat 1: William McMahon — 524,000
Seat 2: Tex Barch — 709,000
Seat 3: Michael Binger — 240,000
Seat 4: Jan Sorensen — 349,000
Seat 5: Stuart Fox — 718,000
Seat 6: Maciek 'Michael' Gracz — 534,000
Seat 7: Karga Holt — 1,211,000
Seat 8: James Mackey — 1,074,000
Seat 9: Nick Schulman — 1,045,000
The first one knocked from the final table was Michael Gracz. On Hand 16, Gracz moved all in and was immediately called by James Mackey, with pocket queens. Gracz tabled nines, but exited in ninth place after the board brought only another queen for Mackey instead.
Mackey jumped to a large lead as the other players battled. On Hand 18, Stuart Fox eliminated Tex Barch in eighth place ($60,254). European pro and WSOP bracelet holder Jan Sorensen dropped out next on a bad beat when Michael Binger, with pocket tens, called Sorensen's all in with pocket aces. A ten flopped and Sorensen left in seventh place, taking home $81,343.
Mackey and Nick Schulman tangled next. Mackey raised from the small blind, only to have Schulman move all in. Mackey made the call with A-10 off, and was ahead of Schulman's A-5. Once the board blanked for both players, Nick Schulman was out in sixth place ($108,457) and Mackey's lead was extended.
Early chip leader Karga Holt never caught cards here and made his stand against Michael Binger. Karga tried a steal with Q-3 off and was met by Binger's pocket jacks. Holt found no help, leaving in fifth with $140,091.
Within the next 20 hands, the event would be decided; it was one of the fastest final tables of this year's WSOP. Mackey decided to look up William McMahon after an all-in push and was behind with 10-7 to McMahon's A-6 off, but found a seven on the flop. McMahon left the Bluff Tent with the fourth-place prize of $194,319.
At this point Mackey held a 3:1 advantage over the remaining two players. Mackey next took out Michael Binger on a race situation (Mackey's A-Q versus Binger's pocket tens) when an ace flopped and, down to heads up action, it only took four hands to decide the champion.
Mackey (as he had done repeatedly), moved all in and Stuart Fox found a hand to call with. Fox held K-4, and it led Mackey's 10-2. The flop missed both, but the
turn gave the lead to Mackey and, after another ten arrived on the river, James Mackey was the champion of the $5,000 No Limit Hold 'Em event (#22) at the World Series of Poker.
PLAYER — EARNINGS
1. James Mackey — $730,740
2. Stuart Fox — $448,892
3. Michael Binger — $295,245
4. William McMahon — $194,319
5. Karga Holt — $140,091
6. Nick Schulman — $108,457
7. Jan Sorensen — $81,343
8. Tex Barch — $60,254
9. Michael Gracz — $43,684
Check out the interviews in our Video Gallery.