WSOP Updates – Event #25, $2,000 NLHE — Rice Leads at End of Fast-Paced Day Two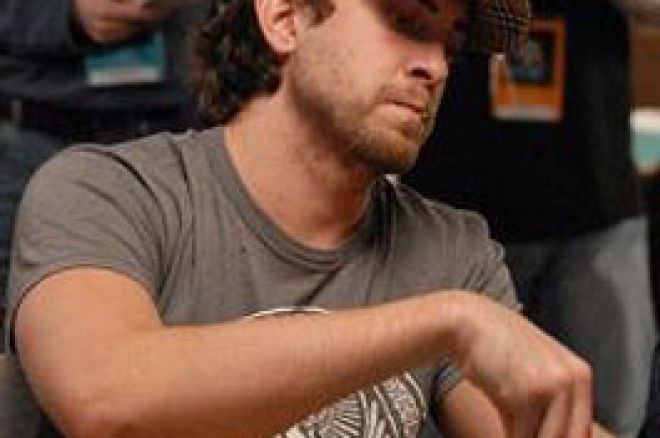 Huge-field no-limit events at this year's WSOP are interesting to watch. The first day's play generally takes them from about 2,300 or more players all the way down to 150 or so, well inside the money. Yesterday, in Day Two of Event #25, $2,000 No Limit Hold 'Em, the pace seemed even quicker.
The day started with 130 players, and in the blink of an eye (or it so seemed) the field was down to about 40. During the first four hours of play, a player exited every two minutes. This kept floor staff busy, not to mention the reporters, who were typing about as fast as possible.
Not a field heavy on 'star power,' many of the players exiting early in the day were relative unknowns, with a few notable exceptions such as Liz Lieu and Steve Dannenmann.
The chips shifted around as the Day One chip leaders faltered. Day One big stacks Douglas Miranda and Brandon 'Happy' Schaefer were out by late afternoon, while David Daneshgar and top online player Travis Rice surged. Rice made several good moves to make his stack one of the biggest in the room, and then proceeded to use that stack to his advantage and continue accumulating more chips.
One player making a big move through the middle of the day was Ross Boatman. Boatman has played well early in this WSOP, with three deep runs and a final-table bubble with a tenth-place finish in Event #22 ($5,000 No Limit Hold 'Em). Boatman was short-stacked through most of the day, but then tripled up on a hand where he had
, and was up against
and
. Boatman flopped a full house and tripled up to 210,000 chips.
Down to three tables, Jordan 'iMsoLucky0' Morgan continued his strong play, moving above 500k and into the chip lead. Morgan wasn't so lucky shortly thereafter, when he moved in with
on a
flop. Darryl Ronconi called with
, creating a monster 800,000-chip pot. The
fell on the river, giving Morgan a set but Ronconi a straight, and the chip lead. Morgan was out on the next hand.
The pace picked up again after Boatman and Justin Pechie were eliminated and the players got down to two tables. The field went from 18 to nine in short order, with Rice winning a couple key pots down the stretch to climb into the chip lead. Rice did take a hit with about 15 players left, when he doubled Praz Banj up when Banj moved all in from the small blind with
. Rice made the call with
, but got unlucky when Banj flopped trip threes.
Ken Einiger had been steadily building his stack, and when he knocked out Yakov Hirsch (and in the process picked up another 325,000 chips) he moved into the chip lead. Just a few hands later, Rice doubled through Einiger to pull back into a near-tie for the lead. The chip counts going into the final table are.
PLAYER — CHIPS
Seat 1: Evan Schwartz — 792,000
Seat 2: Justin Rollo — 772,000
Seat 3: Darryl Ronconi — 662,000
Seat 4: Adam Ross — 346,000
Seat 5: Ben Ponzio — 415,000
Seat 6: Danny Noam — 563,000
Seat 7: David Hewitt — 600,000
Seat 8: Ken Einiger — 1,039,000
Seat 9: Travis Rice — 1,284,000
At 3pm local time, PokerNews.com will bring you our coverage of the final table. You can find this coverage in our 'Live Reporting' section. Be sure to check back in with us then.