WSOP Updates – Event #27, $1,500 NLHE — Dave Gets Un-Stucke in No-Limit Win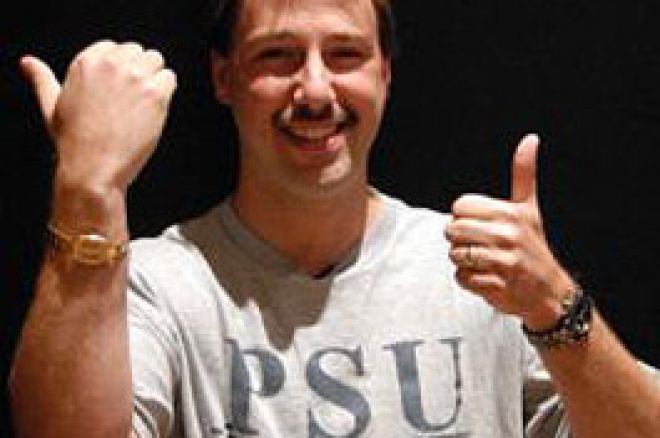 Monday brought nine players together for the final table of the Event 27, $1500 No Limit Hold 'Em, with a WSOP bracelet and a first-place cash of $603,069 to the winner. Here's the players, seat assignments and chip stacks at the start of play:
Seat 1: Tom Dobrilovic - 260,000
Seat 2: Noam Freedman - 847,000
Seat 3: Dave Stucke - 975,000
Seat 4: Luis Sanchez - 116,000
Seat 5: David Woo - 1,114,000
Seat 6: Young Cho - 933,000
Seat 7: Thai Ton - 224,000
Seat 8: Seth Weinger - 1,715,000
Seat 9: Michael Ium - 382,000
This event continued the year's trend toward fast-paced final tables, as on the very first hand, Thai Ton busted in ninth place when his suited A-6 failed to improve against chip leader Seth Weinger's turned pair of kings. Ton earned $36,340 for finishing ninth.
Two hands later, the table lost another player when Louis Sanchez busted in eighth place. Moving all-in while in the small blind, Sanchez's luck ran out when he ran into big blind David Woo's trip aces. Sanchez departed with $47,400.
Although it took a bit longer, the third player to bust was Tom Dobrilovic. Finishing the day in the seventh spot, Dobrilovic couldn't get any help when his K-10 failed to improve against Young Cho's flopped aces. Dobrilovic seventh-place finish was worth $63,200.
Play continued for another 20 hands before the table saw the next elimination. Unfortunately for Noah Freedman, it was his, coming when he got it all-in with Weinger. Both players had flopped a pair of tens, but Freedman held the smaller kicker. Freedman earned $83,739 for his play.
The next player to hit the rail was David Woo. Despite holding pocket jacks, Woo needed a ton of help when he ran into Weinger's pocket aces. The board didn't help either player and Woo was eliminated. He collected $115,339 for finishing in fifth place.
Despite starting the day with a short stack, Michael Ium managed to survive until he ran into Weinger's flopped two pair. Ium failed to improve his pair of jacks, but he still earned $164,319 for his efforts on the day.
After busting the majority of players at the table, Seth Weinger's luck finally ran out when he exited in third place. In a big hand that saw Dave Stucke hit a flush, Weinger's day ended and he earned $246,478 for his play.
It took only four more hands for the champion to be decided, as the final table's most accomplished player, Young Cho (who finished third at WPT Gold Strike) finally busted. Stucke took down the title with a pair of pocket sevens after the board didn't help Cho's J-3. Stucke won $603,069, while Cho earned $382,357 for finishing second.
FINAL STANDINGS
1. Dave Stucke $603,069
2. Young Cho $382,357
3. Seth Weinger $246,478
4. Michael Ium $164,319
5. David Woo $115,339
6. Noah Freedman $83,739
7. Tom Dobrilovic $63,200
8. Louis Sanchez $47,400
9. Thai Ton $36,340