WSOP Updates – Event #35, $1,500 NLHE — Young Vanquishes Dirksen in Heads-Up Duel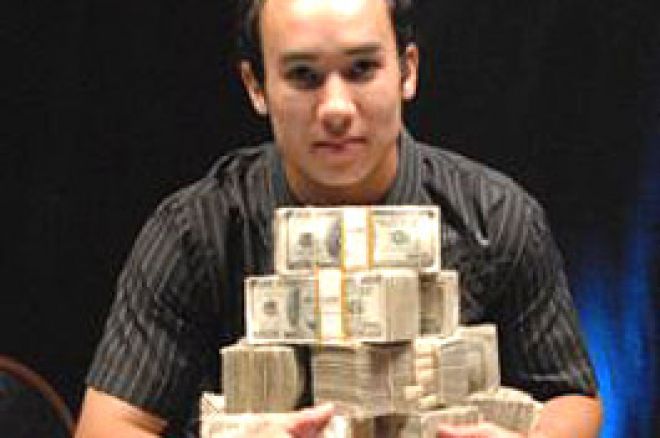 Ryan Young took the top prize in Saturday's final of Event #35, $1500 No Limit Hold 'Em, claiming his first WSOP bracelet, $615,955, and a Corum watch. Young went into Saturday's final table as chip leader and maintained his lead throughout the match, which was broadcast from the Bluff Tent on a one-hour-delayed basis. The final table assignments with chip counts:
Seat 1: Darren Glenn — 317,000
Seat 2: Nam Le — 446,000
Seat 3: John Esposito — 890,000
Seat 4: Joe Holmes — 413,000
Seat 5: Dustin Dirksen — 1,680,000
Seat 6: Paul Cheung — 552,000
Seat 7: Ryan Young — 2,501,000
Seat 8: Michael Trimby — 656,000
Seat 9: Raj Jain — 183,000
Dustin Dirksen came out strong by winning the first pot and continued to challenge his tablemates, though a couple of setbacks trimmed his stack to 790,000 before a later surge. Raj Jain doubled through early, keeping him alive for some time.
Joe Holmes saw his stack dwindle until he was eliminated in the 20th hand. From the big blind, Holmes moved all in on his J-10 against Dirksen's pocket sevens, but found no help from the board. Instead, Dirksen caught the other two sevens on the flop for quads and Homes exited in ninth place with $36,751.
After Holmes' departure Young and Dirksen challenged each other in several pots. Young's increased aggression resulted in the departure of several others.
Darren Glenn was the next to hit the rails, out on Hand 38 when he moved all in on pocket fours that ran into Nam Le's pocket aces. The board offered no help and Glenn went out with $46,806 for his eighth-place finish. Jain, despite his early surge that brought his stack to 750,000, was the next to go after a showdown with Young. Jain moved in on his
after a flop of
. Young, though, held
and had flopped two pair. The turn and river brought
and
, filling out the full house for Young and sending Jain out in seventh place with $62,048.
A few hands later Paul Cheung joined the departed. On the button, Cheung moved all in after Nam Le raised under the gun. Le called, showing pocket jacks to Cheung's pocket fives. The board brought another jack for Le, but no help for Cheung. Cheung collected $79,743 for sixth place. Three hands later, Michael Trimby was eliminated. With Le on the button, Trimby moved all in from the cutoff with
, and Dirksen called with
. The board brought
, and Dirksen took the pot with a full house, kings full of nines. Trimby cashed $62,048 for fifth place.
Now down to four players, chip counts were:
Seat 2: Nam Le — 940,000
Seat 3: John Esposito — 1,000,000
Seat 5: Dustin Dirksen — 1,350,000
Seat 7: Ryan Young — 4,350,000
Esposito was the next to go in fourth ($156,020), only six hands later. He went all in on A-10 and caught a ten on the flop for a matched pair. Young was holding pocket aces, though, and the board brought no more help to Esposito's hand. Nam Le lasted a bit longer against Young and Dirksen, going 24 hands before missing a straight draw and losing to Dirksen's pocket tens. Third place paid $239,230 for Le, leaving Dirksen and Young in head-to-head play with Young's chip count more than double Dirksen's.
Young moved out to nearly a 4:1 margin before a couple of large pots, including an all-in double-through, went Dirksen's way. However Dirksen's lead lasted less than ten hands before Young doubled through himself and put the tournament away. That hand saw Dirksen crippled when his J-10 failed to stand up to Young's 10-3, with chips going in after the 10-3-2 flop. After Young took a couple of more big pots, the chip counts were:
Ryan Young – 6,320,000
Dustin Dirksen – 1,300,000
Ten hands later Young moved all in from the button with
. Dirksen called with
and looked to improve his hand. The board came
, offering no help for Dirksen, eliminating him in second place with $381,381 and giving Young the title.
Final places and payouts were:
1. Ryan Young — $615,955
2. Dustin Dirksen — $381,381
3. Nam Le — $239,230
4. John Esposito — $156,020
5. Michael Trimby — $62,048
6. Paul Cheung — $79,743
7. Raj Jain — $62,048
8. Darren Glenn — $46,806
9. Joe Holmes — $36,751