WSOP Updates – Event #37, $2,000 PLHE — Greg Hopkins Claims Pot-Limit Title
Laurene DeBord-Foulk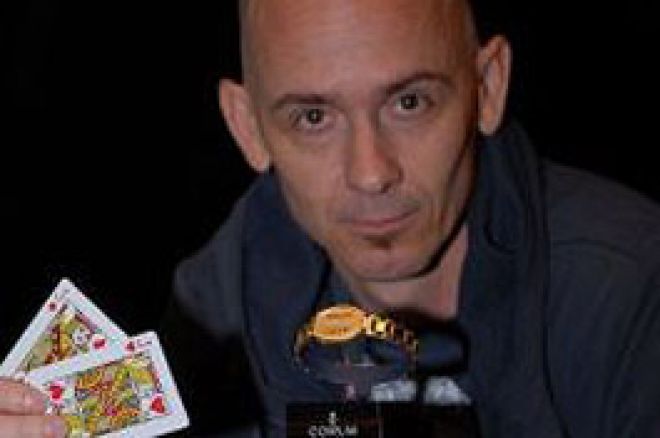 Greg Hopkins survived a slow race to win Event #37, $2,000 Pot-Limit Hold 'Em on Sunday. Winning his first WSOP bracelet, Hopkins cashed $269,707. He was in second place going into the final table, which began with Yuval Bronshtein on top and seat assignments and chip counts as follows:
Seat 1: David Zerrin — 238,000
Seat 2: Ray Coburn — 100,000
Seat 3: Pete Lawson — 198,000
Seat 4: Gioi Luong — 240,000
Seat 5: Yuval Bronshtein — 516,000
Seat 6: Bryan O'Connell — 179,000
Seat 7: Robert Collison — 197,000
Seat 8: Jason Newburger — 278,000
Seat 9: Greg Hopkins — 454,000
Bryan O'Connell started his day short-stacked and finished early. In late position, O'Connell raised with
and Greg Hopkins re-raised on pocket tens. After consideration, O'Connell shoved all in and looked to the board for help. The board brought
and no help for O'Connell, who cashed $16,353 for his ninth-place finish.
Ray Coburn was next to leave. After running low on chips, he bet the pot on pocket fours, which Gioi Luong raised, holding A-K. The flop
, hurt Coburn, and the turn
and river
didn't bail him out, giving Luong the pot and sending Coburn out in eighth place with $22,894.
Moments later, Luong suffered a tough beat after getting the chips in good against Bronshtein. The heavy betting took place after an
flop, and Luong showed
to Bronshtein's
. The turn, though, brought the
, filling up Bronshtein, and no redraw ace appeared on the river. Luong exited in seventh for $31,070.
Bronshtein played aggressively throughout the afternoon, his stack climbing to over one million in a little over two hours. Bob Collison made his stand with
and caught Bronshtein bullying with
, and was fine after both the
flop and
turn, but a four on the river again hit Bronshtein, ending Collison's day in sixth with $41,427.
Pete Lawson finally slowed Bronshtein's onslaught. Bronshtein raised on A-9 and Lawson moved in with pocket jacks. A board of
did not improve Bronshtein's hand and Lawson doubled up to 650,000. Lawson's luck held again on a three-way pot with David Zarrin and Hopkins who both flopped aces on A-J-10. After Hopkins folded, the river
and the
incited Zarrin to go all in, only to run into Lawson's K-Q for the flopped straight. Zarrin was eliminated in fifth, collecting $52,874.
Lawson moved into the lead with the big pots, which he held until Bronshtein again found a fortunate river. Holding J-10, Lawson held top two after the
flop and
turn. Bronshtein, though, hung in with
and the flush darw, and when the
spiked on the river, claimed the big pot and moved back to the front.
Lawson's situation deteriorated as he took hits from Hopkins and Newburger. The final blow came as Lawson went all in on K-8 against Newburger's pocket deuces. The board did not improve Lawson's hand and he left in fourth place with $72,497.
By this time the three remaining players — Bronshtein, Hopkins, and Newburger — all held nearly equal stacks. Bronshtein stayed aggressive, pitting his
against Hopkins'
. After a
flop, Hopkins went all in, and the turn
brought the chance of a runner-runner flush, but the river was instead the
, giving Hopkins the higher pair and the pot. This crippled Bronshtein to 360,000. Bronshtein then went all in on pocket sixes and ran into Hopkins' A-10. The flop delivered A-Q-8, pairing Hopkins' ace. The
, gave Hopkins an unneeded straight, and Bronshtein departed in third place with $109,018.
Hopkins held the advantage over Newburger 1.66M to 740,000 going into heads-up play, and the two began slowly, seeking the big trap. Finally, the collision came when Newburger paired his
on a flop of
, but Hopkins flopped top pair with his
. Hopkins bet the pot, then bet it again after the turn
. Newburger stuck around one more time, but after Hopkins went all in on the river
, Newburger mucked, though in dire condition at 275,000.
Newburger managed to chip away, though, and drew all the way back to even. Finally, a classic race situation put the chips in pre-flop, with Newburger showing
and Hopkins
. The
flop gave Newburger a gutshot draw but kept Hopkins ahead, but the turn
removed the gutshot chance and the river
missed Newburger's remaining outs. Newburger took second place with $165,707, while Hopkins claimed the winner's bracelet and $269,274 first prize.
Final Standings and Payouts:
1. Greg Hopkins — $269,274
2. Jason Newburger — $165,707
3. Yuval Bronshtein — $109,018
4. Pete Lawson — $72,497
5. David Zarrin — $52,874
6. Robert Collison — $41,427
7. Gioi Luong — $31,070
8. Ray Coburn — $22,894
9. Bryan O'Connell — $16,353