WSOP Updates – Event # 38: Schoenberg Marquee Name at Final Table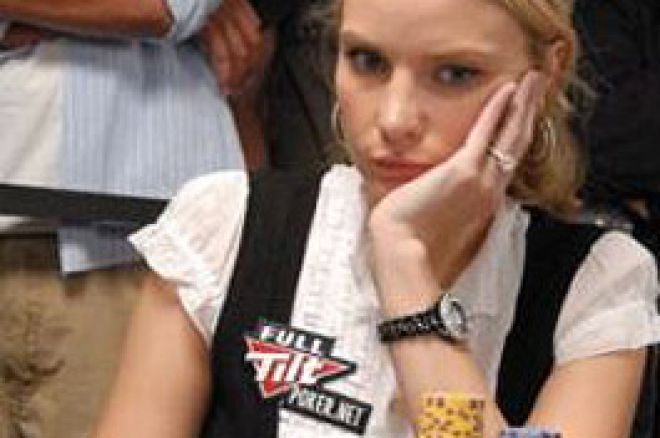 Day Two of the 1,500 No Limit Hold'em - Event #38 got underway Sunday afternoon at 2:00PM (PST) and the tournament continued to follow Day One's break-neck pace throughout the day. With 171 players returning and all of them making the money, the action got underway despite having very little fanfare thanks to the slightly earlier start of the $50,000 H.O.R.S.E. tournament. With the coveted gold World Series of Poker bracelet and the first-place cash of $ 672,628 on the line, the returning field mixed things up early.
The big story of the day was the enormous comeback of Erica Schoenberg. Short-stacked in the early rounds of play, Schoenberg began to rally and made several moves that positioned her at the final table with over 1 million in chips. Despite starting the day with roughly 30,000 in chips, Schoenberg repeatedly demonstrated the tenacious attitude that has served her well in competitive sports, as well as blackjack as she served her opponents monster hands on the way to the final table.
Another big story of the day was the constant battle for the chip lead. While a number of players were in contention throughout the day, it was Andrew Lee's later run that posed the biggest threat for the rest of the field. Lee sits atop the chip counts going into Day Three with a chip lead of 1,575,000. His closest competitor is Robert Chenug with 1,100,000.
The third big story of the day was the quick demise of the crew of Internet hotshots returning for Day Two's action. 2007 WSOP final table participants Michael Banducci, Sorel Mizzi, and Alex Jacob hit the rail early in the day's action despite having positioned themselves to make a run at the title on Day One.
Day Two also saw the elimination of the remainder of the big names left in the field. Hitting the rail were professionals Anna Wroblewski, Chris "Jesus" Ferguson, Ed Moncada, Men "The Master" Nguyen, Kathy Liebert, Marcel Luske, and Burt Boutin, with Boutin making the deepest run (21st) out of the field of returning stars.
These are the chip counts going into the final table:
Robert Cheung: 1, 100, 000
Chris Bjorin: 875, 000
Ernie Crespo: 490, 000
Richard Murnick: 710, 000
John Kranyak: 1, 040, 000
Nick Goodall: 770, 000
Andrew Lee: 1, 575, 000
Erica Schoenberg: 1, 020, 000
Suey Wong: 735, 000
Make sure to check back with Pokernews.com at 2:00PM (PST) for all of the final table action as Schoenberg attempts to become the second female player to win a non-gender specific" tournament at this year's WSOP.