WSOP Updates – Event 44 – O'Dell Wins Second Omaha/8 Bracelet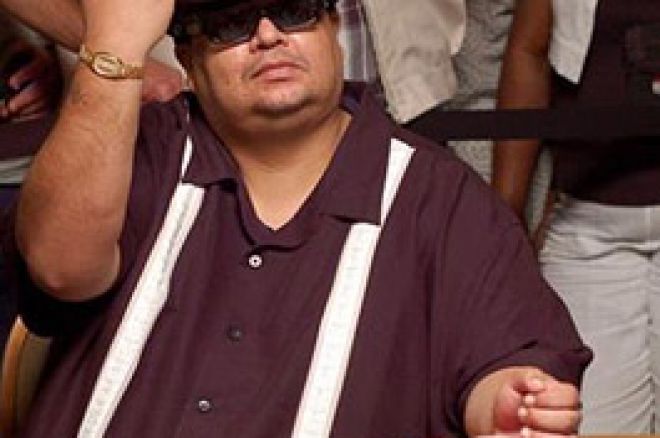 Omaha Hi-Lo is said to be a gambler's game and Friday's final table for the $2,000 buy-in Omaha Hi-Lo, Event #44 proved this theory as the final nine players showed no hesitation in tossing their chips on the table. With a coveted World Series of Poker bracelet and a first-place cash of $240,057 on the line, the lucky survivors of two prior days of stressful competition took to the felt for a chance at big money.
Having narrowed the field from 534 to 9 over the course of two days, players continued to take shots at moving up in the chip counts from the moment the cards hit the table. The first player to hit the rail was Mitch Maples. Raising pre-flop, Maples was called by Thang Luu. The flop brought Maples a set of Jacks but gave Luu a gutshot straight draw. The river brought Luu the much needed Queen, eliminating Maples who collected $14,578 for finishing ninth.
Despite making several moves to stay alive, short-stack Stuart "The Donator" Patterson tried to make a move on chip leader Marcel Luske. Unfortunately, Patterson took a vicious beat when Luske hit runner-runner to nail the Broadway straight. The Donator earned $20,409 for finishing eighth.
Fellow short-stack Marvin Ryan also made a move to gain some ground when he tripled-up by hitting the Queen-high straight against Ming Lee and Frankie O'Dell. Soon after, Ryan doubled again. This time the victim was Luske after Ryan made two pair of Kings and Fives. The combination of these two hands vaulted Ryan close to the top of the chip counts.
While Ryan continued to hit hands, the opposite proved to be true for Lee after he was eliminated after missing the High and Low in a hand with Martin Corpuz and the recently hot Ryan. Lee collected $27,699 for finishing seventh.
The next player to hit the rail was short-stack Jess Robinson. After being raised pre-flop by Corpuz, Robinson pushed his remaining 65,000 chips and got called by Corpuz. Robinson's attempt to achieve WSOP immortality ended abruptly when Corpuz rivered trip Fives. Robinson earned $36,391 for finishing sixth.
Play continued as the remaining five players jockeyed for position with the big stacks trading blows and providing plenty of excitement. As players focused on the push to first place, the table talk of O'Dell increased and seemed to strike nerves in several of his opponents. Making sure to let his opponents know he was serious about taking down the WSOP bracelet, O'Dell even went as far as to say, "It's my bracelet, I want you all to know. It's my bracelet."
O'Dell reinforced his verbal assault by continuing to take down chips and playing a key role in Marvin Ryan's bustout. Ryan got all his chips in play versus O'Dell, Luske, and Corpuz, but failed to improve against Corpuz and O'Dell's two pair. Ryan collected $47,136 for finishing fifth.
After starting the day as chip leader, Luske seemed unable to hit a crucial hand when needed. Despite playing masterful poker during the day tournament, the "Flying Dutchman" just couldn't get the cards and his day ended after Luu rivered a better two pair. The always fashionable Luske took home $64,630 for finishing fourth.
Soon after Luske hit the rail, O'Dell began to make good on his promise to take home the winner's bracelet. He crippled Corpuz after hitting the Six-high straight for the High and the Wheel for the Low, and then pretty much put an end to Luu's day as well when he hit a set of sixes. Corpuz busted six minutes later courtesy of O'Dell, and Luu joined him on the rail soon after when O'Dell scored two pair on the final hand of the day. Corpuz took home $97,188 for finishing third; Luu earned $147,726 for finishing second; and O'Dell collected his second WSOP bracelet and the first-place cash of $240,057.