2007 WSOP Updates – Event #7, Pot Limit Omaha (with re-buys) – 'Devilfish,' Cajelais Lead Final Table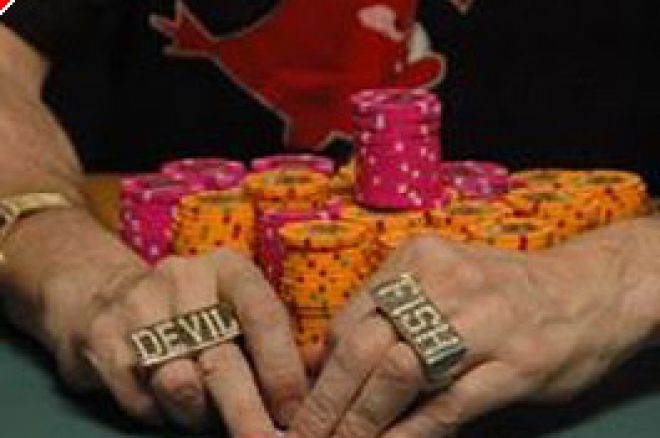 The $5,000 Pot Limit Omaha (w/rebuys) event kicked off Day Two on Tuesday with 51 of the original 145 players coming back to the tables. Because of the high buy-in (and the rebuys), a prize pool of over $2.8 million was generated. 18 of the players who returned to the Amazon Room would make the money, leaving many big names on the outside looking in.
John Juanda led the pack at day's start but name players loomed everywhere. Two players, Robert Williamson III and Todd Brunson, did miss the event's restart but were quick to find their way to the tables. Other notable Day One survivors included Erik Seidel, Tony Cousineau, Lee Watkinson, 2006 $50K H.O.R.S.E. champion Chip Reese, Ram Vaswani, Eli Elezra, Erick Lindgren, Andrew Black, Bill Edler and David 'Devilfish' Ulliott.
Two huge names fell early. Both Doyle Brunson and Johnny Chan were eliminated in the first couple of hours of action along with fellow former World Champion Jim Bechtel. Minh Ly made some early moves and, for the second time in as many days, Burt Boutin was able to make quads but not get anyone to come along to play against him. Juanda continued to build his stack as other big names left the game.
Mike Sexton and Andy Black soon joined Juanda atop the leader board. Black wasn't concerned with maintaining his stack; his main concern, in his words, was "finishing the (expletive) thing off." Sexton received some good luck as his wife arrived tableside to watch him play; the very next hand, the WPT announcer doubled up and began a run that saw him push deeper into the event. By the time the dinner break came, there were only 21 players remaining, three away from the money.
About a half hour after the dinner break, Brandon Adams became the unfortunate bubble boy, exiting in 19th place. Chau Giang was the first to grab a payday of $30,325 and he was followed by Nenad Medic (17th), Hoyt Corkins (16th), Mike Sexton (15th, $35,732) and Dustin 'Neverwin' Woolf (14th). While these men were leaving, John Juanda had found a challenger in Devilfish Ulliott and the two swapped the lead during evening play.
Action slowed down considerably after the break, although Jeff Lisandro (13th, $35,732) and Chip Reese (12th, $41,229) were casualties in the early going. One player who took the biggest hit was Juanda, who lost almost half of his stack within the first forty minutes of the level. Eric Cajelais became the new challenger to Devilfish as he built his stack up to almost the 900K mark.
Andy Black's comment proved an accurate foretelling, as Humberto Brenes eliminated him in eleventh place ($41,229). Down to one table, action continued to grind along as the blinds moved to 10K/20K, then to 15K/30K. When Ulliott raised from the cutoff position, Robert Williamson III decided to make a stand and called from the big blind. After a monochrome flop of
, Williamson pushed the last of his chips to the center, upon which Devilfish remarked, "I guess I have to call you," and did so, showing
for the nut flush. Williamson was alive, albeit barely, with his gutshot straight flush draw on
but, when the board blanked off, Williamson collected $41,229 for his tenth-place finish and the final table was set.
PLAYER — CHIPS
Seat 1 — Humberto Brenes — 275,000
Seat 2 — John Juanda — 220,000
Seat 3 — Larry Jonsson — 900,000
Seat 4 — Minh Ly — 240,000
Seat 5 — Burt Boutin — 460,000
Seat 6 — Robin Keston — 235,000
Seat 7 — Sirious Jamshidi — 865,000
Seat 8 — Dave 'Devilfish' Ulliott — 1,300,000
Seat 9 — Erik Cajelais — 1,075,000
The betting favorite here is Ulliott, whose knowledge of Omaha is excellent and his confidence overwhelming. He commented during a break in the action that his opponents "don't know how to spell Omaha." Action should be hectic come Wednesday afternoon at 3pm PDT when the final nine will battle it out for the $825,956 first place prize and the latest 2007 WSOP bracelet. Be sure to check out PokerNews' 'Live Reporting' on Event #7, $5,000 Pot Limit Omaha (w/rebuys), as the winner is determined.