2007 WSOP Updates – Event #8, $1,000 No Limit Hold 'Em (w/ rebuys) – 'Imper1um' Leads Wild First Day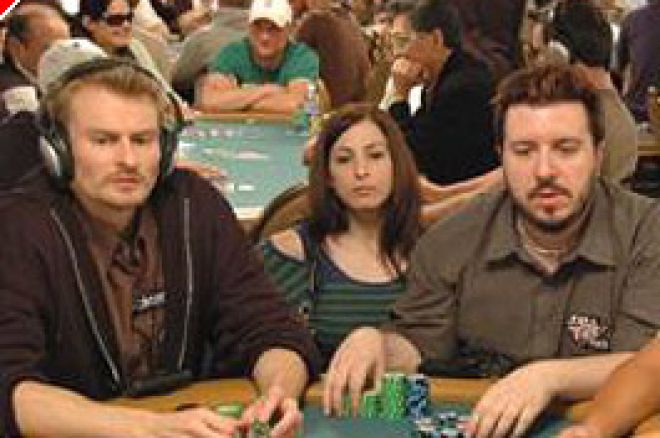 The popular Event #8, $1,000 No Limit Hold 'Em (w/rebuys) kicked off action at noon on Tuesday with players sitting down with handfuls of $1,000 chips in their pockets. In rebuy tournaments at the World Series, one cannot just pony up the cash when one needs more chips; one has to have Rio Casino chips to make the buy. Thus, there was a run on the cashier's cages before play started so players had plenty of chips on hand for the tournament.
Re-buy tournaments are popular with deep-pocketed pros who enjoy the chance to 'gamble it up.' The 844 players included such pros as Phil Ivey, Rafe Furst, Eric Froehlich, Phil Hellmuth, and Bill Chen, who rebought two times in the early going from a rack of $1,000 chips sitting beside him. Kristy Gazes, who was unable to make it to the cages to get some of the chips, had to buy them from other players and friends instead. With the call of "Rebuy!" ringing out frequently, the prize pool built quickly.
With re-buys allowed for the first two hours of the tournament, entertaining tales abounded. Juan Carlos Alvarado played every hand of the first level and the first two hands of the second level before folding for the first time. Phil Ivey busted Eric Froehlich twice, with Froehlich reloading each time. Shannon Elizabeth ran through what she brought to the table and, in a mad dash, had to race to the hallway ATM to get more cash to continue. In consecutive hands, Jordan Morgan re-bought, busted, re-bought again and busted again. Of course, Morgan reloaded after that and continued into the battle.
After 'Rebuy Madness' subsided and the totals were counted, the numbers were astounding. 844 players had started the event and contributed another 1,814 rebuys to build the prize pool to over $2.5 million dollars. Two other pros with high re-buy counts were Cory Carroll with 19 and Layne Flack with 12.
Eliminations came fast once the re-buy period was over, including many big names. 2006 Women's Champion Mary Jones, Greg 'FBT' Mueller, J.J. Liu, James Van Alstyne, Max Pescatori, Hellmuth and Elizabeth (among many others) were all out before the dinner break. At that time, less than 260 players were left from the original field, with a chance of reaching the money before play ended for the night.
Post-dinner bustouts included Phil Ivey, Barry Greenstein, Nam Le and Billy Baxter; elsewhere, noted online stars made serious moves. Jason 'strassa2' Strasser and WSOP bracelet holder Todd 'Dan Druff' Witteles joined 'live' pros Amir Vahedi, Michael Gracz and Antonio Esfandiari high on the board. As the 2am curfew for all Day Ones loomed, the players relaxed, knowing they'd receive at least $5,826. 82 players remain for Day Two action, all now in the money.
Here's the end-of-day Top Ten for Event #8:
PLAYER — CHIPS
Sorel 'Imper1um' Mizzi — 240,000
Michael Binger — 186,700
Amir Vahedi — 183,100
Gavin Griffin — 154,200
Alex Melnikow — 151,300
Marc Waacden — 136,400
Joe Simmons — 133,000
Michael Gracz — 130,100
Roger Teska — 121,800
David Strot — 110,300
Can the Internet stars hold off live-play vets? Or will one of the older names take command? Either way, PokerNews' $1,000 No Limit Hold 'Em (Event #7) 'Live Reporting' will bring you the latest in action from Day Two.