The WSOP Class of '06: Part I
Amy Calistri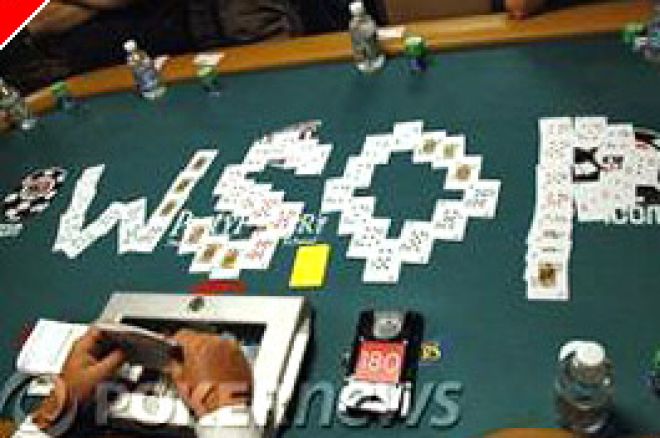 The 2006 WSOP Main Event was record breaking on many levels, with 8773 entrants and a whopping $12 million first prize. Among all the big-name pros that took to the field that year, only Allen Cunningham (2005 ESPN/Toyota Player of the Year) made it all the way to the final table. What happened to the WSOP Class of '06? What kind of year did the players who beat out the largest poker field in history, making it to that final table, have? In Part I, we'll look at our tenth- through sixth-place finishers.
Bubbling the final table of the world's biggest poker event has to be frustrating. But if Fred Goldberg suffered any angst after collecting $1,154,527 for his tenth-place finish, he was able to channel it toward more cashes. Four months after the 2006 WSOP, Goldberg finished 11th in the Bellagio Five Diamond Championship event. He followed that by taking down fourth in the Foxwoods Classic Main Event. And there's no question he felt like the Rio was home turf. His return to the WSOP brought him five cashes in 2007, including a ninth-place finish in the $1500 NLHE Shootout and his very first WSOP bracelet in the $1500 Mixed Hold'em event. In all, Goldberg grossed over half a million dollars in live tournament play since he graduated from the class of '06.
Dan Nassif started the 2006 Main Event with a migraine and ended up in ninth place with $1,586,858. Nassif had no major B&M tournament cashes coming into the 2006 WSOP, and has had none since. Prior to the 2006 WSOP, Nassif was a successful online player with at least one $80,000 cash under his belt. He had quit his job in advertising at the Riverfront Times in 2005, but boredom drove him back by December 2006. Six months after his Championship final table, Nassif left the newspaper business to start up a house renovation and restaurant partnership. Nassif did return to play the 2007 Main Event, winning his seat for the third year in a row, but was out on a coin flip during Day One play.
Unlike 2007's international final-table lineup, the 2006 WSOP final table had only one non-US player. Sweden's Erik Friberg finished in eighth place for $1,979,189. Friberg won the 2005 Swedish Poker Challenge, but prior to the 2006 WSOP was primarily an online player. When asked what he would do with his final-table winnings, Friberg retorted "I'm probably going to gamble with it." Well he might have had to wait until the 2007 WSOP, but his gamble paid off. Friberg finished third in the $1500 NLHE Short-Handed event and followed it up with a cash in the Bellagio Cup Championship event, grossing over $350,000 since his "graduation."
Douglas Kim was a recent graduate of Duke University when he took home seventh place and $2,391,520 at the 2006 WSOP. At 22, Kim was the youngest player ever to make a WSOP Championship final table and during the 2006 WSOP was the only final-table player not to be eliminated by Jamie Gold. After his final-table appearance, Kim started work as a consultant with the financial services company, Mercier Oliver Wyman. While Kim does play some cash games from time to time, almost all of his $2.4 million is working on the investment side. Kim did take some time off to play the 2007 Main Event, but succumbed on Day Two.
At 55, Richard Lee was the oldest participant in the 2006 WSOP final table. The retired San Antonio businessman had two modest cashes before the 2006 Main Event, where he finished in sixth place for $2,803,851. Immediately following the 2006 WSOP, a warrant was executed by the San Antonio Police Department, seizing Lee's assets pending an investigation of allegations that Lee was involved in an illegal online-bookmaking operation. Lee was never arrested and has slowly made his way back into the world of poker. Lee had a minor cash in one 2007 WSOP preliminary event and finished tenth in the Bellagio Cup Championship event.
From Part One, it looks like Fred "Bubble Boy" Goldberg was the most successful in parlaying his WSOP '06 "degree" in the year following "graduation." In Part Two, we'll see how the Class of 06's top five finishers fared over the past year.